'Puffin Rock' nominated for International Emmy Kids Awards
---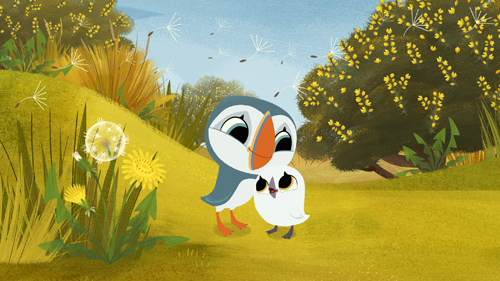 Date Posted: October 18, 2017
It was announced at MIPCOM earlier this week that the animated preschool series, Puffin Rock, narrated by Chris O'Dowd, has been nominated in the Kids: Preschool category at this year's International Emmy Kids Awards.
The series is co-produced by Oscar-nominated studio Cartoon Saloon, children's media company Dog Ears, Penguin Random House and distributed internationally by Superights. Puffin Rock is produced with the support of Northern Ireland Screen, Irish Film Board and European Media Fund.
It was also announced that the series has arrived in China as part of a multi-license deal with China Nebula Group (CNB), including TV rights, digital, merchandising and toys.
Now launched on Tencent, China's giant digital media network, Puffin Rock has already had almost 55 million streams in its six weeks on air, with the English language version of both seasons rolling out in November.
Puffin Rock follows a family of puffins and their adventures on a beautiful Irish island. Oona and her little brother Baba explore, play and learn with their friends, and always make it home to their burrow to cosy up with Mama and Papa.
Axinaer, CEO of China Nebula Group, said "I think Puffin Rock is one of the best animation series I've seen internationally, and this was why I wanted to bring it to China from the first time I saw it. Puffin Rock has extremely high artistic quality, and brings really positive and healthy content to young children."
Gerry Shirren, Managing Director at Cartoon Saloon, said: "We are delighted to be working with Axinaer and her China Nebula Group and look forward to growing the Puffin Rock brand in China through our partnership with Axinaer and team over the next few years. The initial reaction to the launch on Tencent has been overwhelming with over 50 million streams in such a short period."
John McDaid, Creative Director, Dog Ears, said: "We're really excited to partner with CNB in China, and can't wait to see their ambitious plans for our Puffins take shape."
Francesca Dow, Managing Director, Penguin Random House Children's, said: "We are thrilled that Puffin Rock will be launching in China thanks to our new partnership with CNB, and that our stories and characters are now delighting young audiences in China."