Puffin Rock migrates to newly rebranded Milkshake!
---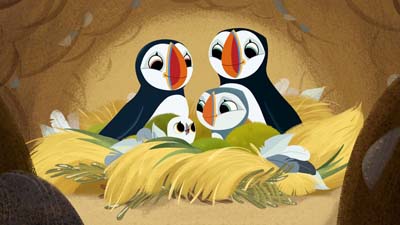 Date Posted: July 24, 2017
Puffin Rock, the award-winning animated pre-school series narrated by Chris O'Dowd, will launch this month on Channel 5's Milkshake! as part of the refresh of the popular pre-school block.
Puffin Rock, which receives funding support from Northern Ireland Screen, features an adorable family of puffins, and their laughter- filled adventures on a beautiful Irish island. Oona, and her cute little brother, Baba, explore, play and learn with their friends, and always make it home in time for a fish supper with Mama and Papa. Narrator, Chris O'Dowd (Bridesmaids, Moone Boy, The IT Crowd) adds an extra twinkle of comedy – sharing funny observations and interesting facts about the natural world.
Puffin Rock was co-produced by Oscar-nominated studio Cartoon Saloon, Penguin Random House, and children's media company, Dog Ears.
"We were completely charmed by the sweet characters that occupy Puffin Rock and the artistry of the series," said Sarah Muller, Head of Children's Channel 5. "The show will be a fantastic addition to the new- look Milkshake! lineup. Also, I just really love puffins."
Richard Haines, Head of Acquisitions & T.V. Development, Penguin Random House Children's, said:
'I am delighted that our little puffins are flying on to Milkshake!'