Paul Henry, Portráid Éireannach,TG4, Wednesday 22nd May 2019, 9.30pm 
---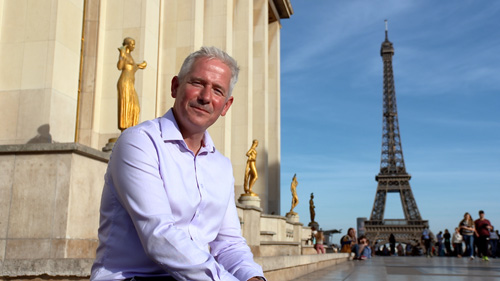 Date Posted: May 20, 2019
In this new documentary for TG4, Antaine Ó Donnaile investigates how a Belfast Baptist came to create the quintessential image of the west of Ireland.
Exactly 100 years after Paul Henry's departure from Achill Island, this is the perfect time to tell his story. Travelling from Dublin to Belfast, Paris, London and then to Achill, Antaine Ó Donnaile retraces the life journey made by Paul Henry. He discovers how that journey shaped Henry and his work and how Achill helped him become one of the most important Irish artists in the modern era.
Paul Henry, Portráid Éireannach, produced by Macha Media with support from Northern Ireland Screen's Irish Language Broadcast Fund, broadcasts on Wednesday 22nd May 2019 at 9.30 pm on TG4.
The documentary combines stunning landscape photography and paintings by Paul Henry.  Passages from the artist's autobiography, photographic images from the period and interviews with local people and art experts are woven together to give a rich insight into his life and his view of the west of Ireland in the early years of the 20th Century.
Paul Henry was born in Belfast in 1876, the son of a strict Baptist Minister and an austere, religious mother. He managed to "escape" Belfast when he got the opportunity to study painting in Paris. Henry spent two years in Paris, studying under some of the great artists of the age and falling under the spell of Millet, Monet, Cézanne and Van Gogh.  Henry's time in Paris was followed by ten years in London where he got married and enjoyed a wide circle of friends.  But something in London was not quite right.  Henry was lost, adrift, lacking in focus.  A friend just back from honeymoon advised him to get away from it all with a holiday in the west of Ireland.
In Achill Paul Henry found "an air of romance impossible to describe or to resist. Intangible, alluring and tender." He was enchanted by the people of Achill and they were intrigued by the exotic figure who had come amongst them. On one occasion, he was asked for paints by Johnny Tom Eoghain Mac Conmara, who he met walking along the road.  Johnny Tom Eoghain wanted the paints for his son, Antain, who enjoyed painting the local landscapes. While Antain had few materials and no training, Henry thought he was as talented as Van Gogh! Although the boy eventually gave up painting, Henry forged a deep friendship with him and his family.  Antain's son, John "Twin" Mac Con Mara is a key contributor to the programme.
Drawing inspiration from the community and their way of life, Paul Henry forged an art form comparable to that which the dramatist J.M. Synge had created from his experiences of the Aran Islands. Gone was the romanticism of much of late 19th century Irish art and gone too was the "stage Irishness" so prominent in the period.  In place of these we have a post-impressionist inspired simplicity of concept and execution.
In many of Henry's pictures, there is a feeling that we are observing a way of life fast coming to an end, yet Henry's representations of rural life would soon offer the ideal image for a newly-independent Irish State as it forged its identity during a literary, cultural and linguistic revival.  Henry's work would also bring countless tourists to the west of Ireland.
The Irish Times commented in 1925 "If thousands of people in Great Britain and America have been led this summer to think over the claims of Ireland as holiday ground, it is largely through the lure of Mr Paul Henry's glowing landscapes…"
Paul Henry's paintings have lost none of their allure. They change hands for large sums of money and reproductions adorn walls all over the world.  Do those images of the west endure amongst the local population, or even in the minds of tourists who still flock there today?
---
Paul Henry, Portraid Éireannach,TG4, Dé Céadaoin 22 Bealtaine, 9.30i.n.
Sa chlár úr faisnéise seo do TG4, fiosraíonn Antaine Ó Donnaile scéal an Bhaistigh as Béal Feirste a chruthaigh íomhá iarthar na hÉireann.
Cothrom agus céad bliain ó d'fhág Paul Henry Oileán Acla, is oiriúnach an t-am é seo lena scéal a n-insint. Leanann Antaine Ó Donnaile turas saoil Paul Henry ó Bhaile Átha Cliath go Béal Feirste, Páras, Londain agus ansin go hAcaill.  Foghlamaíonn sé faoin dóigh ar mhúnlaigh an turas sin Henry féin agus a shaothar agus faoin dóigh ar chuidigh Acaill leis a bheith ar dhuine de na healaíontóirí ba thábhachtaí in Éireann sa nua-aois.
Is léiriú de chuid Macha Media é Paul Henry, Portráid Éireannach agus rinneadh é le tacaíocht ó Chiste Craoltóireachta Gaeilge Scáileán Thuaisceart Éireann. Beidh sé ar siúl Dé Céadaoin, 22 Bealtaine 2019 ag 9.30i.n. ar TG4.
Sa chlár faisnéise seo, measctar ceamaradóireacht ghalánta thírdhreacha agus pictiúirí de chuid Paul Henry.  Tá sliochtanna ó dhírbheathaisnéis an ealaíontóra fite fuaite le seanghriangrafanna agus le hagallaimh le bunadh na háite le léargas domhain a thabhairt dúinn ar a shaol agus ar an dearcadh a bhí aige ar iarthar na hÉireann i mblianta luatha an 20ú céad
Rugadh Paul Henry i mBéal Feirste in 1876.  Mac é le ministéir géar Baisteach agus le máthair chrua chráifeach.  "D'ealaigh" sé ó Bhéal Feirste nuair a fuair sé an deis le bheith ag staidéar i bPáras.  Chaith Henry dhá bhliain i bPáras, mar scoláire ag ealaíontóirí móra de chuid na haoise agus tháinig sé faoi anáil Millet, Monet, Cézanne agus Van Gogh lena linn.  I ndiaidh Phárais, chaith sé deich mbliana i Londain, áit ar phós sé agus a raibh a lán cairde aige.  Ach níor théigh a chroí ariamh le Londain.  Bhí sé ar seachrán, caillte, gan focas.  Mhol cara a bhí i ndiaidh theacht ar ais ó mhí na meala in Éirinn, mhol sé dó aghaidh a thabhairt ar iarthar na tíre.
Ar Oileán Acla, fuair Paul Henry "an air of romance impossible to describe or to resist. Intangible, alluring and tender." Chuaigh pobal Acla go mór i bhfeidhm air agus chuir siad suim mhór sa stráinséir mistéireach a bhí ina measc.  Lá amháin d'iarr Johnny Tom Eoghain Mac Conmara péinteanna air dá mhac Antain, a raibh an-dúil aige chomh maith i dtírdhreacha na háite.  Cé gur bocht na huirlisí a bhí ag Antain agus cé nach raibh traenáil ar bith aige, mheas Henry é a bheith ar aon dul le Van Gogh.  Bíodh is gur éirigh an gasúr as an phéintéireacht sa deireadh rinne Henry dlúthchairdeas leis féin agus lena mhuintir.  Tá ról lárnach ag mac Antain, John 'Twin' Mac Conmara, sa chlár.
Agus é á spreagadh ag an phobal áitiúil agus ag a gcuid nósanna saoil, chruthaigh Paul Henry foirm ealaíne atá inchurtha leis an ealaíon a rinne an drámadóir J.M. Synge amach as an am a chaith sé féin ar Oileáin Aránn.  Ní raibh iomrá ar bith ar an rómánsachas a bhíodh le feiceáil go forleathan i gcúrsaí ealaíne ag deireadh an 19ú céad.  Ní raibh iomrá ach an oiread ar "Éireannachas an stáitse" a bhí go mór chun tosaigh ag an am.  Ina n-áit sin tá againn simplíocht an iar-impriseanachais, ina cheapadh agus in a chur i gcrích.
Cuid mhaith de phictiúirí Henry, léiríonn siad seansaol atá ag imeacht go gasta, ach thug saothar Henry íomhá ídéalaíoch don stát nua neamhspleách, stát a bhí ag iarraidh féiniúlacht a chruthú le linn na hathbheochana i gcúrsaí liteartha, cultúrtha agus teanga ag an am.  Lena chois sin, mheall saothar Henry turasóirí ina sluaite go hiarthar na hÉireann.
Scríobh The Irish Times i 1925, "If thousands of people in Great Britain and America have been led this summer to think over the claims of Ireland as holiday ground, it is largely through the lure of Mr Paul Henry's glowing landscapes…"
Tá cuid pictiúir Paul Henry chomh tarraingteach céanna is a bhí riamh. Díoltar iad ar airgead mór agus tá siad féin nó a mhacasamhail le feiceáil ar bhallaí ar fud an domhain.   An maireann na híomhánna sin go fóill i measc mhuintir na háite, nó in aigne na dturasóirí a phlódaíonn isteach chun na háite go fóill sa lá atá inniu ann?