Northern Ireland short film ROUGH in the running for a BAFTA
---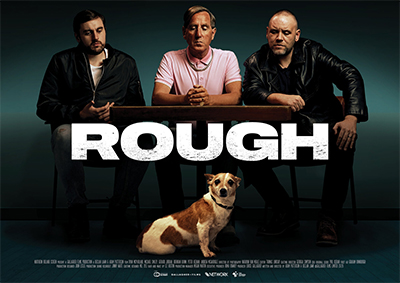 Date Posted: January 12, 2022
Northern Ireland Screen funded short film, Rough, written and directed by Adam Patterson and Declan Lawn (The Sailsbury Poisonings) and produced by Gallagher Films' Louise Gallagher (A Bump Along the Way) has made it one step closer to a BAFTA as the longlists for the EE British Academy Film Awards in 2022 were released today. Ten short films have been longlisted in the British Short Film category, five will be nominated. Among the other shorts longlisted is Roy, written and directed by local man Ross White, and Tom Berkeley. The nominations will be announced on Thursday 3rd February with the ceremony taking place on Sunday 13th March.
Rough, about Belfast gangsters passing a death sentence on a dog, has already picked up the Best Short Film Award at the IFTAs, Best Short Film at Krakow Film Festival and Best Short Film at Kerry International Film Festival.
Starring Ryan McParland, Michael Smiley, Gerard Jordan, Peter Heenan, Brendan Quinn, Andrew McGarrigle and Kelly the terrier, Rough is also about truth-telling and forgiveness and how in an absurd world of obscene power, unthinking violence and masculinity gone wrong, the truth can – just once in a while, set us all free.
Adam Patterson and Declan Lawn commented; "Rough being shortlisted for consideration in the Best Short Film Category at the BAFTAs is something that we could never have anticipated or imagined when we set out to tell the story of a wee dog in a lot of trouble. We're thrilled that a film about a very specific issue in a particular place has somehow gained traction and interest across the world. Thanks to everyone involved in making it, especially our wonderful producer Louise Gallagher, Northern Ireland Screen, and Roma Downey."
Roma Downey said: "I grew up in the troubles and when I read this script the themes really resonated with me and I knew I wanted to be involved. This story made me laugh, it made me cry and it made me think. This team did such a good job and we are all very proud of them as we see the film go from a local level to an international level. To be in consideration for a BAFTA is really the icing on the cake."
Richard Williams, Chief Executive, Northern Ireland Screen, said: "We are incredibly proud of Adam, Declan, Louise and all the talented crew that made Rough and we also extend our congratulations to Ross White whose debut short also made the list. To make it onto the BAFTA longlist is no mean feat. We wish them all every success as they continue on their BAFTA journey and hope that we'll be celebrating again on 3rd February when nominees are announced. 2022 has already got off to an exciting start for the Rough creative team as they prepare to shoot Blue Lights, their new police drama series for BBC."
Rough was made with the assistance of Northern Ireland Screen, The National Lottery and BFI Network. Find out more about Rough at www.roughfilm.com
As expected, and following on from its Golden Globes and Critics Choice nominations, Kenneth Branagh's Belfast has also been longlisted in eleven BAFTA categories including Best Film, Director, Original Screenplay, Leading Actor (Catriona Balfe, Judi Dench) and Supporting Actor (Jamie Dornan, Ciaran Hinds).