Northern Ireland Screen at GDC 2019
---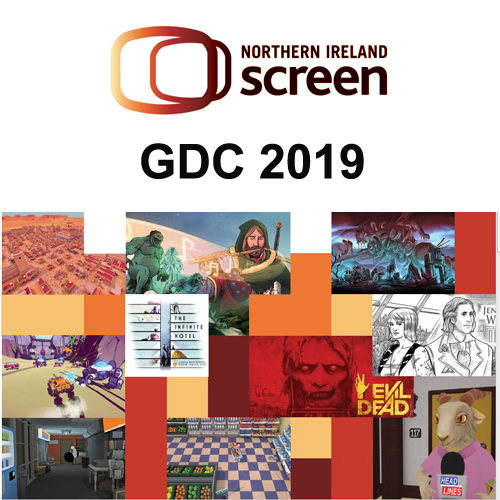 Date Posted: March 15, 2019
A delegation of game developers from Northern Ireland is set to attend the upcoming Game Developers Conference (GDC) in San Francisco with the support of Northern Ireland Screen. GDC is the largest professional game industry event in the world and takes place from 18-22 March 2019.
Representatives from eight Northern Ireland-based companies will join the estimated 28,000 attendees at GDC to connect with international publishers and showcase their projects to a global audience.
The companies attending GDC as part of the Northern Ireland Screen Delegation:
Four companies in particular will also participate in GDC Play, the designated area for emerging developers to demonstrate their games to key distributors, publishers and investors in attendance. These include Italic Pig (Booth number N3033); Billygoat Entertainment (Booth number N3037); Northern Softworks (Booth number N3039) and Rocket Flair Studios (Booth number N3041).
Ahead of the conference, Italic Pig was selected as a winner of GDC Best in Play; a prestigious accolade presented to only eight companies attending the event. The Best in Play award is judged by a panel of expert game developers who play each project demoed at GDC. Italic Pig received the award for its project The Infinite Hotel, a VR narrative adventure game.
Belfast-based studio Blackstaff Games will also attend GDC as part of the delegation. Blackstaff Games was invited to showcase its project Buildings Have Feelings Too! as part of a stand operated by Microsoft. Buildings Have Feelings Too!, received production funding through Northern Ireland Screen's Assembler programme in 2018, which aims to supports local interactive content companies with lottery funding for early stage game development.
Michael O'Kane from Northern Softworks will also feature on the Dolby Stand on Friday 22 March at 12pm. Michael will be discussing the topic of 'Dolby Atmos on an Indie Budget'. Northern Softworks will be presenting its game Inertial Drift at GDC Play, a head to head racing game, which has been developed with funding support from Northern Ireland Screen.
Donal Phillips, Interactive Executive, Northern Ireland Screen said: "We are excited to attend GDC for the fourth time this year with a strong delegation representing the Northern Ireland Game sector, which is home to a world-class indie game development community. While attending GDC, we want to highlight Northern Ireland Screen's latest initiative, The Pixel Mill, which offers a unique opportunity for international publishers to connect, collaborate and work with games developers in Northern Ireland."
For further information on how to connect with Northern Ireland Screen at GDC, click here.