Northern Ireland projects and talent selected for the 2022 Galway Film Fleadh
---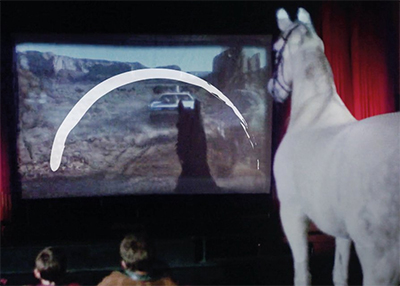 Date Posted: June 22, 2022
Featuring a spectacular, packed programme of the very best of Irish and international cinema, Galway Film Fleadh has launched the full line-up for our 34th edition. All roads lead to the West this July 5th-10th as the Fleadh celebrates filmmakers, storytellers, and the enduring power of cinema. Northern Ireland is very well represented at the Fleadh with 4 Northern Ireland Screen-backed feature films and 6 short films selected. Derry Girls creator Lisa McGee will also be the subject of the Screenwriters Masterclass at the Fleadh.
NOTHING COMPARES the documentary feature debut from Belfast director Kathryn Ferguson charts Sinéad O'Connor's phenomenal rise to worldwide fame and examines how she used her voice at the height of her stardom before her iconoclastic personality led to her exile from the pop mainstream. Focusing on Sinéad's prophetic words and deeds from 1987 to 1993, the film presents an authored, richly cinematic portrait of this fearless trailblazer through a contemporary feminist lens.
MANDRAKE, the latest project to come through Northern Ireland Screen's New Talent Focus scheme will have its Irish premiere at the Fleadh. The scheme aims to deliver one debut feature by a Northern Ireland resident creative team (writer, director and producer) each year. Directed by Lynne Davison and produced by Village Films, MANDRAKE follows probation officer Cathy Madden, who is given the task of rehabilitating notorious killer 'Bloody' Mary Laidlaw back into society after twenty years of jail. Mary murdered her husband decades ago, but only after he had put her through hell. Is she a witch, a psychopath or just another lonely woman rejected by her neighbours? Cathy has always believed that every client deserves a shot at redemption, but her beliefs are firmly tested when two children disappear near Mary's farm.
Irish Language Broadcast Fund feature AN BUACHAILL GEAL GÁIREACH directed by Alan Gilsenan and produced by Imagine Media for TG4 is the remarkable and untold story of a song. An Irish song called "The Laughing Boy" written by a teenage rebel called Brendan Behan in memory of another iconic rebel, Michael Collins – the centenary of whose death is commemorated this year. This song also had an extraordinary and dramatic afterlife as "To Gelasto Paidi," the powerful left-wing anthem of resistance against the dictatorship that ruled Greece in the late 60s and early 70s. Translated by the poet Vassilis Rotas, Behan's words in Greek were set to music by the legendary Mikis Theodorakis, the most famous Greek composer of all time. The song remains an enduring and potent cultural force in the heart of Greece today.
Vincent Kinnaird's FR DES: THE WAY HE SAW IT  tells the life story of Fr. Des Wilson, who was affectionately known to many as "the people's priest". Narrated by internationally renowned actor, Stephen Rea, a great advocate of Fr. Des who has been involved in a number of his community theatre productions over the years. Fr. Des, a priest with a socialist and humanitarian outlook, spent his life helping those in need as the British Empire's hold on Northern Ireland began to unravel from 1969 onwards. Amid civil strife, he followed the path of Jesus in caring for the downtrodden, and for a long period was ostracized by the hierarchy of his own Church for doing this. Courageously though, he continued to work for justice and against inequality until the end of his life in November 2019. An extraordinary man in extraordinary circumstances. The film's narrative is primarily recounted in Des' own words, but has other contributions from massively important people in Des' life who feature in the documentary through archive footage.
Three Northern Ireland Screen-backed animated short films; COLOUR, SOUL OFFICE and CANDLELIGHT have been selected for the Fleadh. All three have come through our Creative Animation scheme, a scheme designed to develop junior creators/animators through the production of animated short films. The scheme provides junior level creators/animators with the opportunity to develop their own ideas with support from established animation companies.
Britt Bailey's COLOUR! produced by Italic Pig tells the story of a vibrant little girl starting school in a new neighbourhood. As she struggles to come to terms with constantly clashing with the crowd, can she find the bravery to embrace her differences? Or will she fade out entirely?
Ryan Loughran's SOUL OFFICE produced by Taunt Studios is an animated comedy following two enterprising criminals who bite the dust when an ATM robbery goes awry. Undeterred by their untimely demise, they come back as ghosts to finish the job.
Scott Newton's CANDLELIGHT produced by Jam Media is about two candles who meet and fall in love, but discover that when they touch, the heat of their combined flames causes them to melt rapidly. Now they both must choose to live apart, or make the ultimate sacrifice for love.
Three Northern Ireland Screen-backed fiction shorts; VIVA, AN IRISH GOODBYE and HOMEBIRD will also screen at the Fleadh.
VIVA, directed by Marie Clare Cushinan and produced by Roisin Brown, came through Northern Ireland Screen's New Shorts Focus scheme, an initiative to find filmmakers exclusively from groups that are underrepresented in the film and television sector. It follows Nicole and Justin as they hold their final dinner party before their 'departure'. The group are treated to a smorgasbord of the couple's favourite foods and wines. Tensions gradually rise as the evening draws on and the wine lowers inhibitions.
Tom Berkeley and Ross White's AN IRISH GOODBYE follows estranged brothers Turlough and Lorcan as they reunite following the untimely death of their mother. As Turlough prepares car arrangements for Lorcan, who has Down Syndrome, the pari's turbulent reunion is interrupted by the discovery of their mother's unfulfilled bucket list.
Caleb J. Roberts' HOMEBIRD is set against the backdrop of the Northern Irish coast, Homebird explores the relationship between an emotionally-reclusive father struggling to re-connect with his estranged gay son during a night at the seafront amusements.
Lisa McGee will be the subject of this year's Screenwriters Masterclass. An award-winning screenwriter and playwright from Derry, McGee is best known as the creator, writer, and executive producer of the critically acclaimed Channel 4 show Derry Girls (2018-22). The series was inspired by McGee's personal experience growing up in Derry in the 1990s amidst immense political conflict. Since its release in 2018, it has become an instant global phenomenon with two BAFTA nominations for Best Scripted Comedy Series. 
McGee has received numerous accolades for her writing including the award for Best Comedy Writing on Television from the British Screenwriters' Awards and Best Writer in a Comedy from the IFTA Gala Television Awards. In 2018, she was listed as one of BBC's 100 Women.
McGee co-created The Deceived with her husband Tobias Beer, and her other TV credits include London Irish, Raw, Being Human, The White Queen and Indian Summers. Most recently, she worked as a creative director and writer for the BBC Four series, Skint, a powerful collection of monologues about poverty.
Find out more about the 2022 Galway Film Fleadh and check out the full programme here.