Nominations announced for the IFTA Film & Drama Awards 2018
---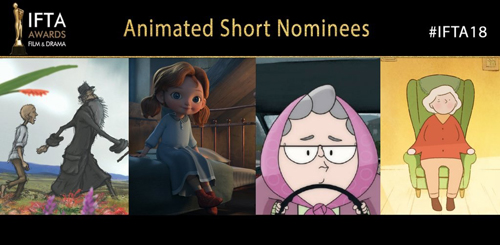 Date Posted: January 11, 2018
Congratulations to the Northern Ireland talent nominated at this year's Irish Film and Television Awards (IFTA). The countdown begins for the Irish film industry's biggest night of the year, acknowledging and rewarding the industry's great work and achievements in this Golden Age of Irish Cinema, at the annual Awards Ceremony taking place at the Round Room of the Mansion House on Thursday 15 February. This will also mark the 15th anniversary of the prestigious awards do.
The Academy will welcome 500 guests from across the world of Film & Drama, all coming together to celebrate the continued great work and success of Ireland's home industry. Nominations have been shortlisted by Irish Academy Members alongside a specialist Jury panel of industry experts from around the world.
Aine Moriarty, chief executive of the IFTA said of the awards: "It is hard to believe that the Irish Academy has reached a milestone 15 years, of recognising and rewarding Irish excellence in the craft, a legacy and archive that has seen new Irish talents become leading international stars both in front and behind the cameras. We look forward to the next exciting phase of growth for Ireland".
For a full list of the nominees, please click here.