New ILBF series follows young emigrants to London
---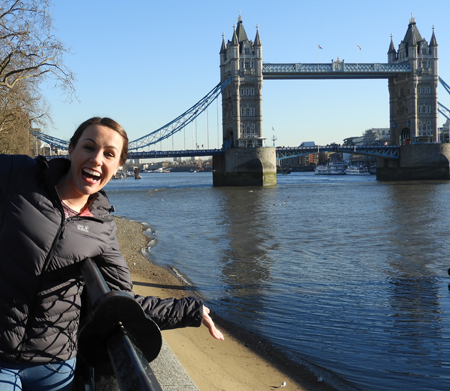 Date Posted: September 1, 2017
Súile Londain is a brand new four part Irish Language Broadcast Fund series that charts the emigrant experience in London of the 20 and 30 somethings that have moved there in recent years.  Following six young Gaeilgeoirí over the course of a year, Súile Londain takes an entertaining and honest look at the lives of our London Irish millennials. The series begins on Thursday 7th September at 9.30pm on TG4.
Súile Londain looks at why London is such a draw for Irish people and what opportunities they have sought.  We get a peek into the homes, workplaces and social lives of the various characters.
We meet Mayo woman Claire Ní Thaidhg who works in Westminster and led the Irish4Europe campaign in Britain.  If a day is long in politics, then the past year has been an eternity in Westminster.  Claire is heavily involved in the London Irish scene and got to know a huge amount of the London Irish diaspora during the referendum campaign trial.
Belfast boy Cairbre Ó Cairealláin never thought he would be living in London, let alone working for one of the biggest soccer teams in England.  But after a securing work placement with the underage squad at Arsenal, Cairbre has moved on up the chain and is now the Strength and Conditioning Coach with Arsenal Ladies.  It is a far cry from training hurling teams in Limerick where he started out, but Cairbre still maintains strong links with his Gaelic identity whilst working six days a week in a demanding job.
Cillian Ó Donnachadha and Sharon Sexton are not only business partners running their theatre company Biscuits for Breakfast, but they are also a married couple who are realising their theatrical dreams in this city of opportunity.  Writing, acting, producing and directing, there is little this pair cannot do, and they have had a whirlwind year to prove it.
Áine Ní Laifeartaigh hails from the northwest corner of Donegal, Machaire Rabhartaigh.  She moved to London after studying in Dundee for a job in one of the biggest hospitals in the City.  Four years in and she is a proud mammy to Ava, with partner, Will.  Áine's experience differs from many other 20 somethings as she tackles motherhood far from her own family while carving a life out for herself in this city home to over 8 million people.
Fellow Donegal native Pól de Barra is an electrician who works on London's rail network.  With a laid back manner and droll sense of humour, he is making hay while the sun shines, which it does much more frequently than at home.  Playing GAA with his local team in Crawley, he keeps in touch with his roots, but that is more to do with having the craic with fellow gaels than improving his football skills.
Finally Aisling Nic An tSaoir from Gaoth Dobhair has been in London for the last 4 years and loving every minute of it.  She knows all the best hotspots across east London and usually has a party of some description to go to.  Aisling thrives of the diversity that London has to offer and working as a nutritionist in the city, she has far more opportunities to hand than she did leaving college after the crash.
Director Tom Seoighe said, "Súile Londain is a look at the lives of six young, vibrant and energetic Irish emigrants living very different lives in London. From the Arsenal football trainer to the actor treading the boards, from the Westminster worker to the underground electrician there's a wide variety of current Irish lives in the bustling capital of England to be seen in this 4 part series."
Súile Londain is an Imagine Media Production for TG4, with support from Northern Ireland Screen's Irish language Broadcast Fund.
---
Sraith nua de chuid CCG a leanann imiricigh óga anonn go Londain
Is sraith úr de chuid an Chiste Craoltóireachta Gaeilge é Súile Londain a thugann léargas ar shaol agus ar thaithí mhuintir óga na hÉireann atá ag cur fúthu i Londain le roinnt blianta anuas. Lean Súile Londain seisear Gaeilgeoirí thar thréimhse bliana le blaiseadh ionraic dá bhfíorshaoil shiamsúla a fháil. Tosaíonn an tsraith ar TG4 ar 7 Meán Fómhair ag 9.30in ar TG4.
Tugann Súile Londain tuiscint don lucht féachana ar na fáthanna a meallann Londain 'muintir na mílaoise' agus faightear blaiseadh ar na deiseanna atá le tapú ann chomh maith céanna.  Tugtar sracfhéachaint ar thithe, ar ionaid oibre agus ar shaol sóisialta na n-imirceach thall.
Buailimid le Claire Ní Thaidhg, bean Mhaigh Eo, atá ag obair in Westminster agus a bhí i mbun an fheachtais Irish4Europe sa Bhreatain.  Chaith sí blianta fada anseo agus chonaic sí athrú mór suntasach ar pholaitíocht na tíre sin. Tá sí lárnach sna líonraí Éireannacha i Londain agus le linn fheachtas an reifrinn chuir sí aithne ar an–chuid de mhuintir na hÉireann atá i Londain.
Níor shíl Cairbre Ó Cairealláin, Béal Feirsteach, go mbeadh sé ag cur faoi i Londain riamh, gan trácht ar an obair atá ar bun aige le ceann de na foirne sacair is mó i Sasana.  D'éirigh leis taithí oibre a fháil leis an chlub Arsenal ag traenáil na bhfoirne faoi aois, ach anois tá post bliana aige mar chóitseálaí Nirt agus Aclaithe ag Arsenal Ladies.  Is mór idir sin agus na páirceanna iománaíochta a d'fhág sé ina dhiaidh, ach is Gael go smior go fóill é.
Tá Cillian Ó Donnachadha agus Sharon Sexton pósta ar a chéile agus a gcomhlacht amharclainne féin acu darb ainm Biscuits for Breakfast.  D'imigh siad go Londain agus iad ar thóir deiseanna úra san earnáil drámaíochta.  Bíonn siad ag scríobh, ag aisteoireacht, ag léiriú agus ag stiúradh drámaí dá gcuid féin agus go leor leor eile: níl mórán nach dtig leis an lánúin seo a dhéanamh agus is iad a bhí gnóthach le linn na bliana.
As Machaire Rabhartaigh ó dhúchas d'Áine Ní Laifeartaigh a chuaigh anonn go Londain i ndiaidh cúrsaí ollscoile a dhéanamh i nDún Éideann.  Fuair sí poist mar raideolaí i gceann de na hotharlanna is mó i Londain.  Agus 4 bliana caite aici inti, is máthair bhródúil anois í ag Ava lena páirtí Will.  Is mór idir taithí Áine agus taithí lucht a comhaoise sa chathair mhór seo agus í ina máthair óg ar shiúl óna teaghlach i dTír Chonaill.
Conallach eile atá ag cur faoi i Londain is ea Pól de Barra leictreoir, a bhíonn ag obair ar na hiarnróid. Fear réchúiseach é Pól a bhfuil féith an ghrinn ann, atá ag déanamh a dhíchill saol maith a dhéanamh dó féin agus pingin mhaith a shaothrú. Bíonn sé ag imirt leis an club CLG áitiúil ach b'fhearr i bhfad leis an chraic ná a chuid scileanna peile a fheabhsú.
Is as Gaoth Dobhair d'Aisling Nic An tSaoir a bhí i Londain le breis agus 4 bliana anuas agus ag í baint sult agus taitneamh as gach lá.  Tá an t-eolas ar fad aici maidir leis na háiteanna is fearr in oirthear na cathrach agus bíonn sí i gcónaí ag freastal ar chóisir de shaghas éigin.  Is maith léi an éagsúlacht atá ag baint le Londain agus tá i bhfad níos mó deiseanna ann di sa chathair seo mar shaineolaí cothúcháin ná mar a bhí in Éirinn nuair a d'imigh sí i ndiaidh na hollscoile.
Deir an stiúrthóir Tom Seoighe, "Is léiriú é Súile Londain a bhreathnaíonn ar shaol seisear Éireannach bríomhar óg a bhfuil saol iomlán éagsúil óna chéile i gcathair Londan acu.  Ón traenálaí sacair ag Arsenal, go dtí aisteoirí iontacha, ó Westminster go dtí na hiarnróid, tá meascán maith daoine ina gcónaí sa chathair chorraitheach seo agus é seo ar fad le feiceáil sa tsraith 4 chlár seo."
Is léiriú de chuid Imagine Media Productions é Súile Londain do TG4, sraith a fuair maoiniú ó Chiste Craoltóireachta Gaeilge, Scáileán Thuaisceart Éireann.