New film Lomax in Éirinn premieres at Galway Film Fleadh
---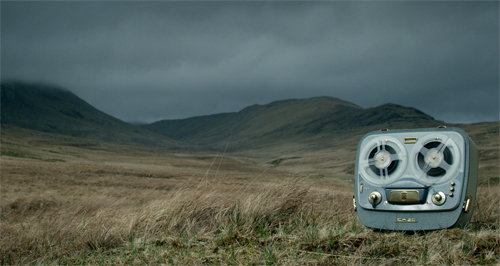 Date Posted: July 12, 2018
The 30th annual Galway Film Fleadh commenced this week with new film Lomax in Éirinn receiving its world premiere at a packed-out screening last night (Wednesday 11th July).
Lomax in Éirinn features Clannad's Pól Brennan who uncovers the story behind Texan song-collector Alan Lomax's trip to Ireland in 1951. The film, which was made by Aisling Productions for TG4, received funding support from Northern Ireland Screen's Irish Language Broadcast Fund and the Broadcasting Authority of Ireland.
To determine the background to the story, the crew travelled to the USA where they filmed in the same stunning locations Alan Lomax began collecting music in the 1930s, such as the Texas bayou and the Mississippi delta. They also shot in New York (where Lomax lived) and in The Library of Congress in Washington where Lomax's collection is now preserved. The remaining shoot took place in Dublin and along the west coast of Ireland focusing on the areas Lomax visited when he visited in 1951.
Contributors to Lomax in Éirinn include Iarla Ó Lionáird (The Gloaming), John Spillane, Brian Mullan, Ian Lee, Grace Toland, Danny Diamond, Nicholas Carolan and Deirdre Ní Chongaile.
Director Declan McGrath, says:
"Lomax in Éirinn is ultimately an exploration of the value of music to humanity. Alan Lomax gave up his life to record, preserve and promote the forgotten music of the margins. This programme asks what drove him to do that. It was an privilege, for me, to hear musicians of the calibre of Iarla Ó Lionáird grapple with that subject and to witness top-class performances from the likes of Clannad, Steve Earle, Slow Moving Clouds and Nell Ní Chronáin, all of them keen to honour the legacy of Alan Lomax and his contribution to Irish and world music."
Presenter, Pól Brennan of Clannad, explains why he got involved in Lomax in Éirinn:
"When we started the group Clannad in 1970, we were drawing on music that Alan Lomax had recorded and preserved when he came to Ireland twenty years earlier, and we toured with that music throughout the world. There were other bands of the 1970s revival – like The Bothy Band and Planxty – that did the same. Lomax in Éirinn gave me a chance to explore the roots and consequences of Lomax's journey to Ireland and the undeniable influence it had on Irish music. I was also drawn to this story because Alan's journey to Ireland touched me personally. One the singers he recorded in 1951 was Cití Ní Ghallchóir, a neighbour of mine from Gweedore Co. Donegal, and one of the songs that Alan recorded from Cití had been translated into Irish by my grandfather Aodh Ó Dugain."
Clannad and Iarla Ó Lionáird (The Gloaming) performed as part of the evening to celebrate the premiere of the film. A trailer for Lomax in Éirinn can be viewed here.
---
An chéad léiriú den scannán 'Lomax in Éirinn' ar siúl ag Fleadh Scannán na Gaillimhe.
Cuireadh tús leis an 30ú bliain de Fleadh Scannán na Gaillimhe an tseachtain seo agus bhí scaifte mór i láthair aréir (Dé Céadaoin 11ú Iúil) ag an chéad léiriú den scannán nua 'Lomax in Éirinn'.
In Lomax in Éirinn leanann an reacaire, Pól Brennan ó Clannad, cosán Lomax ó Stáit Aontaithe Mheiriceá go hÉirinn i 1951. Is le tacaíocht ó Chiste Craoltóireachta Gaeilge Scáileán Thuaisceart Éireann agus Údarás Craolacháin na hÉireann a rinneadh an léiriú seo de chuid Aisling Productions do TG4.
Chun cúlra an scéal a thuiscint mar is ceart thaisteal an criú go dtí na Stáit Aontaithe agus rinne said taifead sna áiteanna galánta céanna inar thosaigh Alan Lomax ag bailiú ceol sna 1930í. Áiteanna cosúil leis an Texas bayou agus Deilt an Mississippi. Rinne said taifead fosta i Nua-Eabhrac (áit ina raibh Lomax ina chónaí) agus i Leabharlann na Comhdhála i Washington, áit ina bhfuil bailiúchán Lomax a chaomhnú. Rinneadh taifead ar an chuid eile i mBaile Átha Cliath agus in iarthar na tíre, áiteanna ina raibh Lomax i 1951.
Ar na daoine atá le feiceáil agus le cloisteáil sa scannán Lomax in Éirinn, tá Iarla Ó Lionáird (The Gloaming), John Spillane, Brian Mullan, Ian Lee, Grace Toland, Danny Diamond, Nicholas Carolan agus Deirdre Ní Chonghaile.
Deir an stiúrthóir Declan McGrath:
"Léiriú a bhí sa scannán nua ar thábhacht an cheoil don chine daonna. Chaith Alan Lomax a shaol ag taifeadadh, ag caomhnú agus ag cur ceol dearmadta na ndaoine a bhí imeallaithe chun cinn. Is é is aidhm leis an scannán faisnéise seo a fháil amach céard a spreag Lomax chun tabhairt faoin obair sin. Ba mhór an pribhléid é domsa éisteacht le ceoltóirí iontacha, cosúil le Iarla Ó Lionáird, agus iad ag dul i ngleic leis an ábhar sin agus a bheith mar fhinné ar léirithe d'ard-chaighdeán ó Clannad, Steve Earl, Slow Moving Clouds agus Nell Ní Chronáin. Bhí siad uilig ag iarraidh ómós a léiriú do Alan Lomax mar gheall ar an obair chaomhnaithe a rinne sé ar cheol sa tír seo agus ceol domhanda."
Míníonn reacaire an scannáin, Pól Brennan an cúis a raibh baint aige le Lomax in Éirinn:
"Nuair a thosaigh muid an grúpa Clannad i 1970 ba spreagadh mór é an ceol a raibh caomhnaithe agus taifeadta ag Alan Lomax agus é in Éirinn 20 bliain roimhe sin. Chuamar ar camchuairt ar fud fad an domhain leis. Aithnítear go raibh tionchar ag obair Lomax sa tír seo ar a mhacasamhail d'athbheochan in Éirinn agus ar leithéidí Planxty agus The Bothy Band fosta. Bhí spéis ar leith agam i scéal thuras Alan go hÉirinn mar gur bhain sé liomsa. Bhí mo chomharsa i nGaoth Dobhair, Cití Ní Ghallchóir, ar dhuine de na hamhránaithe a ndearna Alan taifeadadh orthu agus ba é mo sheanathair Aodh Ó Dúgáin a d'aistrigh go Gaeilge ceann de na hamhráin a cheol sí."
Bhí Clannad agus Iarla Ó Lionáird ag seinm ag an chéad léiriú. Is féidir amharc ar réamhbhlaiseadh de Lomax in Éirinn anseo.