New destination for Paul and Nick's Big Food Trip
---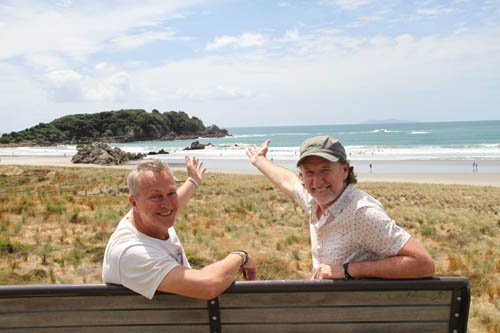 Date Posted: April 16, 2018
Top chefs and great friends Paul Rankin and Nick Nairn return to UTV tonight (Monday 16 April) at 8pm with a new eight-part series.  Paul and Nick's Big Food Trip New Zealand sees the dynamic duo embarking on a foodie road trip following the trail of the Ulster Scots who travelled and settled in New Zealand. The series received funding support from Northern Ireland Screen's Ulster-Scots Broadcast Fund.
As the chefs hit the road on yet another culinary venture, they take in the breathtaking vistas and farmlands of New Zealand where they cook fantastic meals for the descendants of the Ulster Scots and Scottish pioneers who helped build this great country.
Their journey takes them the length of the country, from the tropical climate of Auckland in the north, to the more mountainous climes of Dunedin and Queenstown in the south.
The series kicks off in the Bay of Plenty on the east coast of North Island cooking for descendants of George Vesey Stewart. Originally from Tyrone, Stewart was responsible for enticing dozens of Ulster families to emigrate to New Zealand in the 1870s, building a community around the small town of Katikati. On the menu are avocado, Manuka honey and shorthorn beef, and the chefs get an unwelcome visit in the kitchen from the local Fire Brigade.
Terry Brennan, Head of News and Programmes, UTV said:
"Paul and Nick's Big Food Trips are hugely popular with our audience, and this New Zealand trip will not disappoint.  In this series they visit both North and South islands, meeting amazing food producers and cooking special meals for some Ulster-Scots descendants which our viewers are sure to enjoy."
Jannine Waddell, Managing Director Waddell Media said:
"This is the sixth series of Food Trip and I believe it's the strongest yet. New Zealand is a great place to visit, packed with great food produce and with strong ties to Scotland and Ulster. I'm sure the mix of fascinating history and fabulous cooking from the ever-watchable Paul and Nick will go down a storm."
Paul and Nick's Big New Zealand Food Trip is produced by Waddell Media.