Lost Lives is releasing a limited-run vinyl of its RTS NI award-winning soundtrack on 18 December 2020.
---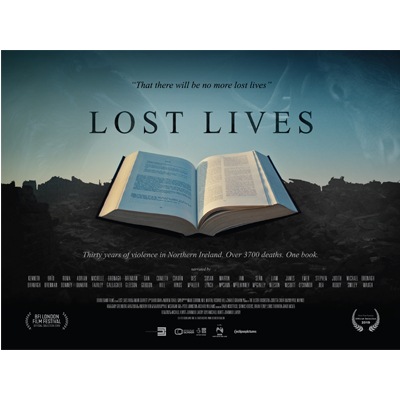 Date Posted: December 16, 2020
Following the critical success of the 2019 cinematic film LOST LIVES, the historical film adaptation of the during 'The Troubles' releases a limited-run vinyl of their RTS NI award-winning soundtrack on 18 December.
Inspired by the book of the same name, LOST LIVES was written over seven years by five journalists, it is a book that uniquely records the circumstances of every single death in the conflict. Composed fully of Northern Irish talent, the emotionally-charged original score was recorded by The Ulster Orchestra & Codetta Choir in The Ulster Hall and composed by Mark Gordon, Neil Martin, Richard Hill, and Charles Graham.
The ten-track release sonically tells the story of violence, heartbreak and hopefulness for the future when tragedy was rife. Through its instrumentation and arrangement, this beautifully haunting body of work is one handled with delicacy and aptly represents a period of recent history in its own right.
Featuring high-end cinematography, an orchestral score and readings by an ensemble cast of Irish actors, including Kenneth Branagh, Brendan Gleeson, Roma Downey, Liam Neeson, Bríd Brennan and Stephen Rea, the film is a requiem. A reminder that war is hell.
Mark Gordon, Co-Composer of Lost Lives said "Working with our fellow composer Neil Martin, the challenge set was to match the scale of vision for the film – from the stunning visual imagery through to the level of voice-over talent – it was clear from very early conversations with the directors of the film that they wanted a live fully-orchestral score that would work in sympathy with the stories of individuals whose lives were lost during The Troubles – some stories intimate, some centred around large scale defining moments of violence."  
You can listen to the soundtrack HERE or pre-order the soundtrack HERE.