Languages of Ulster on BBC Two Northern Ireland
---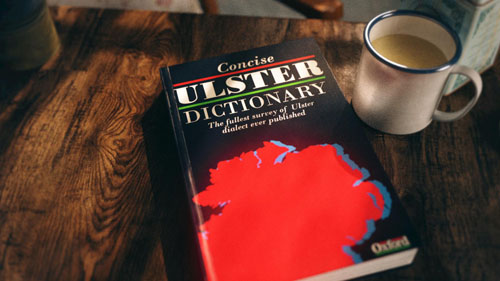 Date Posted: November 6, 2017
Languages of Ulster, a new three-part series for BBC Northern Ireland, focuses on the Concise Ulster Dictionary, which has been described as "the most comprehensive record of Ulster vernacular speech". It explores Northern Ireland's unique linguistic traditions including Ulster-Scots, Irish and northern Hiberno-English, and the relationship between them.
The series, which begins on BBC Two Northern Ireland on Sunday 12 November at 10.00pm, received support from Northern Ireland Screen's Ulster-Scots Broadcast Fund.
Languages of Ulster tells the story of the Dictionary's creation and profiles some of the writers whose work captures the vitality and richness of our local speech traditions, including James Fenton, WF Marshall, Cecil Frances Alexander and William Carleton.
The series helps to explain the background and origin of familiar words such as brae, clabber, banshee, kaleyard and dailygan – many of which present challenges for computer spell-checkers. It is a lyrical and affectionate exploration of language, people and place and an encouragement to find out more about local speech. It also demonstrates just how much Ulster-Scots words remain part of our everyday language.
This series will be supported by specially commissioned film and other resource materials from The Open University. Languages of Ulster is a Below the Radar TV production.