Jam Media's Nova Jones gets double recommission
---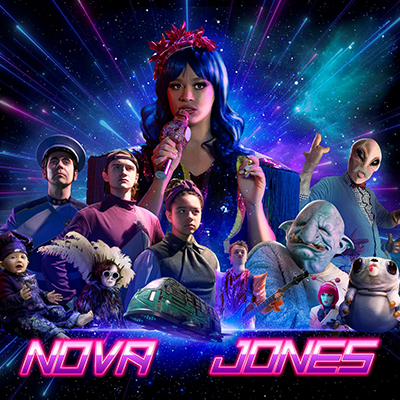 Date Posted: April 13, 2022
BBC Studios jump aboard as distribution partner for season two as Universal Music also join in the adventures of the intergalactic pop sensation!
20 new episodes from the Bafta award-winning creators will air on RTÉ2 and CBBC later this year
JAM Media, the Bafta award-winning Irish independent creator and producer of animated and live-action content for children's and preschool audiences, are delighted to announce Nova Jones is back to sprinkle stardust on your day,  as they announce they have been recommissioned to produce a double order second season of the live-action-comedy series set in space! With ten episodes in season one, the second season will have double the fun with 20 episodes in store. A co-production with RTÉ Kids and CBBC Studios, the recommission comes hot on the heels of a ratings success for both BBC and RTÉ with season one, which premiered on CBBC and RTÉ2 last September and achieved over one million views on the BBC iPlayer.
This comedy sci-fi and music series aimed at 8 – 12-year-olds follows 18-year-old pop star Nova Jones and her tween sister manager McLaren on tour through the galaxies bringing her special light to the darkest regions of space. Along the way, she drops out of this world singles, stellar albums, and plays sell-out gigs to her fans across the universe. Nova Jones is the biggest star in the galaxy and boy does she know it! Now the intergalactic pop sensation has her sights set on more — more fame, more colour, more costumes, more music, more dance, and definitely a lot more planets to tour!
Singer Molly Rainford, who was a Britain's Got Talent finalist in 2012, is back in the title role of Nova Jones, the trendsetting singing sensation, while Grace Barkley returns as McLaren, her younger yet more mature sister. With original music throughout, Nova Jones oozes talent and makes an impact with her out-of-this-world fashion in this quirky comedy. While Nova is performing for her legions of fans all across the universe, it's up to McLaren to organise her superstar big sister's tour schedule, her many moods, and to untangle the various knotty situations that Nova gets them into!
Nova Jones is executive produced by Showrunners Alan Shannon (Roy, Jessy and Nessy), John Rice (Becca's Bunch, Roy) and Andrew Ellard (Red Dwarf) This surreal series was created by Helen Serafinowicz (Motherland). Sarah Muller and Suzanne Kelly will executive produce for BBC and RTÉ respectively alongside Amelia Johnson for Studios. Original songs are written by Matthew Graham and Jessica Hammond (Konica).
CEO of Jam Media John Rice said: "The series has truly resonated with UK and Irish viewers and we look forward, through our partnership with Studios, to bringing Nova Jones to a global audience. From her confidence, fashion sense, humour and poptastic songs, Nova has a unique potential to speak to a whole generation of kids around the world in this surreal and hilarious series."
Richard Gordon, Managing Director of Jam Media's Belfast studio said: "We're delighted to be producing another 20 episodes of the epic Nova Jones right here in Belfast. The re-commission of the series is a testament to the superb local talent and crew that Northern Ireland has become synonymous with in recent years.'
Head of Children's & Young People's Content RTÉ Suzanne Kelly said: "Nova Jones is a series that has delivered the ultimate triple threat for RTÉ. As well as becoming a cornerstone series that we can wrap our kids schedule around, it has also delivered out of this world cut through cross platform and all of this wrapped up with a killer soundtrack! We and our audience are delighted to welcome Nova, McLaren and the rest of the Jefferson Starship crew back for 20 more fun-filled, sing-a-long episodes.  Nova is a star on the rise and we here at RTÉ Kids are delighted to be along for the ride!"
Sarah Muller from the BBC says: "After the success of the first series that launched last year on CBBC and iPlayer, we are excited to bring viewers two more series of this vibrant musical comedy. In these new series, we plan to extend the songs so there are even more opportunities for viewers to enjoy Nova's dazzling performances."
BAFTA winning JAM Media, with operations in both Ireland and the United Kingdom, is one of the leading creators and producers of multi-award winning animated and live action content for the children's and pre-school audience. We pride ourselves on delivering high quality, innovative, story-driven brands across multiple platforms based around engaging characters with humour and heart as their core values. The company also organises the hugely popular Animation Dingle festival now in its 10th year.
The company was founded in 2002 by fellow animators John Rice, Alan Shannon and Mark Cumberton.