Two ILBF projects nominated for the RTS Ireland Television Awards
---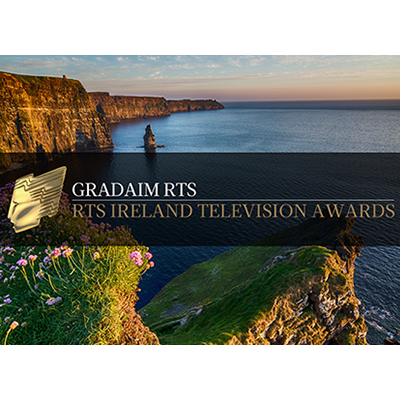 Date Posted: March 25, 2021
Two Irish Language Broadcast Fund projects, Sol and Toraigh: Creag Bheag i Lár na Farraige, have been nominated for the RTS Ireland Television Awards. The winners across nine categories will be announced on Virgin Media One on Tuesday 30th March at 11pm and will be presented by Muireann O'Connell.
The awards aim to showcase and give recognition to the Irish TV industry for achievements and excellence in creative production.
Paper Owl's heart-warming animated film Sol has received a nomination in the Children's Programme category. This inspiring film is about a little boy's journey through grief when his beloved grandmother dies. Emmy award-winning Irish actor, Fionnuala Flanagan voices Sol's grandmother alongside Myra Zepf (author and winner of Ireland's Children's Book of the Year prize) who voices Sol's mother. Sol himself is voiced by 12 year old Zana Akkoç.
Dearcán Media's Toraigh: Creag Bheag i Lár na Farraige is nominated in the Factual Single category. The documentary about Tory Island – a unique location that is home to a community of a few hundred strong Irish speakers on Ireland's most remote inhabited island – captures island life and touches on the community's isolation and vulnerability, as they are very distant from the decision makers in Dublin.
RTS Ireland Television Awards Committee Chairperson, Niall Cogley said: "We are proud to launch our inaugural RTS Ireland Television Awards with the wholehearted support of all of the broadcasters in the country and from the wider Irish television industry. 2020 was an extraordinary year, but the TV community was able to adapt and excel despite the logistical, economic and the very human challenges it faced.
"We all wanted to come together to recognise some of those achievements, to celebrate the creative excellence that Irish audiences have enjoyed in this exceptional year, and to say 'Thanks' for sharing your talents with us."
There are 27 nominees across nine categories for this year's awards, which are supported by broadcasters Virgin Media Television, RTÉ, TG4 and Sky Ireland, the Broadcasting Authority of Ireland (BAI) and Fís Éireann/Screen Ireland.
The full list of nominees can be found here: https://rts.org.uk/award/rts-ireland-television-awards
---
Dhá ainmniúchán faighte ag cláracha de chuid an Chiste Craoltóireachta Gaeilge do Ghradaim RTS na hÉireann
Tá dhá ainmniúchán faighte ag cláracha de chuid an Chiste Craoltóireachta Gaeilge, Sol agus Toraigh: Creag Bheag I Lár na Farraige do Gradaim RTS na hÉireann a fógraíodh inniu.
Craolfar den chéad uair na Gradaim ar Virgin Media One Dé Máirt seo chugainn, 30ú Márta ag 11pm agus is í Muireann O'Connell a bheidh á chur i láthair.
Tá rún ag na Gradaim seo aitheantas a thabhairt don earnáil léiriúcháin i dtionscal na teilifíse in Éirinn as barr feabhais ina gcuid oibre le linn na bliana.
Tá ainmniúchán faighte ag an scannán croíúil do pháistí a bhfuil téama an bhróin go láidir ann Sol sa chatagóir Cláracha do Pháistí. Scannán é seo faoin suaitheadh a bhaintear as Sol nuair a fhaigheann a sheanmháthair, a raibh an-chion aige uirthi bás. Is í Fionnula Flanagan, aisteoir Éireannach a bhfuil duais Emmy bainte amach aici, a dhéanann guth na seanmháthar agus is í Myra Zepf (údar agus buaiteoir dhuais Leabhar na Bliana do Pháistí) guth na máthar. Déanann Zana Akkoç atá dhá bhliain déag, guth Sol.
Tugadh ainmniúchán don chlár faisnéise Toraigh: Creag Bheag i Lár na Farraige sa chatagóir Faisnéis Aonair. Déanann an clár faisnéise cur síos ar Oileán Thoraí,  áit uathúil le pobal Gaeltachta de chúpla céad duine ar an oileán is iargúlta in Éirinn. Léiríonn Toraigh: Creag Bheag i Lár na Farraige saol na n-oileán agus baineann sé le haonrú agus leochaileacht an phobail agus iad i bhfad ó na cinnteoirí i mBaile Átha Cliath.
Dúirt cathaoirleach coiste Gradaim RTS Niall Cogley : "Tá  muid brodúil go dtiocfadh linn tús a chur leis na céad Gradaim RTS le tacaíocht ó na craoltóirí ar fad agus ón earnáil teilifíse féin anseo in Éirinn. Bhí an bhliain 2020 neamhghnách ach bhí an pobal teilifíse abálta dul i ngleic leis agus sárú r cé go raibh dúshláin lóistíochtúla, eacnamaíochta agus daonna i gceist leis.
"Bhí muid ag iarraidh teacht le chéile le haitheantas a thabairt do chuid de na héachta sin, le céiliúradh a dhéanamh ar an fheabhas cruthaitheach a bhain lucht féachanna na hÉireann sult as sa bhliain neamhghnách seo agus lenar mbuíochas a ghabháil libh as bhur dtalún a roinnt linn."
Bhí 126 clár istigh ar na gradaim agus astu sin, tá 27 ainmniúchán faighte i naoi gcatagóir éagsúil le tacaíocht ó na craoltóirí Virgin Media Television, RTÉ, TG4 agus Sky Ireland, an BAI agus Fís Éireann.
Tá liosta iomlán ainmniúcháin le fáil anseo: https://rts.org.uk/award/rts-ireland-television-awards