Tory island fight to preserve its unique way of life in Toraigh: Creag Bheag i Lár na Farraige
---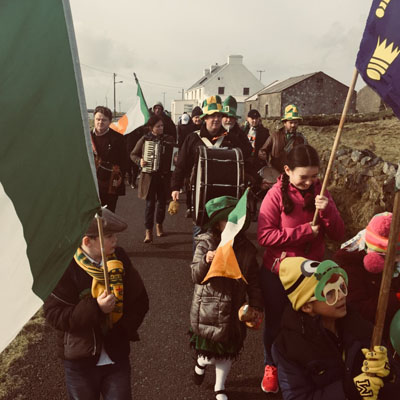 Date Posted: February 17, 2020
Tory Island is a unique location that is home to a community of a few hundred strong Irish speakers on Ireland's most remote inhabited island.
Toraigh: Creag Bheag i Lár na Farraige captures island life and touches on the community's isolation and vulnerability as they are very distant from the decision makers in Dublin.
The documentary is a Dearcán Media, TITA Productions, Lugh Films production for BBC Gaeilge & TG4 with support from Northern Ireland Screen's Irish Language Broadcast Fund.
For a period in the 1980s, it was state policy to evacuate the island, and they fought hard to retain the right to remain, to obtain improved facilities, and preserve the island way of life.
In the documentary, Patsy Dan Rodgers, the elected king of Tory for 25 years, reflects on the islanders' efforts to secure their unique way of living. During filming Patsy was sadly diagnosed with cancer and died quite suddenly.
Filming also follows Marjorie, who manages the community co-operative and works tirelessly, lobbying for new resources and facilities to make island life easier.
Can this community on the very margins of Ireland and Europe, preserve their unique way of life, with or without a king?
Toraigh: Creag Bheag i Lár na Farraige airs Sunday 23rd February on BBC Two Northern Ireland at 10pm.
---
Pobal Thoraí agus a throid lena saol uatháil a chaomhnú. Toraigh: Creag Bheag i Lár na Farraige
Is áit uathúil í Oileán Thoraí, pobal Gaeltachta de chúpla céad duine ar an oileán is iargúlta in Éirinn.
Léiríonn Toraigh: Creag Bheag i Lár na Farraige saol na n-oileán agus baineann sé le haonrú agus leochaileacht an phobail agus iad i bhfad ó na cinnteoirí i mBaile Átha Cliath.
Is léiriú de chuid Dearcán Media, TITA productions & Lugh Films an clár faisnéise seo do BBC Gaeilge & TG4 le maoiniú ón Chiste Craoltóireachta Gaeilge.
Ar feadh tréimhse sna 80í, ba pholasaí stáit é chun an oileán a thréigean, agus throid siad go mór dona gcearta chun fanacht ar an oileán, áiseanna níos fear a fháil, agus saol an oileáin a chaomhnú.
Tugann Patsy Dan Rodgers, rí tofa Thoraí ar feadh 25 bliain, machnamh ar iarrachtaí na n-oileán chun a slí bheatha uathúil a bhaint amach. Le linn scannánú a dhéanamh, bhí drochmheas ar ailse ar Patsy agus fuair sé bás go tobann.
Leanann an clár faisnéise Marjorie, a bhainistíonn an comharchumann. Oibríonn sí go crua, ar lorg acmhainní agus áiseanna nua le saol an oileáin a dhéanamh níos éasca.
Cén dóigh ar féidir leis an phobal seo, atá ar imeall na hÉireann agus na hEorpa, saol uathúil s'acu a chaomhnú, bíodh sé le rí nua nó gan rí ar bith?
Beidh Toraigh: Creag Bheag i Lár na Farraige ar siúl Dé Domhnaigh 23 Feabhra ar TG4 ag 10pm.