Tír na nÓg – Land of the Young: the Gaeltacht in Donegal
---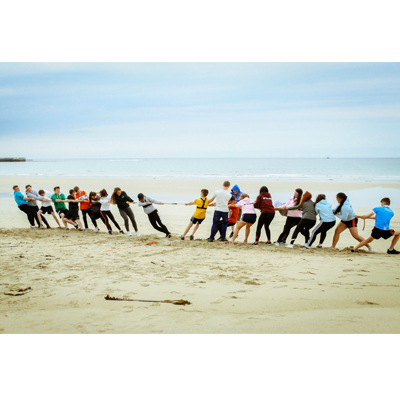 Date Posted: October 11, 2019
A new three-part BBC Gaeilge series, Tír na nÓg (Land of the Young), gives viewers an insight – and for some, a nostalgic reminder – into the lure and charm of the Gaeltacht in Donegal.
With a wry commentary from Sara Ní Chuireáin, the new series has unrivalled access to one of the three-week summer courses at Coláiste Mhachaire Rabhartaigh and some of the 200 teenagers who descend on the small Donegal village.
Tír na nÓg, produced by DoubleBand Films, with support from Northern Ireland Screen's Irish Language Broadcast Fund, starts on BBC Two Northern Ireland on Monday 21 October at 10pm.
The new series follows the teenagers and the leaders at the college as they get to grips with games and challenges, lessons and céilís. For many teenagers, Donegal's Gaeltacht each summer is a rite of passage as they are away from home and parents to a place of music, dancing, romance, teenage awkwardness and new friendships. And, of course, a place to improve their Irish.
It's more than just a place for learning and improving Irish – lifelong friendships are made, self-confidence is found and it's sad to leave after the intensity of those three short weeks!
Tír na nÓg airs on BBC Two Northern Ireland on Monday 21 October at 10pm.
---
Tugann Tír na nÓg, sraith nua trí pháirt de chuid BBC Gaeilge, léargas don lucht féachana – agus do roinnt daoine, meabhrúchán cumhach – i dtimpeallacht na Gaeltachta i nDún na nGall.
Le tráchtaireacht deisbhéalach ó Sara Ní Chuireáin, tá fáil den chéad scoth ar cheann de na cúrsaí samhraidh ag Coláiste Mhachaire Rabhartaigh, agus ar an dá chéad déagóirí atá tar éis leaindeáil ann.
Léiríodh Tír na nÓg ag DoubleBand Films, le maoiniú ó Chiste Craoltóireachta Gaeilge Scáileáin Thuaisceart Éireann. Tosaíonn an tsraith ar BBC Two Northern Ireland Dé Luain 21ú Deireadh Fómhair ar 10i.n.
Leanann an tsraith nua seo déagóirí agus ceannairí an choláiste agus iad ag dul i ngleic le cluichí agus dúshláin, ceachtanna agus céilí. I gcás go leor déagóirí, tá an Ghaeltacht gach samhradh deasghnátha mar go bhfuil siad ar shiúl ón mbaile agus ó thuismitheoirí go dtí áit ceoil, damhsa, grá, míshuaimhneas déagóirí agus cairdeas nua. Agus, ar ndóigh, áit chun a gcuid Gaeilge a fheabhsú.
Tá sé níos mó ná áit le foghlaim agus feabhas a chur ar an nGaeilge – déantar cairdeas ar feadh an tsaoil, faightear féinmhuinín agus tá sé brónach a fhágáil tar éis déine na dtrí sheachtain ghearr sin!
Téann Tír na nÓg amach ar BBC Two Northern Ireland, Dé Luain 21 Deireadh Fómhair ag 10i.n.