ILBF documentary on a rebranding mission to give Peig the mother of all make over
---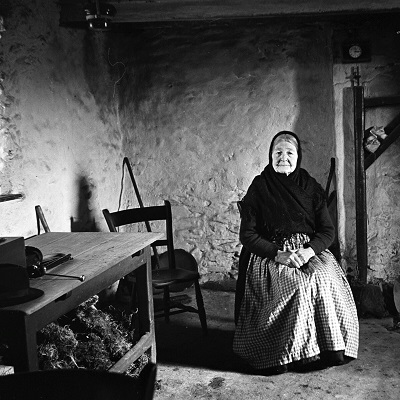 Date Posted: March 4, 2021
PEIG, a documentary about the storyteller Peig Sayers will air on TG4 on Wednesday 10th March at 9:30pm. This documentary was produced by Waddell Media for TG4 with funding support from our Irish Language Broadcast Fund (ILBF).
Peig Sayers – widely considered to be the most hated woman in Irish history has tormented young students across Ireland for decades with her memoir 'Peig'. Described as boring, unrelenting, and unintelligible, Peig's autobiography was part of the compulsory Leaving Certificate Irish syllabus until 1995. This new documentary will revisit Peig, her personality and her art as a storyteller reclaiming her and portraying her as she has never been before.
Presented by broadcaster Sinéad Ní Uallacháin, the documentary is on a rebranding mission to give Peig the mother of all make overs – one that will change her memory in our minds forever. Sinéad will take the viewer on a fascinating journey to find out about the real Peig, listening to recordings of her, dipping into some comedy sketches about Peig, meeting those who love and loathe her, debunking myths and finally uncovering who the real Peig is and a legacy to be proud of.
Sinéad Ní Uallacháin said: "I wonder what Peig would have said if she knew that we'd still be talking about her, at length, in the year 2021? This woman generously shared not only her life story, but many other stories that she had collected over the years – I don't believe the abuse she continuously receives is warranted. There are many layers to Peig, as I found out whilst making this programme."
On her journey, Sinéad reveals that is wasn't Peig's intention to be the subject of hatred among Irish teenagers. Peig was in fact one of the greatest Irish storytellers, a born performer and entertainer. Máire Ní Dhálaigh, of the OPW's Blasket Centre said 'Peig was the Netflix of the time'. She was a woman full of fun and craic who loved to entertain and drew people to her. Archive recordings revealed in the programme from the National Folklore Collection in University College Dublin reveal a theatrical performer.
Some say she was associated with the old world of piety and sainthood, an image which was inflicted upon her by the newly formed Irish state of the 20s and 30s and that the book was carefully edited to reflect one version of Peig's life.
Áine Ní Bhreisleáin, broadcaster and podcaster of Beo ar Éigean said: "Peig didn't know that she would go viral, for many the quote from the book 'cois léi san uaigh is an chos eile ar a bruach' is a metaphor for the Gaeltacht and reflects how people perceive Irish as a dead language."
Sinéad will meet others who want to reclaim Peig as an icon and hero, including Sharon Granahan who has a tattoo of Peig and why she is her hero. Renowned poet Nuala Ní Dhomhnaill features reading a newly composed poem for her Peig.
The documentary will also question how our relationship with Peig reflects our complex relationship with our heritage, our language and who we are.
Evan Chamberlain is the Producer/Director. Executive Producers are Jannine Waddell and David Cummings for Waddell Media ; Áine Walsh for the ILBF and Laura Ní Cheallaigh for TG4.
PEIG airs on TG4 on Wednesday 10th March at 9:30pm.
---
Craolfar PEIG, clár faisnéise faoin seanchaí Peig Sayers ar TG4 ar an Céadaoin 10ú Márta ag 9.30.i.n.
Léirigh Waddell Media an chlár seo le tacaíocht ón ár gCiste Craoltóireachta Gaeilge.
Dúradh go raibh déagóirí na tíre cráite ag beathaisnéis Peig Sayers 'Peig' nuair a bhí sé ar an gcuraclam Ardteistiméireachta go dtí 1995.  Dúirt na mic léinn óga siad go raibh sé 'leadránach' agus gan staonadh.  Tabharfaidh an clár faisnéise seo léargas nua ar Pheig, ar a pearsantacht agus ar a scil mar scéalaí.
Rachaidh an craoltóir aitheanta, Sinéad Ní Uallacháin, ar aistear chun saol agus oidhreacht Peig Sayers a chíoradh le feiceáil an ionann í agus a leabhar Peig, agus í ag iarraidh a fháil amach an bhfuil meon na tíre athraithe blianta fada tar éis a leabhar a bheith ar shiollabas na hArdteiste.  Tabharfaidh sí léargas don lucht féachana ar cérbh í Peig, ag éisteacht le taifeadtaí di, ag féachaint ar sceitsí grinn di agus ag bualadh leo siúd a bhfuil grá aici di agus a bhfuil meas aici uirthi, ag iarraidh faoi dheireadh an meon diúltach faoi Pheig a dhíbirt.
"N'fheadar ar thuig Peig ariamh go mbeimis fós ag caint an oiread sin uirthi sa bhliain 2021? Do bhean a d'inis a scéal féin agus a thug uaithi a cuid scéalta go fial, ní dóigh go bhfuil an míchlú a luaitear léi, tuillte aici. Tá níos mó ag baint leis an mbean seo, mar atá fachta amach agam, agus mé ar m'aistear pearsanta le haithne níos fearr a chur uirthi"  – Sinéad Ní Uallacháin.
'Ba bhreá liom Gaeilge a labhairt ach ní maith liom Gaeilge mar gheall ar an leabhar sin'  – gearán coitianta uathu siúd a raibh orthu Peig a léamh ar scoil. Nochtann Sinéad ar a turas nach raibh sé ar intinn ag Peig a bheith ina ábhar fuatha i measc déagóirí na hÉireann. Bhí Peig ar cheann de na scéalaithe is fearr in Éirinn, taibheoir agus siamsóir den scoth. Deir Máire Ní Dhálaigh ó Ionad an Bhlascaoid 'Bean seoigh, lán de rógaireacht, agus craic, b'shin an Netflix a bhí acu'. Ba bhean lách í a bhí lán de spraoi agus de chraic a tharraing daoine chuici. Nochtann taifeadtaí cartlainne sa chlár ón gCnuasach Bhéaloideas Éireann gur aisteoir agus taibheoir den scoth ab ea Peig. Insítear dúinn go raibh os cionn 350 scéal ag Peig agus taifeadadh déanta orthu.
Bhí tuairim ann go raibh baint ag Peig le saol na cráifeachta agus leis an sean-shaol agus íomhá a bhí á lorg an an stát nua-bhunaithe sna 20idí agus 30idí.   Dúirt an craoltóir Áine Ní Bhreisleáin,  "Cha raibh a fhios aici go raibh sí le dul viral". Is meafar é an ráiteas 'cois amháin san uaigh is ceann eile ar an mbruach' dar le Siún Ní Dhuinn ar an meon atá ann faoin nGaeilge agus an Ghaeltacht.
Buailfidh Sinéad le daoine eile ar nós Sharon Granahan a bhfuil tatú de Peig aici agus a mhínionn cén fáth gur laoch í Peig di. Deireann Nuala Ní Dhomhnaill dán nua-chumtha in ómós do Pheig.
Tabharfaidh an clár faisnéise seo leargás dúinn ar na cosúlachtaí idir an chaidreamh atá againn le Peig agus an chaidreamh atá againn lenár n-oidhreacht, ár dteanga agus ár bhféiniúlacht.
Is é Evan Chamberlain an léiritheoir/stiúrthóir. Is iad na léiritheoirí feidhmiúcháin ná: Jannine Waddell agus David Cumming do Waddell Media; Áine Walsh don CCG agus Laura Ní Cheallaigh do TG4.
PEIG 10 Márta 9:30pm TG4 nó ar TG4.ie