Series 3 of Turas Bóthair to air on TG4
---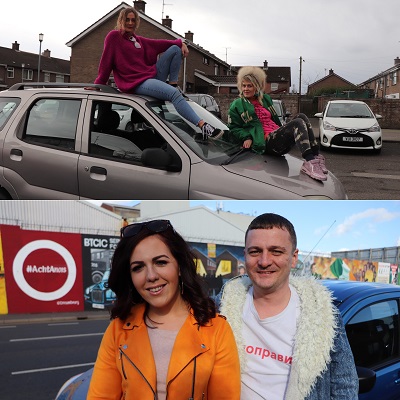 Date Posted: September 5, 2019
Turas Bóthair, the TV show that exposes real life topical conversations filmed through rigged cameras inside cars, is back on our screens for a third series on Thursday 5th September at 8pm on TG4.
The six-part series was produced with funding from Northern Ireland Screen's Irish Language Broadcast Fund.
Produced by Waddell Media, Turas Bóthair allows viewers to eavesdrop on real everyday discussions. Drivers and passengers reveal details of their personal lives and what is normally hidden behind closed doors including illnesses and conspiracy theories.
In this series, we will meet work colleagues Órla and Cónall from Belfast, and Allanah and Cara from Derry. We get to know Seán Breandán and Seanín from Kerry, and also school friends Muiris and Gabriel. We also meet Donegal country music fans Micheal and John.
Viewers are expected to witness moments of joy and sadness, comedy and tragedy, and friendships are romance.
The hit show was filmed on location in Counties Antrim, Derry, Donegal, Galway, Kerry and Mayo.
Turas Bóthair airs on Thursday 5th September at 8pm on TG4 for six weeks.
---
Tá Turas Bóthair, an clár a nochtann dúinn cad é go díreach a bhíonn mar ábhar cainte ag daoine agus iad ag taisteal thart ina gcuid carranna ar ais don 3ú sraith ar an Déardaoin 5ú Meán Fómhair ag 8i.n. ar TG4.
Ba é Waddell Media a léirigh an tsraith sé chlár le maoiniú ó Chiste Craoltóireachta Gaeilge Scáileán Thuaisceart Éireann.
Tá ceamaraí beaga curtha ar ais arís i gcarranna ar fud na hÉireann sa dóigh go dtig linn cúléisteacht leis na comhráite a bhíonn ag dul ar aghaidh idir tiománaithe agus a gcuid paisinéirí. Cluinfimid scéalta pearsanta agus gheobhaimid amach cad é an dearcadh atá ag an mhuintir sna carranna ar réimse leathan ábhar: an grá, caidrimh, gnéas, teicneolaíocht, tinneas, cearta na mban agus cuid mhór eile.
Beimid ag cúléisteacht le Órla agus Conall, comhghleacaithe i mBéal Feirste, agus le Allanah agus Cara as chathair Dhoire. Cuirfimid aithne ar Seán Breandán agus Seanín i gCiarraí, agus ar Mhuiris agus Gabriel a chuir aithne ar a chéile agus iad ar scoil. Beidh cluas le héisteacht againn le ceolteoirí tíre Micheal agus John i nDún na nGall chomh maith.
Tá lúcháir agus brón ann, coiméide agus tragóid, grá agus briseadh croí, cairdeas agus rómánsaíocht, aiféaltas agus machnamh, éadóchas agus dóchas.
Rinneadh Turas Bóthair a scannánú i gcontaetha éagsúla – Dún na nGall, Ciarraí, Gaillimh, Maigheo, Aontroim agus Doire.
Beidh Turas Bóthair ar siúl ar an Déardaoin 5ú Meán Fómhair ag 8i.n. ar TG4.