Pampered pooches feature in new series, Peataí!, at Ark Farm pop-up clinic
---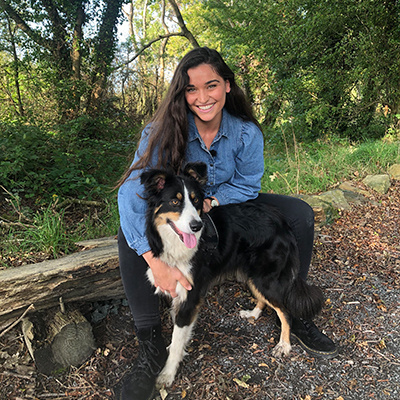 Date Posted: December 24, 2020
Cranky cats, pampered pooches and zoopharmacognosy. A new four-part series, Peataí!, starts on BBC Two Northern Ireland on Monday 4th January at 10pm, gets its paws into the wonderful world of pets! The series was made by Big Mountain Productions with support from Northern Ireland Screen's Irish Language Broadcast Fund.
Each week a team of experts welcome pets and their owners to their pop-up clinic at the Ark Farm in Newtownards to answer a range of questions and offer their purr-fessional advice on everything pet-related from bad behaviour and bad breath to diet and grooming.
Presenter Tessa Fleming meets the owners and their pets that range from the cuddly to the exotic, from pups to a parrotlet and gets tips and encouragement from resident vet Ellen Hegarty, groomer Paul Ó Gallachóir and animal behaviourist Paula Doohan.
Is a dog owner barking up the wrong tree trying to find the answer for their anxious pet? What is zoopharmacognosy and could it help a show jumping horse? And how do you give an alpaca a manicure?
Presenter Tessa Fleming said: "This series was a lovely opportunity to celebrate our pets and to bring a little bit of sunshine and positivity to what was such a difficult year. We had such an array of unusual animals in the series and it was really heart-warming to understand why owners fell head over heels in love with their furry and not-so-furry friends! And of course, for many, including myself, it was a steep learning curve to better understand our pets, their needs and their sometimes unpredictable behaviour! I've no doubt that the audience will be able to pick up a trick or two as to how to better handle their pet!"
Peataí! airs on Monday 4th January on BBC Two Northern Ireland at 10pm and is available afterwards in the BBC Gaeilge collection on BBC iPlayer.
---
Cait chantalacha, saol an mhadaidh bháin agus zó-chógasghnóis. Tosaíonn an tsraith úr ceithre chlár, Peataí!, Dé Luain 4ú Eanáir ar BBC Two NI ar 10i.n. Sraith úr arna léiriú do BBC Gaeilge ag Big Mountain Productions le tacaíocht ó Chiste Craoltóireachta Gaeilge Scáileán Thuaisceart Éireann, ag tosú sa bhliain úr a chuireann a lapaí isteach i saol aisteach, iontach na bpeataí!
Gach seachtain cuireann foireann saineolaithe fáilte roimh pheataí agus a n-úinéirí chuig tob-chlinic Ark Farm i mBaile Nua na hArda le freagra agus comhairle a thabhairt ar réimse ceisteanna atá beo beathach agus a bhaineann le drochiompar, drochanáil, dea-bhia agus dea-ghrúmaeireacht.
Buaileann Tessa Fleming, láithreoir, leis na húinéirí agus peataí, ó chlúmhach go coimhthíoch, idir chrúba agus chleití agus faigheann sí leideanna agus spreagadh ó Ellen Hegarty, tréidlia cónaitheach, Paul Ó Gallachóir, grúmaeir agus Paula Doohan, iompraí ainmhithe.
An bhfuil úinéir madra ar strae ag iarraidh teacht ar leigheas do pheata imníoch? Cad é an rud é zó-chógasghnóis agus an gcuideoidh sé le capall seóléimní? Agus cad é mar a thugann tú lámh-mhaisiú d'alpaca?
Arsa Tessa Fleming, láithreoir: "Deis iontach an tsraith seo lenár bpeataí a cheiliúradh agus beagán sonais is solais a lonrú ar bhliain a bhí deacair. Bhí réimse iontach againn de pheataí neamhghnácha agus ardú meanman a bhí ann a fháil amach mar a thug úinéirí a gcroí is a n-anam dá bpeataí de gach cineál! Agus, ar ndóigh, ag cuid mhór againn, mé féin san áireamh, ghlac sé tamall teacht ar thuiscint níos fearr ar ár gcuid peataí, ar a riachtanais agus ar a n-iompraíocht aisteach nach féidir a thuar! Ní amhras ná go dtógfaidh an lucht féachana leid nó dhó le cúram níos fearr a thabhairt dá gcuid peataí féin."
Tosaíonn an tsraith úr ceithre chlár, Peataí!, Dé Luain 4ú Eanáir ar BBC Two NI ar 10i.n. agus beidh sí ar fail ina dhiaidh sin ar chnuasach BBC Gaeilge ar BBC iPlayer.