Enda Kenny discovers abandoned railway routes in Ireland in new ILBF series
---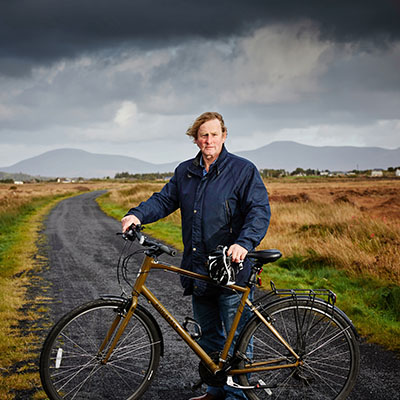 Date Posted: March 29, 2021
Iarnród Enda, a new Irish Language Broadcast Fund series about the long-abandoned railway routes of Ireland, airs on Monday 5th April at 8:30pm on RTÉ One. The six-part series was produced by Sonas Productions.
In this new series Enda Kenny explores the story of a once modern transport system, the railway routes that became engraved into the countryside, transformed the landscape and shaped the evolution of the entire island. Railway expanded the way we saw ourselves in the world, influencing the course of subsequent historical, social and political events​.
Discovering riches along the way, human and cultural, Enda marvels at the shoots of new growth emerging as sections of old lines regenerate as small, narrow-gauge tourist trains bring the magic and romance of steam to life.
Other routes, re-imagined, emerge from the landscape with a fresh vigour re-purposed into greenways attracting walkers and cyclists from home and abroad as a new, health-oriented tourist industry puts down roots where naught but dereliction and abandonment previously held sway.
If you thought you knew all there was to know about Enda Kenny after his 45 years in Dáil Éireann – be prepared to be surprised. This iteration reveals a man happy on his bike, relaxed in himself and comfortable in the company of those he encounters along the way. A good listener, he's at his happiest meeting new people or old friends and is never slow to call in for a chat or a story, a tune or a song.
---
Aimsíonn Sraith Nua an CCG Iarnród Enda iarsmaí na mbealaí iarnróid in Éirinn
Beidh an tsraith sé chuid, atá maoinithe ag an Chiste Craoltóireachta Gaeilge, Iarnród Enda, le feiceáil Dé Luan 5ú Aibreáin ag 8:30in ar RTÉ One. Is Sonas Productions a léirigh an tsraith.
Sa sraith nua seo taistealaíonn Enda Kenny ar iarsmaí na mbealaí iarnróid a d'fhág a rian ar an tírdhreach agus a raibh tionchar ar shaol uilig an oileáin acu. D'athraigh an t-iarnród an chaoi ina dhearcamar orainn féin sa tsaol, agus bhí tionchar as cuimse aige ar an stair, ar chúrsaí sóisialta agus ar an pholaitíocht féin.
Is iomaí saibhreas, daonna agus cultúrtha, a shoillsítear dó ar an mbealach. Ábhar iontais freisin iad na comharthaí nua fáis atá le h-aithint san áit a ndeintear athchóiriú ar shean-líne traenach, beart a thugann románs ré órga na gaile chun beathaigh athuair.
Fásann bealaí iarnróid eile as an tírdhreach le spleodar nua – ath-shamhlaithe ina nGlasbhealaí a mheallann siúlóirí agus lucht an dá roth araon ó chuile chearn. Tá forás ag teacht ar thionscal turasóireachta atá sláintiúil, tionscal a leagann coischéim éadrom ar an timpeallacht, tionscal a chuireann síos fréamhacha a théann go domhain san áit ina mbíodh dreo agus tréigean sa treis go dtí le déanaí.
Má cheap tú nach raibh aon rud nua le léamh agat in Enda Kenny i bhfianaise an dá scór go leith bliain a chaith sé i nDáil Éireann, seans go mbainfear preab asat. Fear é atá compordach ar a rothar, ar a shuaimhneas ann féin agus éasca i gcomhluadar iad siúd a gcuireann aithne air ar an ród. Is éisteoir maith é, agus níl aon rud is fearr a thugann ardú dó ná bualadh isteach ar dhaoine, ag cabaireacht, nó ag cur an saol ina cheart, nó chun súp agus sásamh a bhaint as tiún nó amhrán.