New ILBF series helps children learn about science
---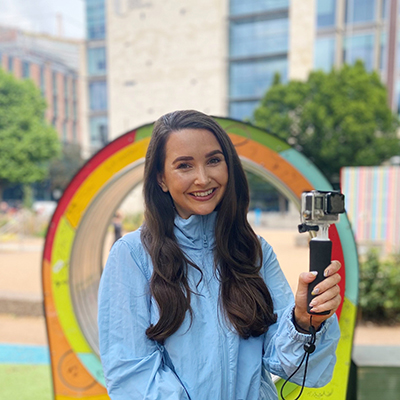 Date Posted: September 22, 2021
An Bhfuil a Fhios Agat? is a new Irish Language Broadcast Fund children's television series that follows Brídín Ní Mhaoldomhnaigh as she explores the home and visits factories and workshops all over Ireland to find out how things work and how they're made. The 25-part series was produced by Zoogon LTD and will air weekly at 3:45pm on Cúla 4 na n-Óg from Wednesday 29th September.
Brídín asks the questions everyone wants to know. This will encourage children to be more inquisitive about the items in their everyday life. Each episode is science based and will ensure children are learning about science in a fun and energetic way.
She uses the latest camera technology and animation to help children see inside objects and in extreme close up – revealing their workings in detail. These moments give the viewer a unique perspective, which explains the process more clearly, like seeing something in slow motion, using thermal imaging or a microscope camera. This could be what happens inside the dishwasher when the door is closed, what happens inside an egg when it's cooking or how a boat propeller turns under water.
Even though the series is aimed at children, it will attract viewers of all ages. Every day is a learning day!
In episode one, Brídín meets some furry friends and creepy-crawlies. She uses a special night-vision camera to find out how a hamster wheel works and how far a hamster can run in a single night. Later she visits a workshop to see how an insect hotel is made and she also finds out where the raw material to build the insect hotel comes from.
An Bhfuil a Fhios Agat? begins on Wednesday 29th September at 3:45pm on Cúla 4 na n-Óg.
---
Sraith Nua de chuid an CCG ag déanamh eolaíocht spraíúil de phaistí
Is sraith nua do pháistí é 'An Bhfuil a Fhios Agat? atá maoinithe ag an Chiste Craoltóireachta Gaeilge, a leanann Brídín Ní Mhaoldomhnaigh agus í ag fiosrú cád é mar a oibríonn agus a dhéantar rudaí agus í sa bhaile nó ag tabhairt cuairt ar mhonarchain agus ceardlanna áirithe. Is léiriú de chuid Zoogon é an tsraith cúig chlár is fiche agus craolfar an clár go seachtainiúil ag 3.45 i.n ar Cúla 4 na n-Óg ón 29ú Meán Fómhair, 2021.
Bíonn Brídín ar thóir fírící agus freagraí a spreagfaidh an lucht féachana chun rudaí a cheistiú faoin domhan timpeall orthu.  Tá na cláracha bunaithe ar shaol na heolaíochta agus déanann an tsraith seo eolaíocht a mhúineadh do pháistí i mbealach sultmhar agus bríomhar.
Baintear úsáid as ceamaraí speisialta agus beochan chun amharc níos géire ar phróiseasanna ionas go mb'fhusa iad a mhíníu.  Tugann seo radharc faoi leith don lucht féachana mar go bhfeiceann siad an próiseas go soiléir ar nós rud éigin a fheiceáil i slómó, íomháú teirmeach nó le micreascóp. Cosúil le cad é a tharlaíonn taobh istigh de mhiasniteoir nuair atá an doras druidte, cad é a tharlaíonn taobh istigh d'ubh nuair a chócaráltar í nó cad é mar a oibríonn lián báid faoi uisce!
Cé go bhfuil an tsraith seo dírithe ar pháistí, is sraith í a mhusclaíonn an fhiosracht i bpáistí agus i ndaoine fásta araon!
Sa chéad chlár casann Brídín ar ainmhíthe agus feithidí. Téann sí ar cuairt chuig siopa peataí chun fáil amach cad é mar a oibríonn roth hamstair. Faigheann sí amach fosta gur ainmhí oíche é an hamstar agus go ndéanann siad neart aclaíochta ina roth gach oíche.  Ansin téann sí chun fáil amach cad é mar a dhéantar óstán feithidí agus cá has a dtagann an bunábhar – an t-adhmad – chun óstán feithidí a dhéanamh.
Craolfar An Bhfuil a Fhios Agat? ag 3.45 i.n ar Cúla 4 na n-Óg ón 29ú Meán Fómhair, 2021.