New ILBF series Báisteach looks at how rain impacts lives across the globe
---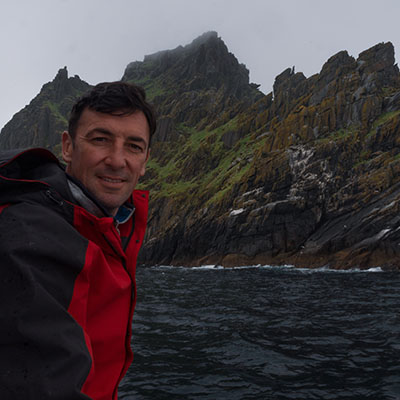 Date Posted: April 6, 2022
Báisteach (rain). It always seems to turn up when you least want it, leaving your best laid plans in tatters but rain is a vital resource. In this new Irish Language Broadcast Fund series Seán Mac an tSíthigh uncovers how the story of rain is a global one and plays a pivotal role in cultures and religions around the world. From water shortages in Ireland, to regenerating landscapes in India and in Kenya, to sponge cities in China, we discover how rainfall impacts lives across the globe. The three-part series, from Below The Radar TV, begins at 9.30pm on Wednesday 6th April on TG4.
Rain feeds our rivers, lakes, and reservoirs.  It nourishes our soil, enabling our crops to grow and our livestock to flourish. And it provides each of us with our required daily quota of water. Without it we couldn't survive. Báisteach unpacks our understanding of rain and the science of the drops of water that fall from our skies. Seán meets scientist Cormac Ó hAdhmaill at Fermanagh's Marble Arch Caves to see the impact made by rainfall which fell thousands of years ago. Seán also travels to the United Arab Emirates to discover how countries with very little rainfall are using science to enhance their lot.
In the second episode of the series Seán explores the impact rain has on cultures around the world. He visits a holy well in Ireland which contains water which fell as rain hundreds of years ago. He explores the cultural significance of rain in countries which don't see a lot of rainfall, and he puts the Child of Prague to the test to keep the rain away for an Irish wedding!
In episode three we travel from Inis Oírr to Arizona to learn about how a lack of rainfall affects people's everyday lives, and how one Scottish community puts their abundant rainfall to use to regenerate their isolated townland. Seán visits Skellig Michael to discover how the monks who built a home on this isolated rock in the ocean harvested rainwater to survive.
Presenter Seán Mac an tSíthigh said: "Given our relationship with it here in Ireland you might expect a documentary about rain to be a mundane exploration of the familiar. Yet within that familiarity one can find the extraordinary, from the remarkable engineering feats of early-Christian monks on Sceilg Mhichíl in harvesting rain-water to the cutting edge technology of cloud seeding in the Middle East where rain is created using planes and rockets.
"Parts of this series look to the past, examining the intimate relationship our ancestors had with rain and sees how their cultural wisdom can inform us as we face today's climatic challenges. While filming in the United Arab Emirates for example, I was struck by the ingenuity of society where huge cities have emerged from the desert, but I was also made aware of the fragility of such a potentially unsustainable existence. Our generation carries a burden of responsibility for future generations. We are temporary custodians of our planets climate I think this series offers food for thought as we face the challenges climate change brings with it."
Báisteach is a Below The Radar TV, Cwmni Da, Mac TV co-production for TG4 and MG Alba, made in association with LIC in China. The series was made with funding from Northern Ireland Screen's Irish Language Broadcast Fund, Creative Wales & Creative Scotland.
---
Amharcfaidh sraith nua de chuid an CCG Báisteach ar an tionchar atá ag an bháisteach ar saolta ar fud na cruinne
An bháisteach. Go minic tagann sí chugainn an uair is lú a oireann sé dúinn agus caitheann sí ár gcuid pleananna i dtraipisí. Sa tsraith úr seo de chuid An Chiste Craoltóireachta Gaeilge, amharcfaidh Seán Mac an tSíthigh ar an lorg a fhágann an bháisteach ar an domhan agus ar an ról lárnach atá aici i gcultúir agus i gcreidimh na cruinne. Idir easpa uisce in Éirinn, tírdhreacha á n-athbheochan san India agus sa Chéinia agus cathracha spúinse sa tSín, fiosrófar an tionchar atá ag an bháisteach ar an saol mór. Tosnaíonn an tsraith, atá léirithe ag Below the Radar, Dé Céadaoin 6ú Aibreáin ag 9.30pm ar TG4.
Beathaíonn an bháisteach na haibhneacha, na lochanna agus na taiscumair. Cothaíonn sí an ithir, rud a fhágann bláth ar an bharr agus biseach ar an eallach. Go deimhin is uaithi a fhaighimid an t-uisce a ólaimid gach lá. Ní thiocfadh linn teacht gan í. Buaileann Seán leis an eolaí Cormac Ó hAdhmaill ag Uaimheanna na hÁirse Marmair i gcontae Fhear Manach, áit a bhfuil lorg na báistí a thit na mílte bliain ó shin fós le feiceáil. Tugann Seán cuairt ar Aontas na nÉimíríochtaí Arabacha le tuiscint a fháil ar an dóigh a mbíonn an eolaíocht in úsáid ag tíortha atá ar easpa báistí agus iad ag féachaint leis an ghanntanas sin a leigheas.
Sa dara clár den tsraith caitheann Seán súil ar an tionchar atá ag an bháisteach ar chultúir ar fud na cruinne. Tugann sé cuairt ar thobar beannaithe in Éirinn, tobar ina bhfuil uisce a thit ina bháisteach na céadta bliain ó shin. Fiosraíonn sé an tábhacht chultúrtha a bhaineann leis an bháisteach i dtíortha a bhíonn ar easpa báistí agus cuireann sé tástáil ar an traidisiún a bhaineann le Leanbh Phrág a úsáid le súil is go mbeidh lá tirim ann lá bainise in Éirinn!
Sa tríú clár is ó Inis Oírr go Arizona a bheidh ár dtriall féachaint le heolas a chur ar an tionchar atá ag an ghanntanas báistí ar an saol laethúil. Cuirfimid eolas chomh maith ar phobal in Albain a bhaineann leas as báisteach an cheantair leis an bhaile fearainn iargúlta a athnuachan. Agus tabharfaidh Seán cuairt ar Sceilg Mhichíl chun fiosrú faoi scéal na manach a chuaigh chun cónaithe ar an charraig iargúlta chéanna agus a bhailigh an bháisteach chun iad féin a choinneáil beo.
Seo mar a labhair an láithreoir Seán Mac an tSíthigh maidir leis an sraith: "Níl amhras ach go bhfuil seana-thaithí againn ar bháisteach anso in Éirinn, agus b'fhéidir go gceapfá go mbeadh sraith teilifíse fé bháisteach ábhairín leadránach. Ach sa leadrán a bhuailfidh an t-iontas leat go minic agus is amhlaidh atá sa tsraith seo is dóigh liom – ó héacht innealtóireachta a dhein manaigh na Sceilge agus iad ag bailiú na báistí go dtí eolaithe na nua-theichneolaíochta sa Mheánoirthear agus iad ag fáscadh na báistí ós na scamaill le heitealáin.
Caitheann cuid den tsraith seo súil siar agus iniúchadh á dhéanamh againn ar an gcaidreamh a bhí ag ár sinsear leis an mbáisteach. Cífidh tú go bhfuil mórán le foghlaim ó chultúir ársa a chabhróidh linn agus sinn ag stracadh le hathrú aeráide. Le linn dúinn bheith ag taifead in Aontas na nÉimiríochtaí Arabacha, cúis iontais dom ab ea an tslí go bhfás catharacha móra taibhseacha aníos as an ngainimh, ach ní chuaigh sé i ngan fhios dom ach an oiread a leochaillí agus tá na háiteanna seo, amhras ann fén inbhuanaitheacht a bhaineann le dlús mór daoine in áit atá gann ar uisce. Léirítear sa tsraith seo an fhreagracht atá ar ár nglúin-na mar chaomhnóirí cruinne – ná glúinte ata le teacht ag braith orainn. Tá dualgas orainn aire chuí a thabhairt dár bplainéad agus is dóigh liom go dtugann an tsraith seo ábhar machnaimh dúinn agus sinn ag iarraidh dul i ngleic le ceist mhór á linne – athrú aeráide."
Comhléiriúchán de chuid Below The Radar TV, Cwmni Da agus Mac TV is ea Báisteach, sraith a léiríodh le haghaidh TG4 agus MG Alba. Is i gcomhar le LIC na Síne a léiríodh é. Is iad Ciste Craoltóireachta Gaeilge Scáileán Thuaisceart Éireann, Creative Wales agus Creative Scotland a mhaoinigh an tsraith.