New ILBF online series, Bí an Réabhlóid, to revolutionise our lives on BLOC TG4
---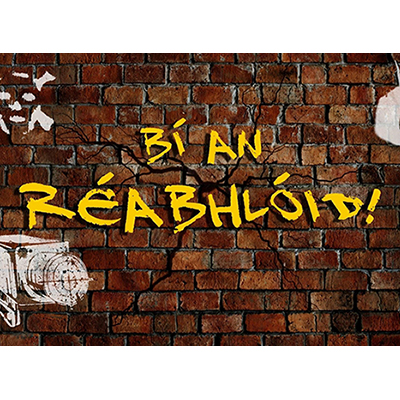 Date Posted: September 30, 2021
A new series coming to TG4's youth online platforms BLOC, today (Thursday 30th September) shows how small changes can revolutionise our lives and help the planet. Bí an Réabhlóid features madcap and energetic 22-year old Dubliner Barra Ó hÉ, who might well be the next Hector. over a series of 6 x five-minute online programmes, Barra will cover topics ranging from food, stress, consumerism and fashion to the body and prejudice. Produced by Aisling Productions, the series will be available to view on BLOC's YouTube and IGTV accounts.
Each short film begins with Barra considering how we deal with a certain aspect of our lives might be harmful, not alone only to ourselves but also to the wider environment. He is helped in this explanation by his alter ego 'Dr. Nerd Barra'. Problem established, Barra meets others in his own age group who show us ways that the viewer can 'be the revolution', in their own lives and help to contribute to building a better world.
The first film in the series sees Barra tackle Prejudice. He believes that we all harbour some bias, including himself, and considers how we can rid ourselves of this. Barra discovers the impact of prejudice, and a lack of empathy when he meets with 18-year-old wheelchair-user activist, Oisín Putt from Dublin. Oisín tells Barra how, when people see him in a wheelchair, they presume that he is not only physically, but also mentally impaired. Journalist and TV presenter, Zainab Boladale, reveals how she has experienced prejudice, suffering abuse from online trolls, because of her youth and particularly because of her race.
In Fashion, Barra discovers the massive damage that fast fashion causes the environment before hearing from Dublin clothes designer, Caoimhe Ní Bhroin, who points out easy ways to re-cycle and up-cycle our clothes that would help lessen that damage.
Food sees Barra meet with Wicklow's Happy Pear (cooks David and Stephen Flynn) as well as 18-year old Co. Galway farmer Roisin Fahy, who show how we can improve our relationship with food.
In Stress, life coach Dara MacGearailt gives Barra some simple techniques to reduce health-damaging pressures in our lives.
Body, Barra shows us the harm that our modern lifestyles cause our most precious resource, our bodies, and discovers simple ways to heal that harm by meeting Dublin yoga instructor, Naoise Ní Bhroin.
In Consumerism, Barra meets with social entrepreneur Rónan Ó Dálaigh who tells us how to fight against the pressures of advertising and buying-trends.
This is Barra's first series as a writer and presenter on BLOC. Barra says: "It was fantastic to get the opportunity to write and present Bí an Réabhlóid. I think young people in particular realise that we need to make big, revolutionary changes in the way that we lead our lives, not only to make our own lives better but to conserve our planet. What was good about Bí an Réabhlóid is that I was able to meet with lots of good people, around my own age, who showed me how things can be improved with small, easily done changes in the way that we live. Most importantly, we had a constant laugh, and I think that comes across in the show."
Bí an Réabhlóid is produced by Aisling Productions under TG4's Glúin Nua scheme, a new Irish language filmmaking mentoring scheme from TG4, Broadcast Authority of Ireland, Northern Ireland Screen's Irish Language Fund, and Údarás na Gaeltachta in conjunction with Gréasán na Meán Skillnet.
Bí an Réabhlóid is the directing and producing debut of Meath native Moya Rogers. She said: "It's wonderful to be able to make a series about topics that are so close to my heart and to share that message in such a contemporary way. We had great fun whilst filming and the crew gelled really well from the first day, something that benefited us to give the series a real zany energy and to steer serious topics into light entertainment. Balance is very important to me, something that was easy to achieve with Barra having such a rapport with contributors but being able to keep serious topics sensitive when needs be. He has fantastic energy and a real gift for presenting – his charisma bursts on screen. I felt the Glúin Nua scheme really gave me the opportunity to feel supported in broadening my ideas on such important topics and I felt the collective ownership we had with the BLOC and TG4 team really fostered a relationship of support and guidance. It was amazing to work with such a creative and visual team and I think we managed to created a series full of interwoven topics that are especially relevant for today's world."
---
Sraith nua de chuid an CCG 'Bí an Réabhlóid' chun daoine óga a spreagadh chun a saol a athrú ar BLOC TG4
Tá sraith bhríomhar spraíúil nua Bí an Réabhlóid le tosú ar BLOC inniu an 30 Meán Fómhair. Is é Barra Ó hÉ as Baile Átha Cliath a chuirfidh an tsraith i láthair, a spreagfaidh daoine óga chun a saol a athrú agus a bheith níos feasaí faoin domhan mórthimpeall orthu. Beidh plé sa tsraith ar bhia, strus, tomhaltachas, faisean, an cholainn agus claonadh. Tá na míreanna sa tsraith sé nóiméid ar fhad agus beidh siad le feiceáil ar Instagram IGTV agus Youtube BLOC.
I ngach mír, beidh Barra ag iarraidh dul i ngleic le fadhb atá ina hábhar imní dó féin, nó ábhar atá ag déanamh dochar don timpeallacht.
Sa chéad mhír den tsraith, feicimid Barra ag dul i gcoinne Claonadh. Creideann sé go bhfuil réamhclaontaí againn ar fad, é féin san áireamh, agus déanann sé machnamh ar mar is féidir fáil réidh leo. Faigheann Barra tuiscint ar na héifeachtaí diúltacha a bhaineann le claonadh agus le heaspa comhbhá nuair a bhuaileann sé le Oisín Putt, as Baile Átha Cliath, a úsáideann cathaoir rothaí. Léiríonn Oisín an chaoi a shíleann daoine áirithe go bhfuil fadhb intinne aige mar gheall go bhfuil fadhb soghluaisteachta aige. Ar an mbealach céanna, pléann Zainab Boladale a cuid taithí le claontachtaí agus í ag fulaingt de dheasca trollála ar an Idirlíon mar gheall ar a hóige agus go háirithe a cine.
Sa mhír Faisean, tagann fadhbanna ollmhóra bruscair chun solais agus léirítear an tionchar uafásach atá ag an tionscal faisin ar an bpláinéad. Is í Caoimhe Ní Bhroin aoi na míre faisin a nochtann dúinn an chaoi ár gcuid éadaí a uaschúrsáil le go mbeidh nósanna níos inbhuanaithe againn.
Mar aon le nósanna níos inbhuanaithe, faigheann Barra comhairle mhaith ó Rónán Ó Dálaigh, gníomhaí agus comhshaolaí as Baile Átha Cliath agus é ag labhairt faoi fhadhb an Tomhaltachais sa tsochaí.
Sa mhír Bia, buailimid le cócairí Chill Mhantáin David agus Stephen Flynn (The Happy Pear) agus le Róisín Fahy, feirmeoir orgánach as Contae na Gaillimhe. Taispeánann siad triúr an bealach is fearr lenár gcaidreamh le bia a athrú chun níos mó glasraí a ithe.
In Imní, tugann oide saoil, Dara Mac Gearailt teicnící simplí do Bharra chun strus a laghdú ina shaol.
I gColainn, léiríonn Barra dúinn an damáiste gur féidir lenár nósanna maireachtála a dhéanamh dúinn féin agus an chaoi gur chóir dúinn a bheith ag bogadh. Faigheann sé léargas bríomhar ón múinteoir íoga, Naoise Ní Bhroin.
Dúirt Barra: "Bhí sé iontach an deis seo a bheith agam, a bheith ag scríobh agus Bí an Réabhlóid a chur i láthair. Ceapaim go dtuigeann daoine óga go gcaithfidh muid athrú mór a dhéanamh ar bhealach réabhlóideach chun ár saol a dhéanamh níos fearr, níos inbhuanaithe agus an domhan a chaomhnú. Bhí mé in ann bualadh le daoine, thart ar an aoisghrúpa céanna liomsa, a thaispeáin dom rudaí beaga a d'fhéadfainn a dhéanamh, ach a dhéanfadh difríocht mhór. Agus dar ndóigh, bhí craic iontach againn, agus ceapaim go dtagann sé sin trasna ar an scáileán."
Arna léiriú ag Aisling Productions faoin scéim Glúin Nua le TG4, scéim nua scannánaíochta agus meantóireachta ó TG4, Údarás Craolacháin na hÉireann, Ciste Craoltóireachta Gaeilge Scáileán Thuaisceart Éireann, agus Údarás na Gaeltachta i gcomhar le Gréasán na Meán.
Is é Bí an Réabhlóid an chéad togra stiúrthóireachta agus léiritheoireachta ag Moya Rogers as Contae na Mí. "Is deas an rud é sraith a dhéanamh faoi thopaicí atá chomh gar sin do mo chroí agus na teachtaireachtaí sin a roinnt ar bhealach comhaimseartha. Bhí craic thar bharr againn agus muid i mbun scannánaíochta agus mar gheall gur oibrigh an criú chomh maith sin ón gcéad lá ar aghaidh, creidim go raibh muid in ann casadh éadrom a chur ar dhioscúrsa thar a bheith dáiríre. Bíonn cothromaíocht thar a bheith tábhachtach domsa agus le dáimhiúlacht Bharra, bhí sin éasca le baint amach – tá bua speisialta aige agus is soiléir é sin a fheiceáil ar an scáileán lena chuid carasma. Bhraith mé gur thug an scéim Glúin Nua tacaíocht dom mo chuid smaointí a leathnú ar thopaicí thar a bheith tábhachtach agus bhí úinéireacht chomhar againn leis an bhfoireann BLOC agus TG4 a thug neart cúnaimh agus tacaíochta dúinn. B'iontach an rud é a bheith ag obair le foireann chomh físiúil sin agus ceapaim gur chruthaigh muid sraith thar a bheith ábhartha don lá atá inniu ann agus na topaicí uile fite fuaite lena chéile."