New ILBF music archive series looks at traditional and folk tracks over the last 50 years
---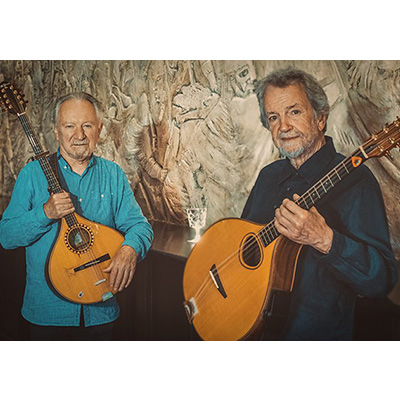 Date Posted: April 8, 2022
A new four-part Irish Language Broadcast Fund music series, Ar Scáth an Cheoil, looks at some of the most significant traditional and folk recordings over the last 50 years. Each week a host of top musicians from across the island of Ireland will talk about their influences and perform their favourite tracks from the archive. Made by Sonas Production, the series begins on Sunday 10th April at 10pm on BBC Two Northern Ireland.
Throughout Ar Scáth an Cheoil, a range of artists including Moya Brennan, Cathal Hayden and Brian Finnegan collaborate on performances and talk about how they constantly consult and reference the rich traditional and folk music archive that has been passed down through the years. They discuss how particular musicians, styles and musical pieces have influenced their own work.
In this first programme Zoe Conway catches up with a musician she's known for years, such as Cushendall's Jim McKillop, and joins him playing 'Ríleanna Mhéabh' on fiddles.
Neil Martin chats about his friendship and musical connection with Eithne Ní Uallacháin and Gerry O' Connor and we hear a collaboration and discussion between Liam Ó Maonlaí and Megan Nic Ruairí.
Diane Cannon chats about the significance Margaret Barry had on her own musical journey and Edel Ní Churraoin celebrates the music of the legendary Galway melodeon player, Johnny Connolly.
---
In Ar Scáth an Cheoil, sraith úr ceithre chlár de chuid an Chiste Craoltóireachta Gaeilge, breathnófar agus a n-éistfear le cuid den taifeadadh ceoil thraidisiúnta agus ceol tíre is suntasaí le caoga bliain anuas. Sa sraith seo, arna dhéanamh ag Sonas Productions, labhróidh scata de scoth ceoltóirí as gach cearn d'Éirinn faoi na tionchair a bhí orthu agus seinnfear na traiceanna cartlainne is ansa leo. Tosnaíonn an tsraith seo Dé Domhnaigh 10ú Aibreáin ar 10pm ar BBC Two Tuaisceart Éireann.
I rith na sraithe, beidh réimse de cheoltóirí, lena n-áirítear Moya Brennan, Cathal Hayden agus Brian Finnegan ag seinm i gcuideachta a chéile agus ag caint ar an dóigh a mbíonn siad de shíor ag dul siar agus ag baint leas as an chartlann shaibhir cheoil thraidisiúnta agus ceol tíre atá á seachadadh ó ghlúin go glúin. Pléann siad mar a chuaigh ceoltóirí áirithe, agus a stíl agus a bpíosaí ceoil i bhfeidhm ar a saothar féin.
Sa chéad chlár, buaileann Zoe Conway le seanchara di, Jim McKillop as Bun Abhann Dalla agus seinneann siad 'Ríleanna Mhéabh' ar an fhidil.
Labhraíonn Neil Martin faoina chairdeas ceoil le hEithne Ní Uallacháin agus Gerry O' Connor agus éisteann muid le comhcheol agus comhphlé idir Liam Ó Maonlaí agus Megan Nic Ruairí.
Beidh Diane Cannon i mbun comhrá faoin tionchar nach beag a bhí ag Margaret Barry ar a turas ceoil féin agus ceiliúrann Edel Ní Churraoin ceol Johnny Connolly, an boscadóir iomráiteach as Gaillimh.