Irish Language Broadcast Fund announces funding decisions for 2021
---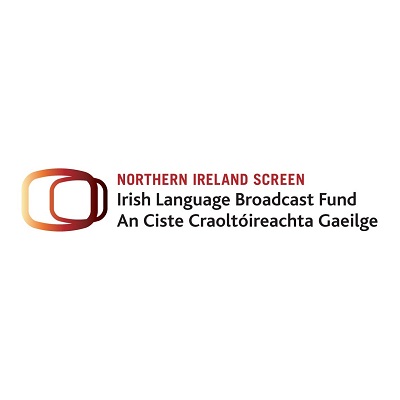 Date Posted: November 22, 2021
Northern Ireland Screen's Irish Language Broadcast Fund (ILBF) is delighted to announce its latest funding decisions for 2021. Funding was awarded across a wide genre of TV and online content with a total of 18 projects receiving funding. The aims of the ILBF are to promote the production and broadcast of quality Irish language content for an audience in Northern Ireland and beyond and to help grow the local Irish language production sector. Some of the funded projects include:
Lí Ban a wonderful animation written by Máire Zepf for Paper Owl Films for TG4, S4C and BBC Alba is a unique retelling of the mythological origins of Lough Neagh. In M'ainm Mo Scéal, a production by Ronin Films for TG4, children from across the country will learn more about their names' origins and discover the stories behind them. In Triplevision's observational documentary Gaelchúrsaí for BBC Northern Ireland we'll meet students, teachers and employers as they embark upon a new Irish Language vocational training scheme. RTÉ audiences will also have the pleasure of meeting farming families from across Ireland in Strident Media's Saol Na Feirme as we see them face the highs and lows of rural life. Below The Radar's topical Irish Language discussion show An Focal Scoir will return to BBC Northern Ireland for its 6th series and GAA fans can learn about the stories of Ireland's most iconic and revered provincial GAA grounds in Below The Radar's An Talamh Naofa on TG4.
DoubleBand Films will delve into the music and culture of the Irish Traveller tradition in Ag Taisteal Siar on TG4 and their production Frank Aiken: An Díchuimhne will introduce TG4 audiences to Dr. Síobhra Aiken as she digs deeper into her family's involvement in the Irish revolutionary period to try to piece together her great-grandfather Frank Aiken's war record. In Dearcán Media's Tumtha for RTÉ, Pauline Scanlon will investigate the history of the 'preparatory colleges' in post-revolutionary Ireland and their attempt to generate a cadre of Irish language teachers to Gaelicise the newly independent country. Iarsmaí na hIarsmalainne, also by Dearcán Media for TG4 and BBC Northern Ireland, will explore how following recent Black Lives Matter protests, Irish and British museums as well as State and private collections are re-examining collections of empire related material, particularly the ethical issue of holding onto human remains as well as items either stolen or acquired in dubious circumstances. Clean Slate Production's In Ainm an Athar for BBC Northern Ireland will examine the crisis in the Catholic Church in regards to the lack of new priests, the reasons for it and the possible solutions to the problem.
For music lovers, Ireland's Mairéad Ní Mhaonaigh and Canada's Natalie MacMaster take us on a Canadian road trip with a difference, meeting incredible performers and engaging characters as they explore the incredible shared musical heritage that will forever connect Ireland and Canada in Tyrone Production's Ceol Cheanada on TG4. Macha Media's Díolta faoina Luach for BBC Northern Ireland will share a beautiful and lyrical account of the tragic human story behind one of Ulster's epic songs. Imagine Media's Cuimhníonn Ceoltóirí Dhoire for TG4 is a hybrid musical/factual commemoration of the 50th anniversary of Derry's Bloody Sunday. As a St. Patrick Day's Celebration Big Mountain Production's Ceiliúradh na Féile Pádraig will showcase the best of local and national talent from all music genres for one unforgettable night on both BBC Northern Ireland and TG4.
Raidió Fáilte has also been awarded funding to continue their successful training and broadcasting scheme for the 10th year running.
---
MAOINITHE DO 2021 FÓGARTHA AG AN CHISTE CRAOLTÓIREACHTA GAEILGE
Tá lúcháir ar an Chiste Craoltóireachta Gaeilge (CCG) de chuid Scáileán Thuaisceart Éireann a chinntí maoinithe is déanaí a fhógairt do 2021. Bronnadh maoiniú thar sheánra leathan d'ábhar teilifíse agus ar líne, agus fuair 18 dtionscadal maoiniú ar an iomlán. Tá sé de chuspóir ag CCG léiriú agus craoladh ábhar Gaeilge d'ardchaighdeán a chur chun cinn do lucht féachana i dTuaisceart Éireann agus níos faide ar shiúl, agus cuidiú le fás earnáil léiriú áitiúil na Gaeilge. I measc na mórthionscadal a mhaoinítear tá:
Is beochan den scoth é Lí Ban, scríofa ag Máire Zepf do Paper Owl Films a athinsíonn bunús miotaseolaíoch Loch nEathach ar bhealach uathúil a bhéas a chraoladh ar TG4, S4C agus BBC Alba. I M'ainm Mo Scéal, léiriúchán le Ronin Films de TG4, foghlaimeoidh páistí ó gach áit sa tír níos mó faoi bhunús a gcuid ainmneacha agus faoi na scéalta taobh thiar díobh. In Gaelchúrsaí, an clar faisnéise breathnaitheach le Triplevision de BBC NI, buailfidh muid le mic léinn, le múinteoirí, agus le fostóirí agus iad ag tabhairt faoi scéim nua ghairmoiliúna Ghaeilge. Beidh sé de phléisiúr ag lucht féachana fosta bualadh le teaghlaigh feirmeoireachta as gach cearn d'Éirinn i Saol na Feirme le Strident Media ar RTÉ, agus feicfidh muid iad thuas seal thíos seal i saol na tuaithe. Tiocfaidh An Focal Scoir, an clár plé tráthúil le Below the Radar ar BBC NI, ar ais dá 6ú sraith, agus is féidir le lucht CLG foghlaim faoi na páirceanna cúige CLG is íocónai agus is mó urraim in An Talamh Naofa, le Below the Radar ar TG4.
Déanfaidh Doubleband Films ceol agus cultúr lucht siúil na hÉireann a fhiosrú in Ag Taisteal Siar ar TG4, agus cuirfidh léiriúchán s'acu, Frank Aiken: An Díchuimhne, an Dr. Síobhra Aiken in aithne do lucht féachana TG4, agus í ag fiosrú faoin pháirt a bhí ag a clann sa tréimhse réabhlóideach in Éirinn chun taifead cogaidh a sin-seanathar, Frank Aiken, a chur le chéile. In Tumtha, le Dearcán Media do RTÉ, déanfaidh Pauline Scanlon stair na 'gcoláistí ullmhúcháin' a scrúdú in Éirinn iar-réabhlóideach agus an iarracht a rinne siad caidre múinteoirí Gaeilge a chruthú chun an tír nua neamhspleách a Ghaelú. Pléifidh Iarsmaí na hIarsmalainne, le Dearcán Media fosta do TG4 agus BBC NI, an dóigh a bhfuil iarsmalanna na hÉireann agus na Breataine mar aon le bailiúcháin an Stáit agus príobháideacha, de bharr na n-agóidí Black Lives Matter, ag athscrúdú bailiúchán d'ábhair a bhaineann leis an impireacht, go háirithe an tsaincheist eiticiúil, taisí daonna a choinneáil mar aon le rudaí a goideadh nó a fuarthas ar bhealaí amhrasacha. Déanfaidh In Ainm an Athar, léiriúchán ó Clean Slate Television do BBC NI, an ghéarchéim san Eaglais Chaitliceach maidir leis an easpa sagart óg a phlé, na fáthanna taobh thiar de agus dóigheanna a d'fhéadfadh a bheith ann chun an fhadhb a réiteach.
Dóibh siúd ar breá leo an ceol, glacann an tÉireannach Mairéad Ní Mhaonaigh agus an Ceanadach Natalie MacMaster ar turas bóthair muid, ceann atá rud beag difriúil, ag bualadh le taibheoirí iontacha agus ag dul i dteagmháil le carachtair agus iad ag plé na hoidhreachta comhroinnte ceoil a nascfaidh Éire agus Ceanada go deo in Ceol Cheanada le Tyrone Productions do TG4. Roinnfidh Díolta faoina Luach, le Macha Media do BBC NI, cuntas álainn agus liriciúil faoin scéal tragóideach daonna atá taobh thiar de cheann de na hamhráin is eipiciúla i gCúige Uladh. Is comóradh hibrideach ceoil/fíorasach é Cuimhníonn Ceoltóirí Dhoire, le Imagine Media de TG4, faoi chuimhneachán 50 bliain Dhomhnach na Fola i nDoire. Mar cheiliúradh do Lá Fhéile Pádraig, déanfaidh Ceiliúradh na Féile Pádraig, le Big Mountain Productions de BBC NI agus TG4, scoth na tallainne áitiúla agus náisiúnta a chur i láthair ó gach seánra ceoil ar faoi choinne oíche amháin nach bhféadfá dearmad a dhéanamh uirthi.
Bronnadh maoiniú ar Raidió Fáilte fosta chun a scéim rathúil oiliúna agus craoltóireachta a leanúint don 10ú bliain as a chéile.