ILBF series Peataí! returns to Ark Farm
---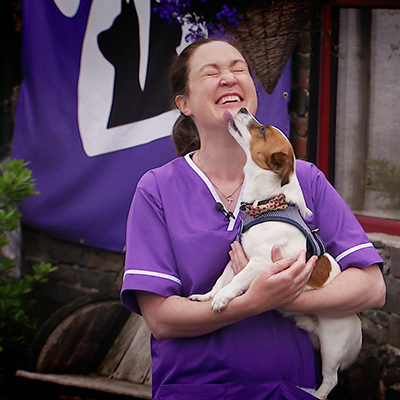 Date Posted: September 29, 2021
Fans of fabulous furry animals, groomed chickens and pets of all shapes and sizes can get ready to meet the stars of the new series of Peataí! The Irish Language Broadcast Fund six-part series, produced by Big Mountain Productions, for RTÉ and BBC Northern Ireland airs on Monday 4th October at 10pm on BBC Two Northern Ireland.
Presenter Tessa Fleming returns to Ark Farm in Newtownards, County Down, with a team of experts meeting pets from a hairless dog to a tarantula, a one-eyed hamster and Sir Lancelot, a goat that needs taught some manners!
With the rise in pet ownership over the last year, more people have been welcoming a wonderful assortment of animals into their homes to share their lives, their baths, their furniture, their sofas.
Vet Ellen Hegarty, groomer Paul Ó Gallachóir and behaviourist Paula Doohan are back to meet more wonderful pets and owners from all over the island of Ireland.
Ellen meets a bearded dragon, a lame labrador and a hungry Hermann's tortoise, while groomer Paul tries his hand soothing a terrier who is terrified of water! Behaviourist Paula has plenty of advice for new puppy owners and tips on how to deal with the boisterous behaviour of a sprightly Springer Spaniel. Tessa meets with Liath and her Skinny Pig Stormi – a tiny animal with a big heart – who's changed owner Liath's life for the better.
Groomer Paul also finds himself as the student as poultry owner Ciara shows him how she grooms her prize-winning Silkie hen Polly. And with a special interest in all things equine, behaviourist Paula has advice for a restless retired racehorse from Donegal.
There will also be special emphasis on rescue animals as the team looks at the challenges facing pet owners as animals are surrendered. Peataí!'s resident vet assistant Clíodhna shares her own experience of rehoming a puppy in lockdown. Paul gives a makeover to bushy-tailed Bowser, in search of a forever home, and Ellen helps Rédhla tackle rescue pony Báinín's weight.
Peataí! begins on Monday 4th October at 10pm on BBC Two Northern Ireland.
---
Sraith an CCG Peataí! ag pilleadh ar The Ark Farm
Tá sé in am do dhaoine a bhfuil spéis acu in ainmhithe clúmhacha, sicíní stíliúla agus peataí beaga agus móra iad féin a ullmhú le bualadh le réaltaí na sraithe úire de Peataí! Tosaíonn an sraith úr sé chlár atá maoinithe ag an Chiste Craoltóireachta Gaeilge agus léirithe ag Big Mountain Productions do RTÉ agus BBC NI ar an 4ú Deireadh Fómhair ag an 10 .i.n. ar BBC Two Northern Ireland.
Filleann Tessa Fleming, láithreoir, agus foireann saineolaithe ar The Ark Farm i mBaile Nua na hArda i gContae an Dúin do shraith úr sé chlár. Buailtear le gach rud ó mhadadh gan fionnadh go tarantúla, hamstar leathshúile, agus gabhar darb ainm Sir Lancelot a bhfuil múineadh de dhíth air!
Leis an ardú in úinéireacht ar pheataí le bliain anuas tá níos mó daoine ná riamh ag cur fáilte roimh réimse leathan ainmhithe speisialta ina mbailte lena saol, a bhfolcadáin, a dtroscán agus a dtoilg a roinnt leo… agus tá Peataí! agus an fhoireann ar ais le comhairle chliste agus noda nuálacha a thabhairt d'úinéirí.
Tá tréidlia Ellen Hegarty, grúmaeir Paul Ó Gallachóir agus iompraí Paula Doohan ar ais le bualadh le tuilleadh peataí iontacha ó fud fad oileán na hÉireann.
Buaileann Ellen le dragan féasógach, labradór bacach agus toirtís Hermann ocrach, agus déanann Paul an grúmaeir iarracht brocaire a bhfuil eagla air roimh uisce a chur ar a shuaimhneas. Tá go leor comhairle ag iompraí Paula do dhaoine le coileáin úra agus leideanna le dul i ngleic le spáinnéar preabach bríomhar. Buaileann Tessa le Liath agus lena muc thanaí Stormí, ainmhí beag bídeach le croí ollmhór – a chuir feabhas ar shaol Liath go deo.
Tá gach lá ina lá scoile ag Paul agus úinéir éanlaithe Ciara ag taispeáint dó mar a dhéanann sí grúmaeireacht ar a síodchearc dhuaise Polly. Agus le spéis ar leith aici in aon rud a bhaineann le capaill, tá comhairle ag iompraí Paula do chapall corrthónach ar scor i nDún na nGall.
Beidh béim ar leith ar ainmhithe tarrthála i gclár a cúig nuair a chaitheann an fhoireann solas ar na dúshláin atá roimh úinéirí peataí agus ainmhithe á ngéilleadh. Roinnfidh Clíodhna an cúntóir tréidlia cónaitheach a taithí féin le baile a thabhairt do choileán le linn na dianghlasála. Tugann Paul nuamhaisiú do Bowser agus a eireaball dosach agus é sa tóir ar bhaile buan, agus cuidíonn Ellen le Rédhla leigheas a dhéanamh ar an fhadhb mheáchain atá ag a pónaí tarrthála, Báinín.
Tosóidh Peataí!, Dé Luain 4 Deireadh Fómhair ar BBC Two Northern Ireland ag 10.00in.