ILBF documentary about Willie John to air on BBC Two NI
---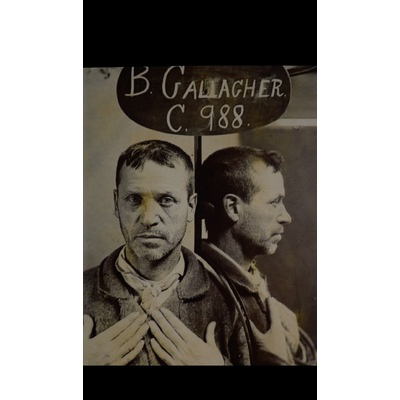 Date Posted: September 27, 2021
In a new Irish Language Broadcast Fund documentary, Willie John – Rógaire Mór Dhoire, presenter Dónall Mac Giolla Chóill explores the story of 'a lovable rogue' who spent a lifetime scamming people. Made by Macha Media for BBC Gaeilge, the documentary airs on Sunday 3rd October at 9:45pm on BBC Two Northern Ireland.
This is the true story of Bernard Gallagher who became a national celebrity during the early 1900s and is considered Derry City's greatest scammer and conman.
Born in 1856 in the Rosemount area of Derry City, Bernard Gallagher moved from place to place in pursuit of money, lodgings, food and drink.
He became widely known as 'Willie John' when he posed as the long lost son of a widow in his hometown. Eventually it was discovered that Gallagher was in fact not Willie John McGranahan and he served five years in prison for this crime.
At a time of widespread poverty and emigration, 'Willie John' targeted families in remote areas and his favourite scams involved impersonating a long lost relative and tall tales from overseas. In other elaborate ruses, he took on the guise of an official claiming to bring good news about an inheritance from America.
By the early 1900s, his court appearances were sensational affairs with large crowds gathering to catch a glimpse of the infamous 'Willie John'. He often conducted his own defence, playing to the gallery and sometimes pleading that his case not to be tainted by 'my former character'.
Using newspaper articles from the time, Dónall investigates how one man managed to hoax people in Derry, counties Donegal and Tyrone, and further afield in Ireland, Scotland and England.
Dónall travels to the National Archives in Dublin in search of 'Willie John's' prison records; he was convicted and jailed more than 21 times for false pretences, impersonation and theft. Dónall comes 'face-to face' for the first time with the man himself as prison photographs of 'Willie John' track his changing appearance as he returns again and again to prison over the years.
Despite his infamous career and his celebrity status, Dónall discovers that 'Willie John' spent the last 12 months of his life in Derry's poor house and reflects on what drove this man – who made a career out of tricking ordinary people – to act the way he did.
Willie John – Rógaire Mór Dhoire airs on Sunday 3rd October at 9:45pm on BBC Two Northern Ireland and on BBC iPlayer.
---
I gclár nua faisnéise, Willie John – Rógaire Mór Dhoire a rinne Macha Media le tacaíocht ó Chiste Craoltóireachta Gaeilge Scáileán Thuaisceart Éireann, fiosraíonn Dónall Mac Giolla Chóill scéal 'rógaire geanúil' a chaith a shaol ag déanamh caimiléireachta agus ag bualadh bob ar dhaoine. Beidh an clár faisnéise a chraoladh Dé Domhnaigh 3ú Deireadh Fómhair, 9.45i.n. ar BBC Two Northern Ireland.
Seo scéal Bernard Gallagher a bhain clú náisiúnta amach ag tús na 1900idí agus glactar leis gurbh é an rógaire agus an cleasaí is mó a mhair i gCathair Dhoire riamh.
Rugadh Bernard Gallagher in 1858 i gCnoc na Rós i gCathair Dhoire, agus bhog sé ó áit go háit ar thóir airgid, lóistín, bia agus dí.
Tugadh an t-ainm 'Willie John' air go coitianta i ndiaidh dó ligint air gur mac baintrí ina chathair dhúchais féin é, mac nach bhfacthas le fada. Sa deireadh thiar thall, nuair a tháinig sé chun solais nárbh é Willie John McGranahan, cúisíodh é agus chuir sé isteach cúig bliana sa phríosún as an choir seo.
Ag am ina raibh an bochtanas agus an imirce forleathan, dhírigh 'Willie John' ar theaghlaigh i gceantair iargúlta agus ba é an cleas ab fhearr leis ná ag ligint air gur gaol nach bhfacthas le fada é agus ag insint scéal an ghamhna bhuí ó Mheiriceá. Ar na cleasanna áiféiseacha eile a rinne sé, lig sé air gur feidhmeannach a bhí ann le dea-scéala faoi uacht mhór ó Mheiriceá.
Faoi na luath 1900idí, eachtraí spleodracha a bhí ina chuid cásanna cúirte agus bhíodh slua mór i láthair le spléachadh beag a fháil ar an 'Willie John' clúiteach seo. Bhí sé de nós aige tabhairt faoina chosaint féin go minic, é ag tabhairt an bhéil bháin agus ag mealladh lucht an ailéir agus ag impí nár chóir go raibh aon tionchar ar a chás ag a choireanna roimhe sin.
Agus é ag úsáid alt ó nuachtáin na linne, fiosraíonn Dónall an dóigh ar éirigh le duine amháin an dubh a chur ina gheal ar mhuintir Dhoire, Dhún na nGall agus Thír Eoghain, agus níos faide anonn in Éirinn, in Albain agus i Sasana.
Téann Dónall chuig an Chartlann Náisiúnta i mBaile Átha Cliath ar lorg tuairiscí príosúin 'Willie John'; ciontaíodh agus cuireadh i bpríosún é níos mó ná 21 uair as cur i gcéill, as pearsanú bréige agus as gadaíocht. Feiceann Dónall an diúlach féin den chéad uair lena dhá shúil féin agus feiceann sé na h-athruithe a thagann ar chosúlacht 'Willie John' sna grianghraif príosúin de réir mar a fhilleann sé arís agus arís eile ar an phríosún le h-imeacht na mblianta.
In ainneoin a shaol agus a chuid coiriúlachta bheith i mbéal an phobail, faigheann Dónall amach gur chaith 'Willie John' an bhliain dheireanach dá shaol i dTeach na mBocht i nDoire agus déanann sé machnamh ar na rudaí a spreag an fear seo – a rinne slí bheatha de chleasaíocht ar dhaoine eile – leis na drochghníomhartha a dhéanamh.
Willie John – Rógaire Mór Dhoire, Dé Domhnaigh 3ú Deireadh Fómhair, 9.45i.n. ar BBC Two Northern Ireland agus ar BBC iPlayer.