ILBF documentary Lá i 1916 to air on BBC Two NI
---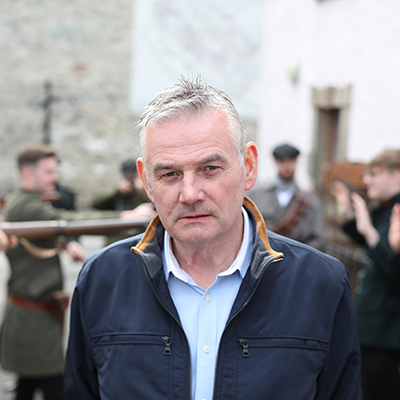 Date Posted: October 1, 2021
New details behind the controversial shooting of the first Royal Irish Constabulary (RIC) man killed in the 1916 Easter Rising are revealed in a new Irish Language Broadcast Fund documentary. Lá i 1916 (A Day in 1916) will air on Sunday 10th October at 9.45pm on BBC Two Northern Ireland. Made for BBC Gaeilge by Clean Slate Television, the film uses modern forensic expertise to investigate how, and why Charles McGee, the native Irish speaker from the Donegal Gaeltacht, was shot dead on Easter Monday 1916.
Lá i 1916 explores how the heir to a Belfast whiskey empire got caught up in the killing and the part played by a Belfast republican who would go on to serve as Tánaiste in the Irish Government. And more than a century later, this new evidence brings the descendants of the chief suspect face-to-face with the policeman's relatives to discuss the impact of his death.
Investigative journalist Kevin Magee examines the lives of four men caught up in the events of Easter Monday 1916 when RIC recruit Charlie McGee, 23, a native Irish speaker from Inishbofin island was shot dead. Lieutenant Robert Dunville, 23, the heir to the Dunville whiskey empire in Belfast was injured in the same incident after the pair were held captive by rebels in Castlebellingham, County Louth.
They were fired on by a band of Irish Volunteers which included Belfast republican Seán MacEntee who later became Tánaiste. His associate, Paddy McHugh, the chief suspect in the shooting, later became a key figure in the Irish War of Independence and was protected by Michael Collins.
Drawing on a variety of sources, including witness statements from those involved uncovered from the Republic's Bureau of Military History, the programme carefully recreates the events of Easter Monday 1916 and reveals how the RIC man met his death. To assist in the re-investigation, the Republic of Ireland's former state pathologist Dr Marie Cassidy sheds new light on the case by providing a modern-day analysis of the type of bullet that killed the RIC man.
The descendants of the Dunville, McGee, HcHugh and Mac Entee families all agreed to take part. And during the making of the programme two granddaughters of the chief suspect, Paddy McHugh, accept an invitation to visit relatives of Charles McGee on the tiny Gaeltacht island of Inishbofin in Donegal where the policeman grew up.
They viewed a plaque erected on the island in memory of Charlie McGee and discussed his legacy and the impact of his death on both families and their place in history.
Paddy McHugh's granddaughter Sinéad McHugh said: "It is important for us to come together not just for ourselves but for future generations to let them know that these things happened, and for it not to be forgotten."
Welcoming the McHugh family to Inishbofin island, the RIC man's grandnephew Éamonn Mac Fhionnghaile said: "It closes a chapter for me. I think this is important that people can sit down, discuss the past and just make peace with it."
Lieutenant Robert Dunville was the last surviving heir of the Belfast-based Dunville Whisky empire. Although he survived and became chairman of the company, he never fully recovered from his wounds, and died 15 years later aged 38. The whiskey company – one of the biggest in the world at the time – folded not long afterwards.
His great grandson Christopher Dunville who lives in Canada said: "I don't think that there is any question that having been shot in the chest shortened his life. If there is any guilt to be had or any anger to be had it was to be had by people who were there at the time. Leave it as a part of history."
Kevin Magee said he wanted to tell Charles McGee's story after first hearing about him while travelling in the Donegal Gaeltacht some years ago. He said: "When I started to investigate it in detail, it soon became clear that there was a really interesting story to tell about the lives of four people who came together for a fleeting moment but ended with tragic circumstances. Their story illustrates the complexities of our history where nothing is black and white. The meeting on the island gave a fascinating insight into how the past can be reconciled."
Director Méabh Fields said: "This programme illustrates how much history can still affect the present and that no matter how much we think we know about historical events there are always forgotten elements and aspects which can be investigated to add to our understanding of where we are today."
---
Clár faisnéise de chuid an CCG Lá i 1916 le craoladh ar BBC Two NI
Sa chlár faisnéise shuntasach úr seo de chuid an Chiste Craoltóireachta Gaeilge Scáileán Thuaisceart Éireann, nochtar mionsonraí úra faoi scaoileadh conspóideach an chéad oifigigh de chuid Chonstáblacht Ríoga na hÉireann a maraíodh in Éirí Amach 1916. Craolfar Lá I 1916 ar an 10ú Deireadh Fómhair ag 9.45.i.n ar BBC Two Northern Ireland. Léiriú de chuid Clean Slate Television thar ceann BBC Gaeilge atá sa scannán seo, ina úsáidtear saineolas fóiréinseach comhaimseartha lena fhiosrú cén dóigh agus cad chuige ar maraíodh Charles McGee, cainteoir dúchais as Gaeltacht Thír Chonaill, a scaoileadh marbh Luan Cásca 1916.
Fiosraítear i Lá i 1916 an bhaint a bhí ag oidhre mórghnólacht uisce beatha in Éirinn leis an mharú agus an ról a bhí ag poblachtach as Béal Feirste a ceapadh ina dhiaidh sin ina Thánaiste i Rialtas na hÉireann. Níos mó ná céad bliain níos moille, tagann muintir an té is mó a rabhthas in amhras air agus muintir an phóilín i gceann a chéile le hiarmhairtí an bháis a phlé.
Scrúdaíonn Kevin Magee, iriseoir iniúchta, saol an cheathrair a bhí gafa in imeachtaí Luan Cásca 1916 nuair a scaoileadh marbh Charlie McGee, 23, earcach de chuid an RIC agus cainteoir dúchais Gaeilge as Inis Bó Finne. San eachtra chéanna, gortaíodh Robert Dunville, 23, oidhre mórghnólacht uisce beatha Dunville i mBéal Feirste i ndiaidh gur ghabh reibiliúnaigh an bheirt i mBaile an Ghearlánaigh, Contae Lú.
Ball d'Óglaigh na hÉireann, Seán McEntee, poblachtach as Béal Feirste, a ceapadh ina dhiaidh sin ina Thánaiste, san áireamh, a scaoil orthu. Comrádaí de chuid McEntee, Paddy McHugh an príomh-amhrastach san eachtra. Ba dhuine lárnach é McHugh i gCogadh na Saoirse agus é faoi choimirce Michael Collins.
Baintear feidhm as réimse foinsí, lena n-áirítear ráitis finnéithe a fuarthas ó Bhiúro Stair Mhíleata na hÉireann, athchruthaítear imeachtaí Luan Cásca 1916 agus léirítear mar a fuair oifigeach de chuid an RIC bás. Le cuidiú an Dr Máire Cassidy, Iar-Phaiteolaí Stáit na hÉireann, tagann fianaise nua chun solais san athfhiosrúchán agus déantar anailís chomhaimseartha ar an chineál urchair lenar maraíodh an póilín.
Thoiligh muintir Dunville, McGee, HcHugh agus McEntee páirt a ghlacadh agus nuair a bhí an clár á chur le chéile, ghlac beirt ghariníonacha de chuid an phríomh-amhrastaigh, Paddy McHugh, cuireadh dul ar cuairt ar dhaoine muinteartha le Charles McGee ar Inis Bó Finne, oileán beag bídeach i nGaeltacht Thír Chonaill, áit ar fhás an póilín aníos.
Nuair a bhí siad ar an oileán, bhreathnaigh siad ar phlaic a cuireadh in airde i gcuimhne ar Charlie McGee agus phléigh siad a oidhreacht agus tionchar a bháis ar an dá theaghlach agus an suntas staire a bhaineann leo.
Arsa Sinéad McHugh, gariníon Paddy McHugh, "Is tábhachtach go bhfuilimid ag teacht le chéile, chan amháin ar mhaithe linn féin ach do na glúnta atá le teacht sa dóigh go mbeidh a fhios acu cad é a thit amach agus nach ndéanfar dearmad de."
Chuir Éamonn Mac Fhionnghaile, garnia an phóilín, fáilte roimh mhuintir McHugh agus ar seisean: "Agamsa, is deireadh caibidle é. Sílim gur tábhachtach go dtig le daoine suí síos, an t-am atá thart a phlé agus síocháin a dhéanamh dá réir."
Ba é an Leifteanant Robert Dunville an t-aon oidhre ar mhórghnólacht uisce beatha Dunville i mBéal Feirste. Cé gur tháinig sé slán agus go ndearnadh cathaoirleach an chomhlachta de, níor tháinig biseach iomlán riamh air agus fuair sé bás cúig déag bliana níos moille in aois a 38 bliain. Bhí an comhlacht i measc na gcomhlachtaí uisce beatha is mó ar domhan san am ach thit an tóin as go gearr ina dhiaidh sin.
Arsa mac a gharpháiste, Christopher Dunville, atá ina chónaí i gCeanada: "Ní shílim go bhfuil aon amhras gur ghiorraide a shaol gur scaoileadh sa bhrollach é. Má tá ciontacht nó fearg le bheith ann, bíodh sé ar na daoine a mhair san am sin. Cuid den stair é agus fágaimis ansin é."
Iar-chomhfhreagraí de chuid an BBC é Kevin Magee a léirigh agus a chuir i láthair an clár agus deir sé gur mhian leis scéal Charles McGee a insint nuair a chuala sé iomrá air agus é ag taisteal i nGaeltacht Thír Chonaill roinnt blianta ó shin.
"Nuair a thosaigh mé á fhiosrú go mion, ba léir go raibh scéal iontach suimiúil le hinsint faoi shaol ceathrair a tháinig i gceann a chéile ar feadh meandair ach gur chríochnaigh an scéal go tubaisteach. Léirítear sa scéal seo a chasta atá stair na tíre seo. Níl gné ar bith di dubh agus bán. Léargas iontach é an teacht le chéile ar an oileán den dóigh ar féidir teacht chun réitigh leis an am a chuaigh thart."
Arsa Méabh Fields, stiúrthóir: "Léirítear sa chlár seo a mhéad a théann an stair i bhfeidhm ar an am i láthair agus dá mhéad a shílimid atá ar eolas againn faoi imeachtaí staire, go ndéantar dearmad i gcónaí de ghnéithe áirithe a thig linn a fhiosrú agus cur lenár dtuiscint ar shaol an lae inniu."