Families reminisce about childhood memories in new ILBF series
---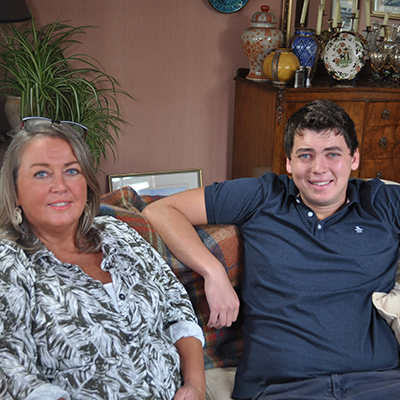 Date Posted: June 1, 2021
Saolta's Gaolta, a new light hearted Irish Language Broadcast Fund series, follows seven families as they reminisce on childhood memories and what it was like growing up. The three-part series, produced by Triplevision Productions, starts on Monday 7th June at 10pm on BBC Two Northern Ireland.
It's said that you can choose your friends but you can't choose your family. Those family members spill the beans on one another as they share the ups and the downs of life in Saolta's Gaolta.
The nostalgia of families growing up together. The games we played, remembering our first day at school or a first kiss. The favourite toys we had, the favourite TV programmes we watched and the fights we had with siblings when things went wrong. These are universal memories we can all relate to.
Brothers, sisters, husbands, wives, parents and their children sit in the comfort of the own homes and share their most entertaining stories of growing up together. They sit on their sofas reflecting on life, love and everything in between. From Christmas celebrations to First Communion fashion disasters, from love at first sight to dating disasters, from first day of school, to going to university. From sibling rivalry to life-long friendships and a broken bone or two!
In each episode, their anecdotes are combined with family photos, home videos and archive footage. Fun, honest and heart-warming the series is sure to strike a chord with viewers as our relations take a good look at the lighter side of life.
In the first programme, sister and brother Fionnuala and Oisín McVicker from Belfast cast their minds back to rollerblades, skateboards and crashes; mother and daughter Fionnuala and Catríona Nic an tSaoir from Randalstown remember a monkey that travelled the world; brothers Ciarán and Darach Doherty from Belfast come face-to-face with a Communion suit and remember what they most looked forward to about the day, while Kathleen Nancy and Laurence Ó Gallachóir from Árainn Mhór recall what life was like growing up in the 1950s – from going to school to Christmas presents.
---
Leanfaidh Saolta's Gaolta, clár úr gealchroíoch maoinithe ag an Chiste Craoltóireachta Gaeilge, seacht dteaghlach agus iad ag dul siar bóithrín na smaointe agus iad ag cuimhneamh ar an saol agus iad ag fás aníos i sraith úr Triplevision Productions ar an Luain 7ú Meitheamh ar BBC Gaeilge.
Deirtear gur féidir do chairde a roghnú ach nach féidir do mhuintir a roghnú. Scaoileann na baill teaghlaigh an fhírinne ar a chéile agus iad ag roinnt 'thuas seal, thíos seal' an tsaoil in Saolta 's Gaolta. Na cluichí a d'imir muid, an chéad lá ar scoil nó an chéad phóg. Na bréagáin ab fhearr linn, na cláir theilifíse ba mhó ar choimhéad muid orthu agus na troideanna le siblíní nuair a chuaigh cúrsaí ar strae. Tuigimid uilig na cuimhní seo.
Deartháireacha, deirfiúracha, fir agus mná céile, tuismitheoirí agus a gclann ina suí sa bhaile agus ag roinnt cuid de na scéalta is suimiúla agus is greannmhaire a bhaineann le fás aníos le chéile. Suíonn siad ar an tolg ag cuimhneamh ar an saol, an grá agus gach rud idir eatarthu. Ó cheiliúradh na Nollag go tubaistí faisin na Chéad Chomaoineach, ó ghrá na hóige go tubaistí rómánsaíochta, an chéad lá ar scoil go dtí gabháil chun na hollscoile. Ó iomaíocht na siblíní go cairdeas saoil agus cnámh bhriste nó dhó!
I ngach eagrán, tá grianghraif theaghlaigh, físeáin bhaile agus cartlanna comhaimseartha ag cur lena scéalta. Greannmhar, ionraic agus croíúil, tuigfidh an lucht féachana do na daoine atá sa tsraith seo agus iad ag breathnú siar ar an sult a bhain siad as an saol.
Sa chéad chlár, téann Fionnuala agus Oisín McVicker, deirfiúr agus deartháir as Béal Feirste, siar go dtí lanna rollála, cláir scátála agus taismí acu i rith an bhealaigh; cuimhníonn Fionnuala agus Caitríona Nic an tSaoir, máthair agus iníon as Baile Raghnaill ar mhoncaí a shiúil an domhan agus tugann na deartháireacha Doherty, Ciarán agus Darach, aghaidh ar chulaith na Chéad Chomaoineach, cuimhníonn ar an mhéid a raibh siad ag dúil leis ar an lá agus labhraíonn Kathleen Nancy agus Laurence Ó Gallachóir as Árainn Mhór faoina gcuimhní ar an saol agus iad ag fás aníos sna 1950í – ó ghabháil chun na scoile go bronntanais Nollag.