Documentary series, An Teach Seo Againne, airs on RTÉ1 on family structures
---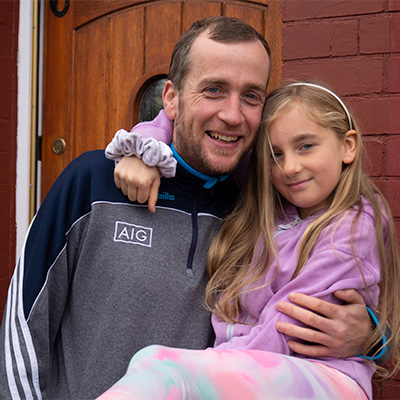 Date Posted: November 4, 2020
Family structure has changed dramatically over the last 50 years with one-in-three families in Ireland now departing from the traditional model. A unique four-part Irish Language Broadcast Fund series, An Teach Seo Againne, will transport audiences into the homes of four single-parent and co-parent households, from across Ireland leading up to and during the current pandemic. Produced by Below the Radar, the first episode will air on RTÉ One on Monday 9th November at 7.30pm.
Raising children can be highly demanding but it is also regarded as one of the most rewarding roles in life. However, the stakes are much higher for parents that don't always have another adult at hand to rely on, while grappling a myriad of daily parenting challenges. An Teach Seo Againne reflects the changes in family forms and captures the spirit of contemporary life in Ireland.
An Teach Seo Againne features four single-parents and co-parents as they navigate family life and face the tough realities of bringing up their children. Audiences will relate to the relentless mini-battles faced by our four parents as they deal with manic weekly schedules. The series will capture snapshots from school runs to endless baskets of laundry, dancing classes, juggling finances, holding down careers and home-schooling all in the midst of a global pandemic.
Across the four episodes we will meet four diverse families linked by the common thread of raising children outside the nuclear family. The rapport that our parents have with their children will shine through, alongside the support network of grandparents and friends who enrich the lives of the children. Filmed over the course of a year the families in An Teach Seo Againne display the shared traits of strength, determination, grit and ultimately an unwavering devotion to each other. The peaks and troughs of family life will be placed under a microscope and we see how each family emerges from the challenges of parenting during one of the most arduous periods in modern history.
Episode 1, Monday 9th November, 7.30pm, RTÉ1
In the first episode of An Teach Seo Againne we meet Neasa, a busy mother to three energetic young daughters. She juggles her career as a primary school teacher with getting her girls to and from school and their different extra-curricular activities. We see the family for the first time on a regular, chaotic morning as they prepare for the day ahead. In this programme the girls spend the weekend with their father while Neasa has time to focus some energy on herself. We're introduced to Patricia, mother of two autistic children, who are on a short break in the Donegal Gaeltacht. We also meet Simon whose missing his only daughter as she's visiting family with her mother in Argentina.
 Episode 2, Monday 16th November, 7.30pm, RTÉ1
In episode two of An Teach Seo Againne we meet Patricia at her home in County Derry which she shares with her two children. Patricia focuses on homework with her children while attempting to limit screen-time during meal breaks. We gain an insight into the mother's determination to cultivate her children's talents and her wishes for them to be confident and self-sufficient in order to be independent in life. Despite her children's challenges and her own battle with loneliness Patricia is upbeat and has a determined resolve to offer the best opportunities in life to her children. Simon and his daughter go for a father daughter mini trip together. We're introduced to Maureen, a single mother of seven children who surprises her daughter at the airport as she arrives home from Australia.
---
Tháinig athrú ó bhonn ar struchtúr an teaghlaigh le 50 bliain anuas, dá chomhartha sin, ní thagann teaghlach amháin as gach triúr ar na saolta seo in Éirinn leis an chineál teaghlaigh a bhíodh ann tráth. Is Sraith faisnéise bhreathnaitheach úr nua de chuid an Chiste Craoltóireachta Gaeilge  An Teach Seo Againne. Sa tsraith ar leith ceithre chlár seo cuirfidh an lucht féachana aithne ar cheithre theaghlach aontuismitheora agus comhthuismitheora ar fud na hÉireann agus ar an saol a bhí acu roimh an phaindéim reatha seo agus lena linn. Is é Below the Radar TV a léirigh An Teach Seo Againne agus craolfar an chéad chlár ar RTÉ1 Dé Luain 9 Samhain ar 7.30i.n.
Tá dúshlán nach beag ag baint le clann a thógáil ach deirtear go bhfuil sé ar na cúraimí is tairbhí ar an saol chomh maith. Mar sin féin, is deacra fós an cúram céanna do thuismitheoirí nach bhfuil duine fásta eile ar fáil dóibh i gcónaí, agus iad ag tabhairt faoi na dúshláin ar fad a bhaineann le saol an tuismitheora gach uile lá. Sa tsraith An Teach Seo Againne caithfear súil ar na hathruithe a tháinig ar an teaghlach agus léireofar an spiorad atá i saol an teaghlaigh in Éirinn sa lá atá inniu ann.
Le linn na sraithe An Teach Seo Againne leanfar ceithre thuismitheoir aonair agus chomhthuismitheoir agus iad i gceann a dteaghlaigh agus na ndúshlán a bhaineann le clann a thógáil. Is maith mar a thuigfidh gach duine a amharcfaidh ar an tsraith an streachailt shíoraí a bhíonn roimh na ceithre thuismitheoir agus ar na seachtainí gnóthacha cruógacha a bhíonn acu. Caithfear súil le linn na sraithe ar na cúraimí uile a bhíonn le cur díobh – na turais chun na scoile, an carn níocháin nach mbíonn deireadh choíche leis, na ranganna damhsa, gan trácht ar chúrsaí airgeadais, a ngairm féin agus an scolaíocht bhaile le linn na paindéime domhanda.
Cuirfear aithne sna ceithre chlár ar cheithre theaghlach éagsúla, teaghlaigh a bhfuil rud mór amháin i bpáirt acu, mar atá, gur ag tógáil a gclainne lasmuigh den teaghlach núicléach atá siad. An dáimh atá ag na tuismitheoirí dá leanaí, sin an rud a bheidh le sonrú go soiléir sa chlár, sin agus an gréasán tacaíochta atá acu a bhuí lena seantuismitheoirí agus a gcairde a chuireann go mór le saol na leanaí. Taifeadadh an tsraith An Teach Seo Againne in imeacht bliana, agus léiríonn na teaghlaigh go léir chomh láidir, diongbháilte miotalach leo agus taispeánfar a dhílse atá siad dá chéile chomh maith. Rothaí móra an teaghlaigh a bheidh faoi chaibidil sa tsraith, agus feicfimid cén dóigh a n-éireoidh le gach teaghlach tabhairt faoi na dúshláin a bhaineann le clann a thógáil le linn ceann de na tréimhsí is corraí i stair na linne seo.
Clár 1, Dé Luain 9 Samhain, 7.30pm, RTÉ 1
Buailimid le Neasa sa chéad chlár de chuid An Teach Seo Againne, bean a bhfuil triúr iníonacha óga bríomhara aici. Ní hamháin gur múinteoir bunscoile í ach caithfidh sí na cailíní a thabhairt chun na scoile agus iad a bhailiú arís, gan trácht ar na gníomhaíochtaí seach-churaclaim a bhíonn acu a ionramháil. Castar an teaghlach orainn den chéad uair le linn gnáthmhaidin ghnóthach acu agus iad ag ullmhú don lá atá rompu. Sa chlár seo is ag an athair a chaitheann siad an deireadh seachtaine, rud a thugann deis do Neasa díriú uirthi féin. Anuas air sin, cuirtear Patricia in aithne dúinn, bean a bhfuil beirt leanaí aici a bhfuil uathachas orthu – buailimid leo agus iad ar shaoire ghairid i nGaeltacht Dhún na nGall. Castar Simon orainn freisin, fear atá ag áireamh uaidh a iníon go mór agus í ar cuairt ag teaghlach a máthar san Airgintín.
Clár 2, Dé Luain 16 Samhain, 7.30pm, RTÉ 1
Sa dara clár de chuid An Teach Seo Againne tugaimid cuairt ar theach Patricia i gContae Dhoire, áit a bhfuil cónaí ar a beirt leanaí chomh maith. Is ag díriú ar obair bhaile na leanaí atá Patricia agus í ar a dícheall teorainn a chur leis an méid ama a chaitheann siad ag féachaint ar scáileáin agus iad ag ithe béilí. Faighimid léargas ar a dhíograisí atá sí buanna a leanaí a chothú agus ar an dóchas atá aici go mbeidh siad muiníneach neamhspleách chun nach mbeidh siad i dtuilleamaí aon duine amach sa saol. In ainneoin na ndúshlán atá roimh a leanaí agus a uaigní a bhíonn sí féin, tá Patricia dearfach agus tá sí meáite ar na deiseanna is fearr sa saol a thabhairt dá leanaí. Téann Simon agus a iníon ar shaoire ghairid le chéile chomh maith. Cuirtear Maureen in aithne dúinn freisin, máthair shingil a bhfuil seachtar clainne aici agus a bhaineann stangadh as iníon amháin léi san aerfort agus í ag filleadh abhaile ón Astráil.