Northern Ireland productions win at the Celtic Media Festival Awards
---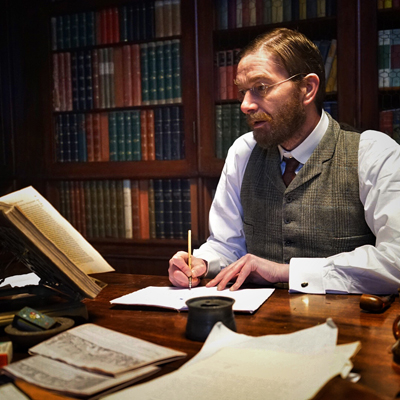 Date Posted: May 5, 2017
The Celtic Media Festival Awards, held in Douglas, saw a number of Northern Ireland projects taking home a prestigious Torc Award.
The Kieran Hegarty Award for Innovation was won by Voices 16, a BBC Northern Ireland production. Line of Duty took home a Torc for Best Drama Series. The biggest award of the night went to DoubleBand Films Eoin Mac Néill: Fear Dearmadta 1916 which was named as the Spirit of the Festival. This was the second award the documentary picked up, having previously picked up a Best History Torc.
Eoin Mac Néill: Fear Dearmadta 1916 examines MacNeill's reasons for his most controversial decision – when he, as Chief of Staff of the Volunteers, attempted to stop the Easter Rising by issuing a countermanding order. Through dramatic reconstruction, access to MacNeill's unpublished memoir, interviews with key historians and the personal account of MacNeill's grandson, former Tánaiste Michael McDowell, pivotal moments in history are brought to life.
Eoin Mac Néill: Fear Dearmadta 1916 was produced by DoubleBand Films for BBC NI and TG4 with funding from Northern Ireland Screen's Irish Language Broadcast Fund.
Festival Director, Catriona Logan said: "The final gala award winners here at the Celtic Media Festival are a true demonstration of the genre, linguistic and national diversity of the festival and the awards. From a groundbreaking BBC Scotland documentary to our radio presenter of the year from Ireland; from an incredible BBC Northern Ireland drama series to our Welsh radio station of the year; and indeed our Spirit of the Festival winner – Eoin Mac Néill: Fear Dearmadta 1916 – the Celtic Media Festival continues to showcase the best of the best from the Celtic nations. The sun shone for three days here on the Isle of Man, appropriate for the thriving national and independent production sectors of our Celtic nations. As we approach the 40th year of the festival, we look forward to another amazing gathering in Wales, for the Celtic Media Festival 2018."
For a full list of nominees and winners visit the Celtic Media Festival website.