Daniel O'Donnell's brand new series from home, Daniel sa Bhaile, to air on TG4
---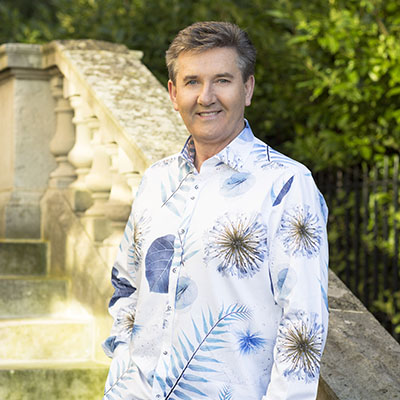 Date Posted: May 29, 2020
Daniel sa Bhaile brings the nation into the Donegal home of one of our national treasures, Daniel O'Donnell, and is the perfect respite for the time we find ourselves in now. The series is produced by Big Mountain Productions for TG4 with funding from the Northern Ireland Screen's Irish Language Broadcast Fund (ILBF).
Join Daniel each Sunday evening at 6:4opm on TG4 as he presents his brand-new show full of chat & craic from his home during lockdown from Sunday 7th June.
International singing star and the nations favourite, Daniel, will be catching up with fans and friends online as he hosts his new chat & entertainment show. Each week Daniel will be joined online by a variety of guests as he chats to them about everything; from how they are coping in lockdown, to the new activities & hobbies they have taken up over the last few weeks.
In episode one Daniel will chat with Moya Brennan as they discuss Clannad's farewell tour and their cancelled plans. Majella will be popping in to the show each week and for the first episode she will join Daniel as they get their hips moving in an online Hula Hooping class. Daniel will also talk to an Irish couple who have had to postpone their wedding and he will meet up virtually with his old friend Gloria Hunniford.
For episode two Daniel will chat with Derek Ryan and Philomena Begley as they discuss their new single "It Won't Rain Forever". Majella joins Daniel as they decide to take part in an online Zumba workout. Daniel will also be learning mindfulness through chocolate and he will be joined online by a special guest.
---
Sa tsraith seo 'Daniel sa Bhaile', beimid i gcomhluadar Daniel O'Donnell, fear a bhfuil an-tóir ag muintir na tíre seo air, ina theach cónaithe i nDún na nGall agus is iontach an t-ábhar siamsa a bheidh ann dúinn ag an am dúshlánach seo.
Bígí i dteannta Daniel gach tráthnóna Dé Domhnaigh ar TG4 nuair a chuirfidh sé a chlár nua comhrá agus spraoi i láthair óna theach féin le linn na srianta sláinte seo atá i bhfeidhm. Gach Dé Domhnaigh ag 6.40pm ón 7 Meitheamh ar TG4. Arna léiriú ag Big Mountain Productions do TG4 le maoiniú ón gCiste Craoltóireachta Gaeilge (ILBF).
Beidh Daniel, an réalta amhránaíochta idirnáisiúnta agus fear a bhfuil an-chion ag an bpobal air, ag caint agus ag comhrá lena lucht leanúna agus lena chuid cairde ar líne sa chlár nua comhrá agus siamsaíochta seo. Beidh meascán aíonna ag Daniel gach seachtain agus beidh sé ag caint leo faoi chuile rud beo; mar atá siad ag dul i gcleachtadh ar na srianta atá i bhfeidhm faoi láthair, na gníomhaíochtaí agus caithimh aimsire atá ar siúl acu le roinnt seachtaine anuas ina measc.
Beidh Moya Brennan ag caint le Daniel ar an gcéad chlár agus labhróidh siad faoi chamchuairt deiridh Chlannad agus faoi na pleananna arb éigin iad a chur ar ceal. Beidh Majella í féin ag glacadh páirt sa chlár gach seachtain agus sa chéad chlár beidh sí féin agus Daniel ag cur cor iontu féin nuair a ghlacfaidh siad páirt i rang Húlahúp ar líne. Déanfaidh Daniel píosa cainte le lánúin as Éirinn a raibh orthu an bhainis a bhí le bheith acu a chur ar ceal agus beidh sé ag caint chomh maith lena sheanchara Gloria Hunniford.
Sa dara clár beidh Derek Ryan agus Philomena Begley i measc na n-aíonna a bheidh ag caint le Daniel. Tráchtfaidh siad ar an amhrán nua atá acu "It Won't Rain Forever". Tabharfaidh Daniel agus Majella faoi rang aclaíochta Zumba ar líne. Gheobhaidh Daniel amach ansin faoin méid atá i gceist le cúrsaí machnamhachta trí sheacláid agus beidh aoi an-speisialta ina theannta ar líne.