Belfast Olympian John McNally featured in TG4 documentary, Laochra Thar Lear
---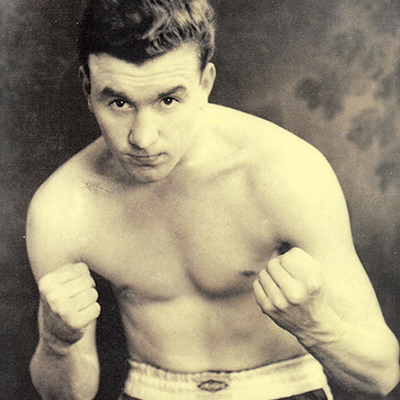 Date Posted: December 17, 2020
Laochra Thar Lear (Heroes Abroad) celebrates Ireland's significant Olympic achievements in the first sixty years of the modern games, from almost accidental wins in tennis in 1896 to an Olympic record-breaking run in 1956. The documentary, produced by Macha Media and made with support from Northern Ireland Screen's Irish Language Broadcast Fund, will air on Wednesday 23rd December at 9:30pm on TG4.
Ireland's Olympic story is about more than just sport. It is a story of politics, colonialism and partition. It is also a story of lifelong friendships, national pride and victory against all the odds. Featured in this documentary is one of Belfast's greatest Olympians, boxer John McNally.
John McNally was a new kind of Irish Olympian when he attended the 1952 games in Helsinki. Born and bred in the Pound Loney area of Belfast, John did what all the young boys in the area did and spent his free time in the local boxing club. His mother died when he was a young boy and he used boxing as a distraction from his grief. When he started being trained by Sammy Wallace he began to show his true potential. Even though at a time they had no gym and trained in Sammy's backyard.
By 1951, 18-year-old John was the Ulster and Irish junior flyweight champion but these titles didn't mean that he was the automatic choice to represent Ireland in 1952. The Irish Amateur Boxing Association would have preferred to send Dublin's Paddy Kelty as Ireland's bantamweight fighter. Even after defeating a Scot in his first international fight and beating the American Golden Gloves champion the IABA were still undecided about McNally and were pushing for Kelty. A 'box off' was organised to decide which bantamweight would go Finland.
When McNally arrived back in Belfast, crowds of people gathered in the train station to welcome home Belfast's Olympic hero. He was put on the roof of a taxi as his boxing team mates walked in front with a banner which said 'We are proud of you John' as they travelled to his boxing club and then to his home in the Pound Loney on the Falls Road.
John eventually gave up professional boxing and although working fulltime found a second chance at local fame as banjo player for the folk band 'The Freemen'.  He will always be remembered as the first of a long and distinguished line of Irish Boxers to medal at the Olympics.
Laochra Thar Lear airs on Wednesday 23rd December at 9:30pm on TG4.
---
Léirítear sa chlár Laochra Thar Lear buanna móra na hÉireann sa chéad seasca bliain de na cluichí nua-aimseartha, ó bhuanna taismeacha i 1896 go dtí rás a bhris an churiarracht Oilimpeach i 1956. Léiriú de chuid Macha Media é Laochra Thar Lear a rinneadh le tacaíocht ó Chiste Craoltóireachta Gaeilge Scáileán Thuaisceart Éireann agus craolfar é ar TG4 Dé Céadaoin an 23 Nollaig ag 9.30 i.n.
Tá níos mó ná spórt i gceist le scéal Oilimpeach na hÉireann. Is comhartha iad na cluichí ar dhóchas, ar dhiongbháilteacht, ar bhród, agus bíonn an náisiún is lú ina chéile comhraic ag na náisiúin is mó. Casann muid ar laoch Oilimpeach clúite de chuid Bhéal Feirste sa chlár faisnéise seo, an dornálaí clúite John McNally.
Bhí an dornálaí John McNally mar Oilimpeach Éireannach úr nuair a d'fhreastal sé ar na cluichí Oilimpeacha i Heilsincí i 1952. Rugadh agus tógadh é i Pound Loney i mBéal Feirste agus chaith sé a chuid ama mar a chaith na gasúraí óga eile sa cheantar – san ionad dornálaíochta áitiúil. Bhí an dornálaíocht mar caitheamh aimsire tábhachtach de, chaill sé a máthair go h-óg agus chuidigh an dornálaíocht leis díriú ar rud éigin. Nuair a thosaigh sé ag traenáil faoi stúir Sammy Wallace chuaigh a thallann ó neart go neart cé nach raibh giom ar bith acu, thraenáil siad i ngarradh Sammy.
Faoi 1951 agus gan John ach ocht mbliana déag d'aois, bhí teidil bainte amach aige mar bhuaiteoir Uladh agus  Éireann Sóisearach ach ní leor na teidil sin mar chinntiú go mbeadh sé ag déanamh ionadaíocht d'Éirinn i 1952. Bhí Cumann Dornálaíochta Amitiréach na hÉireann ag iarraidh Paddy Kelty as Áth Cliath ionadaíocht a dhéanamh dóibh. Fiú nuair a fuair John an ceann is fearr ar Albanach ina chéad troid idirnáisiúnta agus nuair a bhuail sé buaiteoir na 'American Golden Gloves' ní raibh an cumann go fóill cinnte faoi McNally agus mhol siad Kelty ina áit. Bhí troid dornálaíochta eagraithe eathru leis an chinneadh a dhéanamh cé acu a rachadh chun na Fionlainne.
Ar theacht abhaile do McNally go Béal Feirste, bhí na sluaite ag fanacht leis ag an stáisiúin traenach le fáilte is fiche a chuir roimh laoch Oilimpeach Bhéal Feirste. Cuireadh ar dhíon tacsaí é agus shiúil a fhoireann dornálaíochta ós a chomhair le brat a dúirt 'Tá muid brodúil asat a John' agus thaisteal siad leo chuig an club dornálaíochta agus ar ais abhaile go Pound Loney ar bhóthar na bhFál.
I ndiaidh seal d'éirigh John as an dornálaíocht ghairmiúil agus cé go raibh sé ag obair go lánaimseartha d'éirigh leis rath áitiúil a bhaint amach arís agus é ag seinm an bainseó leis an ghrúpa ceoil 'The Freemen.' Beidh cáil air i gcónaí mar an chéad laoch dornálaíochta Éireannach a bhain bonn amach ag na cluichí Oilimpeacha.
Craolfar Laochra Thar Lear ar TG4 Dé Céadaoin an 23 Nollaig ag 9.30 i.n.