BBC NI announce new programmes for Autumn
---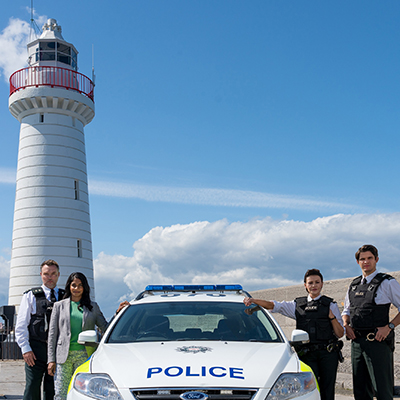 Date Posted: August 27, 2021
BBC Northern Ireland has announced an array of new programmes for Autumn 2021 offering up entertainment and intrigue in the run up to Christmas. As the longer evenings draw in, audiences can sit back and relax whilst watching an eclectic selection of programmes to audiences both at home and across the wider UK.
This year's line-up will include the premiere of new BBC and Britbox police drama, Hope Street, filmed in the seaside town of Donaghadee. The ten-part series which is a collaboration between BBC Northern Ireland and BBC Daytime, and funded by Northern Ireland Screen, will play first in Northern Ireland, before its BBC One network transmission next year.
Set in the fictional town of Port Devine the series will focus on the local police department – and the mysterious arrival of English Detective Constable Alimah Kahn, the first Muslim police officer in the town's history.
Programmes supported by Northern Ireland Screen's Ulster-Scots Broadcast Fund will air over the Autumn months, including Paula McIntyre's Hamely Kitchen and A Stitch Through Time.
There is nothing chef and food writer Paula McIntyre loves more than looking to the past for inspiration while creating dishes which are right up to date. In Paula McIntyre's Hamely Kitchen, a new three-part series made by Clean Slate Productions, Paula will be sharing a mouth-watering selection of recipes, which she hopes viewers will serve up to their own family and friends.
A Stitch Through Time is a new four-part series, produced by DoubleBand Films, that sees up-and-coming fashion designers compete to complete technical and design-led challenges inspired by Ulster's rich textiles heritage. Inspired by iconic garments from the Dungiven Costume to the Ulster Coat these four fashionistas go head-to-head to impress their judges, designers Katie Larmour and Una Rodden with their creations. Host Claire McCollum is joined by textile historian Bruce Clark, a descendent of one of Ulster's great linen families, to reveal the stories behind the design challenges.
Responsible fashion, shedding tarantulas and an investigation into a controversial Easter Rising shooting are part of BBC Gaeilge's line up for Autumn all with support from Northern Ireland Screen's Irish Language Broadcast Fund.
In a new documentary, Lá i 1916 (A day in 1916) produced by Clean Slate Productions, Kevin Magee examines the facts and twists around the shooting of the first RIC officer, a native of the Donegal Gaeltacht, who was killed during the Easter Rising.
Peataí! returns to the Ark Farm for a new series with the team of experts meeting some wonderful pets and their owners. The series is produced by Big Mountain Productions.
In a new four-part series produced by Waddell Media, Éadaí SOS, presenters Caoimhe 'Chats' Ní Chathail and Proinsias Ó Coinn challenge four clothing-obsessed fashionistas to reduce, reuse and recycle the contents of their wardrobes.
Long-running magazine series, I Lár an Aonaigh (Below The Radar TV) returns for a tenth series with a special musical edition.
Other new documentaries include Séamus Ó Grianna: Saol Corrach, a one-hour film from Macha Media exploring the life, work and contradictions of one of the most important Irish language writers, and in Críochdheighilt, produced by DoubleBand Films, journalist and author Ian Malcolm, explores the impact of Partition on ordinary lives and communities a century after the creation of Northern Ireland.
Eddie Doyle, Head of Content Commissioning, BBC Northern Ireland said: "It has been another long and difficult year for audiences and we wanted to bring some much needed entertainment and escapism to the darker evenings. Our offering will hopefully make people laugh, reminisce and look at Northern Ireland from a different perspective.
"We've focused on light-entertainment formats and stories which resonate with people from this part of the world.  BBC Northern Ireland will also continue to work in partnership with BBC Three and Northern Ireland Screen to support the local independent sector by bringing viewers a mix of programmes on a whole range of topics which interest them."
All programmes will be available to watch live on BBC One Northern Ireland and BBC Two Northern Ireland and afterwards to watch anytime on BBC iPlayer. Transmission details will be issued at a later date.
To view the full list of programme, click here.