An Focal Scoir, Monday 13th March, BBC Two Northern Ireland at 10pm
---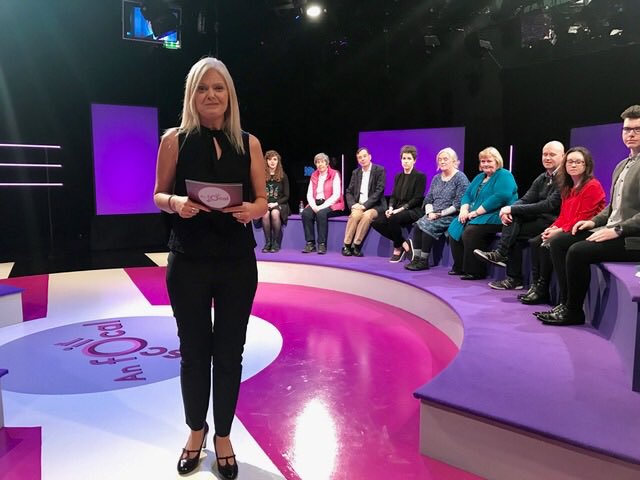 Date Posted: March 2, 2017
An Focal Scoir is a brand new studio discussion series for BBC Two Northern Ireland due to be broadcast on Monday 13th March at 10pm. The four-part series was produced by Below The Radar TV for BBC Gaeilge with funding from Northern Ireland Screen's Irish Language Broadcast Fund.
An Focal Scoir will feature discussion and analysis on a number of wide-ranging stories and topics that matter to the Northern Ireland audience.
Máire Bhreathnach is joined each week by a panel of journalists and social commentators including Póilín Ní Chiaráin, Dr Art Hughes, Pól Ó Muirí and Íta Ní Chionnaith. Discussion points will include everything from mental health and gambling to organ donation. Location reports will include views from the public on the various topics.
Antaine Ó Donnaile, Series Producer, said, "An Focal Scoir is breaking new ground for the BBC's Irish language output. We analyse and discuss topical issues which have resonance and relevance for the audience, whether they speak Irish, English or any other language."
_____________________________________________________________________________
Is sraith úrnua de phléchláir stiúideo é An Focal Scoir do BBC Two NI atá le craoladh Dé Luain 13 Márta ag 10 i.n.. Ba é Below The Radar TV a leirigh an tsraith ceithre chlár do BBC Gaeilge agus ba é an Chiste Craoltóireachta Gaeilge a mhaoinigh é.
Ar An Focal Scoir beidh plé agus anailís ar roinnt scéalta agus topaicí leathanréimseacha atá tábhachtach don lucht féachana i dTuaisceart Éireann.
I gcuideachta Mháire Bhreathnach gach seachtain beidh painéal iriseoirí agus tráchtairí sóisialta, ar a n-áirítear Póilín Ní Chiaráin, an Dr Art Hughes, Pól Ó Muirí agus Íta Ní Chionnaith. Beidh réimse leathan ábhar le plé acu, leithéidí na sláinte meabhrach, an chearrbhachais, agus deonú organ. Beidh tuairimí ón phobal ar na topaicí éagsúla i measc an ábhair i dtuairiscí ón tsuíomh.
Dúirt Antaine Ó Donnaile, léiritheoir na sraithe, "Is rud nua é An Focal Scoir in aschur Gaeilge an BBC. Déanann muid anailís agus plé ar cheisteanna reatha a bhfuil brí agus ábharthacht ag baint leo don phobal, is cuma cé acu Gaeilge, Béarla nó teanga ar bith eile atá acu."
Is léiriú teilifíse de chuid Below The Radar é An Focal Scoir do BBC Gaeilge, le maoiniú ó Chiste Craoltóireachta Gaeilge Scáileán Thuaisceart Éireann.