Introducing Doc Fest Ireland
---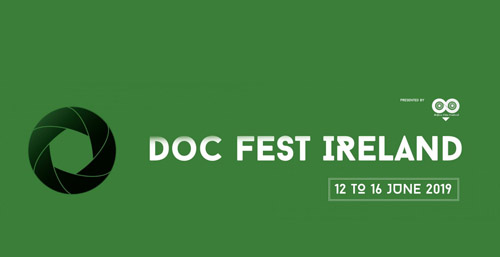 Date Posted: March 11, 2019
Belfast Film Festival is proud to present Doc Fest Ireland, a new, industry-focused All-Ireland Documentary Film Festival, which will take place in Belfast from Wednesday 12th June – Sunday 16th June 2019.
Doc Fest Ireland will showcase only non-fiction film, presenting new Irish and international feature length and short documentaries. The last five years have seen a surge in feature-length documentaries from the island of Ireland, with many securing theatrical releases, and Doc Fest Ireland will provide a platform to showcase the great talent within the Irish documentary filmmaking industry, promoting a dynamic programme of events that are both entertaining and provocative.
Northern Ireland Screen is the principal funder for Doc Fest Ireland, with additional funding from Belfast City Council, BFI, Tourism Ireland, Tourism Northern Ireland, Ulster University, Queen's University, Community Relations Council, British Council and Department for Communities.
Doc Market is an opportunity for filmmakers to meet with top decision makers including international funders, broadcasters, distributors and exhibitors on a one to one basis. The Doc Market will be a hub for funding, sales and distribution of documentaries in Ireland and globally, and an incubator for nurturing domestic talent so that our industry can continue to thrive in the future.
Doc Market is the only marketplace dedicated to documentary on the island of Ireland and will provide an opportunity for filmmakers to pitch their project through carefully matchmade meetings organised by the Doc Fest Ireland team.
Decision Makers in attendance at the Marketplace will include:
Northern Ireland Screen | Arte France | Arte Germany | BBC Northern Ireland | BBC Storyville | Creative Europe | European Documentary Network | EO Docs Netherlands | RTÉ | SWR Germany | TG4 Ireland | TRT Turkey | the WRAP Fund Ireland | TVP Poland
Further international funders, distributors and broadcasters will be announced in the coming weeks.
You can submit to the Doc Fest Market here. The deadline for application is Saturday March 30th. Your idea must be long form (50 minutes +) and you must have at least one TV / digital / theatrical credit in documentary, although this can include shorter form.
In addition to the marketplace, the festival will host a training session for EU Co-Production, in collaboration with the European Documentary Network and Creative Europe on Wednesday June 12th. Further details on this event will be announced on the Doc Fest Ireland website in the coming weeks.
The event will also feature the Northern Ireland Screen 1st Feature Pitch opportunity, which is a pitch for development money of £7.5k to do a teaser for a feature doc. It's open to anyone who has not made a feature, including new and emerging talent. Film makers without production companies will be placed with an experienced company.
Doc Fest Ireland will also present a diverse range of panel sessions and talks, a BFI/Doc Society day, as well as live pitches and social events.
DOC FEST IRELAND ACCREDITATION NOW AVAILABLE
Accreditation for Doc Fest Ireland is now available to purchase online. Whether you are an industry professional, student or documentary enthusiast, festival passes are available to suit your needs and budget. Accreditation types available are the: