ILBF series "Cumhacht an Cheoil" charts the powerful effect of music
---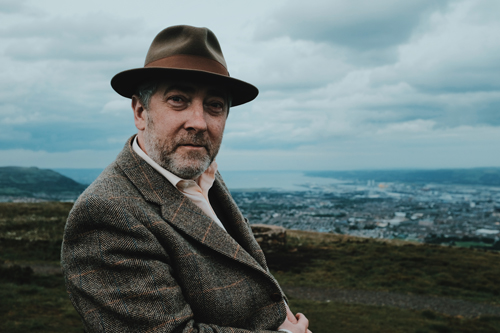 Date Posted: September 15, 2017
Irish musician Neil Martin explores the powerful effect that music has on people's lives in a new Irish Language Broadcast Fund series, Cumhacht an Cheoil. As part of the three-part series, which begins on Monday 18th September at 10pm on BBC Two Northern Ireland, Neil composes his latest work and prepares for a major performance. Along the way he'll meet friends and fellow musicians as he discovers how their lives and careers have been shaped and transformed by the power of music.
 "There is not a sentient human being whose life has not been coloured and bookmarked all the way through by music"
– Neil Martin
In Cumhacht an Cheoil, Neil Martin has been commissioned by an arts festival to write a piece of original music to be performed live by an orchestra of local and international ethnic musicians from countries such as Pakistan, China and Bulgaria.
While attempting to bring together these diverse cultures and musical genres, and create his own original piece of music for the performance, Neil must decode the universal language of music and tap into the secret of music's ancient and lasting appeal.
In the course of the series, he takes advantage of his little black book of musician friends, and seeks their perspectives on what music means to them, how it has shaped their lives and influenced their careers. In between meeting leading Irish musicians like Iarla Ó Lionáird and Caoimhín Ó Raghallaigh, the series will follow Neil as he rehearses and finally performs his brand new orchestral and choral piece.
In episode one, as Neil seeks inspiration and begins the creative process of composing his own concert piece, he travels to Tipperary to meet one of his early mentors, world-renowned pianist and composer, Mícheál Ó Súilleabháin. He also meets Barry Douglas and Maighréad Ní Dhomhnaill and with them discusses how their early musical influences have shaped their lives.
In the second episode, as Neil sets about the challenge of creating his own multi-cultural orchestra and starts rehearsals, he explores the theme of rehearsing and playing music together with Iarla Ó Lionáird and Caoimhín Ó Raghallaigh.
In the final episode, as Neil prepares for the night of his orchestra's performance, Neil considers the theme of how to inspire the best performance from his musicians. With the help of leading Irish conductor David Brophy, and musicians Duke Special and Dónal O'Connor, he discovers how they manage to combine different genres and styles so effectively onstage.
For Neil, making the series has been an "intriguing journey which has allowed me to share thoughts and music with so many enlightened people. Crucially, it also helped reaffirm for me those core values that make music such an essential ingredient for humankind."
Cumhacht an Cheoil is made by DoubleBand Films for BBC Gaeilge, with funding from Northern Ireland Screen's Irish Language Broadcast Fund.
---
Fiosraíonn Cumhacht an Cheoil sraith CCG tionchar tábhachtach an cheoil
Is duine de mhórcheoltóirí na hÉireann é Neil Martin. Sa chlár Cumhacht an Cheoil, sraith de chuid an Chiste Craoltóireachta Gaeilge agus a thosaíonn Dé Luain 18 Meán Fómhair ar 10i.n., fiosraíonn sé an tionchar cumhachtach a imríonn an ceol ar shaol na ndaoine, agus é ag cumadh an tsaothair is déanaí dá chuid agus ag ullmhú do cheolchoirm thábhachtach. Ar an bhealach dó, buailfidh sé le cairde agus le comhcheoltóirí agus gheobhaidh sé amach an dóigh ar mhúnlaigh agus ar athraigh cumhacht an cheoil idir bheatha agus shaol gairmiúil na ndaoine sin.
"Níl oiread agus duine mothaitheach beo nach ndearna an ceol dath a chur lena bheatha agus gach cor ina bheatha a chinneadh mar a bheadh leabharmharc ann"
– Neil Martin

Sa chlár Cumhacht an Cheoil, thug féile ealaíon coimisiún do Neil Martin le píosa ceoil úrnua a scríobh, ceol a mbeadh ceolfhoireann de cheoltóirí eitneacha áitiúla agus idirnáisiúnta ó thíortha mar an Phacastáin, an tSín agus an Bhulgáir á sheinm beo os comhair an phobail.
Agus é ag iarraidh na cultúir agus na seánraí ceoil éagsúla seo a thabhairt le chéile lena phíosa úrnua ceoil a chruthú don ócáid, ní mór do Neil ciall a bhaint as teanga uilíoch an cheoil agus inspioráid a bhaint as na rúin a bhaineann leis  an dúil ársa fhadmharthanach atá ag an chine dhaonna ann.
I rith na sraithe, baineann sé tairbhe as a leabhar beag dubh de chairde ó shaol an cheoil, agus téann ar lorg a dtuairimí ar an tábhacht atá ag an cheol dóibhsean, ar an dóigh ar mhúnlaigh sé cúrsaí a saoil, agus ar an dóigh a ndeachaigh sé i bhfeidhm ar a saol gairmiúil. Ní hamháin go mbuailfidh sé le ceoltóirí mór le rá mar Iarla Ó Lionáird agus Caoimhín Ó Raghallaigh, ach idir an dá linn, leanfaidh an tsraith Neil agus é ag cleachtadh a phíosa nua do cheolfhoireann agus do chór agus á chur i láthair an phobail.
I gclár a haon, agus Neil ag dul ar lorg inspioráide agus ag cur tús leis an phróiseas chruthaitheach a bhaineann le píosa a chumadh do cheolchoirm, taistealaíonn sé go Tiobraid Árann le bualadh le duine de na daoine a rinne meantóireacht air i dtús a shaoil, Mícheál Ó Súilleabháin, pianódóir agus cumadóir a bhfuil clú domhanda air. Chomh maith leis sin, buaileann sé le Barry Douglas agus le Maighréad Ní Dhomhnaill agus pléann sé an dóigh a ndeachaigh na tionchair cheoil a bhí orthu agus iad óg i bhfeidhm ar a saol.
Sa dara clár, agus Neil ag tabhairt faoin dúshlán a bhaineann le ceolfhoireann ilchultúrtha dá chuid féin a chruthú agus ag tosú ar na cleachtaí,  labhraíonn sé le hIarla Ó Lionáird agus le Caoimhín Ó Raghallaigh le himscrúdú a dhéanamh ar an chleachtadh agus ar an dóigh a seinntear ceol le chéile.
Sa chlár deiridh, agus Neil ag déanamh réidh d'oíche na ceolchoirme, déanann sé machnamh ar an dóigh leis an taibhiú is fearr a mhealladh ó na ceoltóirí. Le cuidiú ó David Brophy, stiúrthóir mór ceolfhoirne as Éirinn, agus ó na ceoltóirí Duke Special agus Dónal O'Connor, faigheann sé amach an dóigh a n-éiríonn leo seánraí agus stíleanna éagsúla a thabhairt le chéile chomh héifeachtúil sin ar an ardán.
Do Neil, b'ionann déanamh na sraithe agus "turas sárspéisiúil a chuir ar mo chumas smaointe agus ceol a roinnt leis an oiread sin daoine tuisceanacha. Thar aon rud eile, chuidigh sé liom na croíluachanna sin a athdheimhniú, luachanna a fhágann gur rud chomh riachtanach sin an ceol i saol an chine dhaonna."
Is é DoubleBand Films a léirigh Cumhacht an Cheoil do BBC Gaeilge, le maoiniú ó Chiste Craoltóireachta Gaeilge Scáileán Thuaisceart Éireann.