I Lár an Aonaigh back for a sixth series
---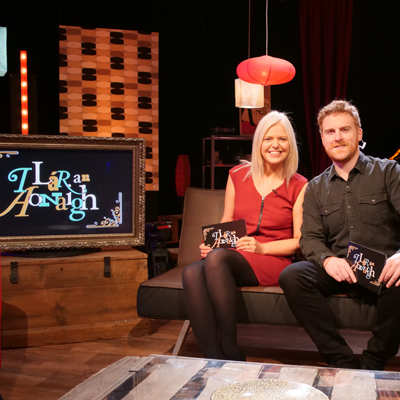 Date Posted: November 3, 2017
Irish Language Broadcast Fund magazine show I Lár an Aonaigh returns to BBC Two Northern Ireland for its sixth series on Monday 6 November at 10pm.
The popular Irish language programme promises to warm up the long autumn evenings each Monday night with plenty of chat, stories and local music.
Presenters Máire Bhreathnach and Tomaí Ó Conghaile are joined by Lynette Fay, Dáithí Ó Muirí and Conall Ó Máirtín with a mix of stories, conversation and music performances.
The six-week run will include a variety of special guests including actor Dara Devaney, recently retired footballer and sports commentator Valerie Mulcahy, singer Rónán Ó Snodaigh, radio presenter and DJ Eoghan McDermott, editor and presenter Máirín Ní Ghadhra and poet Louis de Paor.
There will also be music to suit everyone's taste, from traditional music and pop to blues and soul. We'll hear from Kildare pop rock duo, Picture This, Portaferry singer Ryan McMullan, melodic genre-hopping Dublin five-piece Oski Bravo, Galway trio The Whileaways, electro-folk duo Saint Sister and some top-notch trad from Réalta. Extra tracks recorded by each of the groups will be available to watch online at bbc.co.uk/gaeilge or via the BBC Gaeilge Facebook page.
Series Producer Michael Fanning said: "We are delighted to be back with another series of I Lár an Aonaigh. Again this series features a wide range of interesting stories, from doping in sport, to mobility issues and the anniversary of the death of Ché Guevara. We are also very excited to have more great home-grown musical talent and it sounds great."
I Lár an Aonaigh is a Below The Radar TV production for BBC Gaeilge with funding from Northern Ireland Screen's Irish Language Broadcast Fund.
---
I Lár an Aonaigh ag filleadh don séú sraith
Tá an t-irischlár de chuid an Chiste Craoltóireachta Gaeilge, I Lár an Aonaigh ag filleadh ar BBC Two NI Dé Luain 6 Samhain ar 10in.
Cuirfidh an t-irischlár Gaeilge teas agus beogacht sna tráthnónta fada fómhair gach Luan faoina lán comhrá, scéalta agus ceol áitiúil.
Beidh na láithreoirí, Máire Bhreathnach agus Tomaí Ó Conghaile in éineacht le Lynette Fay, Dáithí Ó Muirí agus Conall Ó Máirtín agus réimse de scéalta, comhrá agus seinm ceoil le cur i láthair.
Beidh aíonna speisialta éagsúla sa tsraith sé seachtaine agus ina measc beidh an t-aisteoir Dara Devaney, Valerie Mulcahy a d'éirigh as an pheil ghaelach ar na mallaibh agus ar tráchtaire spóirt anois í, an t-amhránaí Rónán Ó Snodaigh, Eoghan McDermott, DJ agus láithreoir raidió, an t-eagarthóir agus láithreoir Máirín Ní Ghadhra agus Louis de Paor, file.
Beidh ceol de gach cineál faoin spéir againn fosta, idir cheol traidisiúnta, phopcheol agus anamcheol. Éistfimid le dís rac-cheoltóirí as Cill Dara, Picture This, le Ryan McMullen, amhránaí as Port an Pheire, Oski Bravo banna cúigir as Baile Átha Cliath a bhíonn ag léim ó sheánra go seánra, grúpa triúir as Gaillimh darb ainm The Whileaways, dís leictrea-cheol tíre ar a dtugtar Saint Sister agus ceol traidisiúnta den scoth ó Réalta. Beidh traiceanna breise arna dtaifeadadh ag na bannaí seo uile ar fáil le breathnú ar líne ag bbc.co.uk/gaeilge nó ar leathanach Facebook, BBC Gaeilge.
Arsa Michael Fanning, Léiritheoir na Sraithe: "Tá lúcháir an domhain orainn a bheith ar ais le sraith eile de I Lár an Aonaigh. Sa tsraith seo, dála sraitheanna roimhe seo, beidh réimse leathan de scéalta againn ó dhrugaí sa spórt go saincheisteanna soghluaisteachta agus comóradh céad bliain bhás Ché Guevara. Táimid iontach sásta fosta go bhfuil ár sciar de scoth cheoltóirí na tíre le bheith againn agus iad ag seinm ar a mbionda."
Léiriúchán de chuid Below The Radar TV é I Lár an Aonaigh do BBC Gaeilge arna mhaoiniú ag Ciste Craoltóireachta Gaeilge Scáileán Thuaisceart Éireann.