Global Game Jam 2019 to take place at Farset Labs
---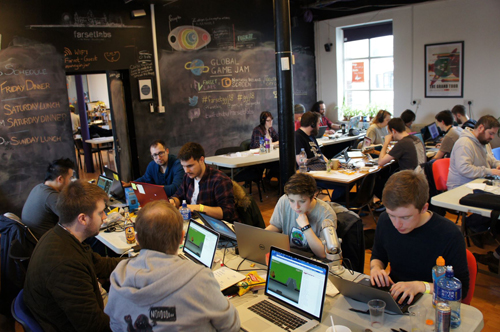 Date Posted: January 9, 2019
Farset Labs will be hosting the Belfast site of the international hackathon "Global Game Jam" for its 7th year, with support from Northern Ireland Screen.
The jam runs from Friday 25 to Sunday 27 January, and is a brilliant chance to meet people from the local games industry while making interesting games and experiences in a weekend. There is no required skill level to take part – programmers, artists, musicians and enthusiasts are all welcome, bring whatever tools or experience they need to create games. Global Game Jam is a
worldwide weekend focused on creating games; from fully interactive video-games, to board games and card games. Some of the games are created for charitable causes, such as "Games
For Change". The global event involves a number of large industry sponsors, including Facebook, Unity and Github, and it often acts as a stepping stone for new games developers.
The theme will be announced at 5pm on Friday 25 January, and previous years have seen amateurs and professionals from all over Northern Ireland come to create thought-provoking
projects, and have fun while doing it. The first Global Game Jam was run in 2009, and this year there are already over 500 individual Jam sites registered around the world for 2019. Farset
Labs will be live-streaming video from Jam sites world-wide, and also broadcasting on Twitch throughout the 48hr event. In addition, there will be an opportunity to see and play other teams' games at the end of the weekend. A small cost of £6 is required to secure a space at Farset, which includes free food and event material over both days, entrants can register directly here.
More details and tips on the event and the venue can be found here.