Success for Northern Ireland talent at the 2019 Galway Film Fleadh
---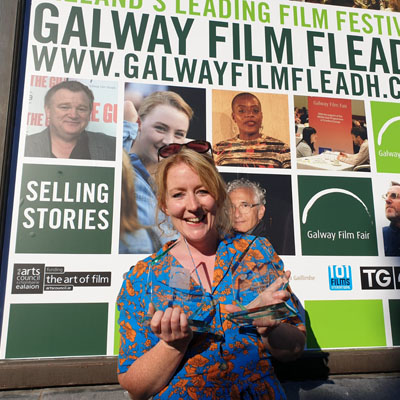 Date Posted: July 16, 2019
On Sunday 14th July the 31st Galway Film Fleadh came to a close after another outstanding year of Irish and international film premieres, screenings, workshops and discussions. We are delighted to report that projects filmed in Northern Ireland and funded by Northern Ireland Screen were among the prestigious list of winners with A Bump Along the Way, Hydebank and Featherweight all taking home awards.
A Bump Along the Way took home the Best Irish First Feature Award and Lola Petticew picked up the Bingham Ray New Talent Award for the part she played in it.
Filmed entirely in Derry and led by an all-female creative team, A Bump Along the Way is directed by Shelly Love, written by Tess McGowan, produced by Louise Gallagher and executive produced by Roma Downey.  The film was developed through Northern Ireland Screen's New Talent Focus scheme and was funded by Northern Ireland Screen and Yellowmoon.
A Bump Along the Way tells the story of fun-loving, 44-year-old single mum Pamela (Bronagh Gallagher) who becomes pregnant following a one night-stand, much to the shame of her buttoned-up teenage daughter Allegra (Lola Petticrew). As Pamela deals with the prospect of becoming a mum for the second time and the growing pains of the disgruntled Allegra, the challenges they face along the way bring mother and daughter to a better understanding of themselves and each other.
Element Distribution has picked up rights in Ireland and UK. The film will be released in cinemas on 30th August.
Featherweight won the Don Quijote Award for Best Animated Short Film. Directed by Kayleigh Gibbons and produced by Richard Gordon Featherweight looks at how a father and daughter struggle to cope with the death of a central family member. They choose to express their grief in opposite ways.
The FICC jury awarded the Don Quijote prize to Featherweight for its touching storytelling style and expressive animation dealing with the universal theme of grief.
Hydebank took home the award for Best Short Documentary. Directed by Ross McClean Hydebank follows an encounter between innocence and assumed evil as we witness the daily struggles of an imprisoned 21-year-old. It was produced by Noe Mendelle, Flore Cosquer, Christine Morrow and Chris Kelly.