ScreenSkills and thecallsheet deliver Free High-end TV Production Masterclass
---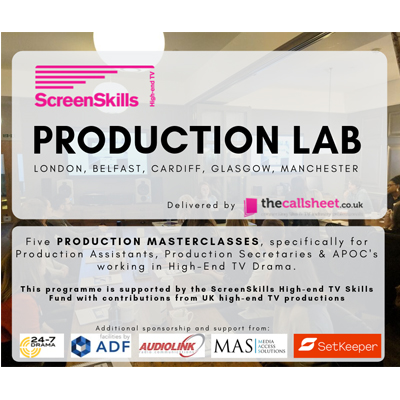 Date Posted: October 17, 2019
Everything you ever needed to know about high-end TV drama production… but were too busy to ask.
Production Lab, a ScreenSkills Production Masterclass, led by Production Manager Imogen Gay (Peaky Blinders, Top Boy), and delivered by thecallsheet is a one-day deep dive for Production Assistants, Production Secretaries and APOCs working in high-end TV drama as well as factual Production Managers and Coordinators looking to move across into HETV.
The free course, supported by the ScreenSkills High-end TV Skills Fund with contributions from UK high-end TV productions, is designed to give junior production crew a more comprehensive knowledge of standard practice across the industry. It covers all the crucial parts of the job including schedules, working with scripts, crewing up, casting, read-through, rehearsal, tech recces, equity contracts, call sheets, progress reports, timings and wrap. You'll also take home an indispensable 100-page Production Lab handbook to keep as a reference guide on future jobs.
Production Lab takes place on 30th November in Belfast.  There are up to 25 places and the deadline to apply is 31st October.
Lunch and networking drinks will be provided.
To apply, email [email protected].
"The Production Lab provides a proven working overview into the mechanics of a production office. Individuals will take away a wealth of confidence and knowledge." Zoe Edwards – Head of Production – House Productions.