From Russia with love as new series of Family Footsteps starts on BBC One NI
---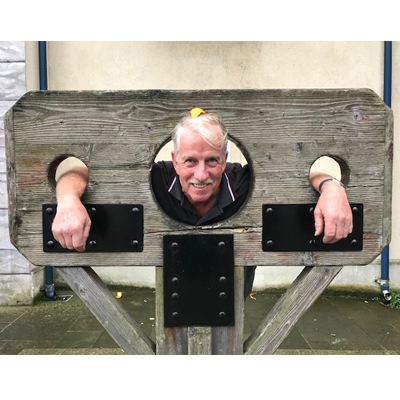 Date Posted: October 18, 2019
A new series of Family Footsteps starts on BBC One Northern Ireland this Monday night (21st October) at 7.30pm.
Gavin Andrews takes the Smyth family from Bangor, Co Down on a genealogical detective trail as they piece together their family tree and discover fascinating insights into the lives of their family members in the 18th and 19th centuries.  It's an adventure packed three-part 30 minutes series with lots of surprises for the Smyths that ultimately leads to a connection with a notorious historical figure.
Family Footsteps is produced by Waddell Media for BBC Northern Ireland with support from Northern Ireland Screen's Ulster-Scots Broadcast Fund.
The series starts with a boat trip for the Smyth family, who sail from Bangor across Belfast Lough to Carrickfergus, where Peter's family lived for generations. Their first big discovery is that their former family home is now a tanning parlour! The trail leads them to Belfast's linen industry where they discover some relatives became big shots in a very big business – linen. Going further back, they find out that business interests took this adventurous family overseas. Their next family footstep takes them all the way to the majestic St Petersburg in Russia, where it's revealed one of their ancestors, Robert, ran a prestigious bookshop. Amongst his customers were Russia's literary elite, including author Vladimir Nabokov. This leads to revelations of royal connections for the Smyth family – Robert's sister, Lizzie, followed him out to Russia where she was hired as a governess for Navokov's aunt, a famous Princess The Smyths feel it's all a long way from Bangor!
The second programme which will be shown on Monday 28th October at 7.30pm continues the Russian connection. Still in St Petersburg it transpires that another family member was operating in St Petersburg at the start of the 20th century. Ralph, brother of Robert and Lizzie, was ostensibly a businessman but evidence points to him actually being a British spy! The Russian Revolution was to have devastating consequences for this branch of the family and sent them fleeing for their lives.
Back home, Emily and Ruby take etiquette lessons to discover what life may have been like for a governess. A family Will reveals a prized possession, a harmonium, and the family enjoy a Victorian-style sing-song. And it transpires there's another adventurer in the family, this time a sea captain who sailed around the world, surviving a shipwreck in the process. The Smyth family story is never dull!
In the final episode, its back to 1711 and a family link to a witch, as the Smyths can be traced back to a woman who was accused in the Islandmagee Witch Trials. Found guilty of witchcraft, the family discover her fate. In a family tree full of foreign adventure and travel, the real danger to the family was found much closer to home.
Family Footsteps starts this Monday night (21st October) at 7.30pm on BBC One Northern Ireland.