RTS Northern Ireland reveal winners of 2018 Programme Awards
---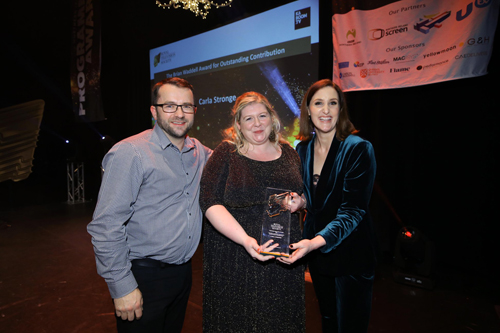 Date Posted: November 16, 2018
The winners of the Royal Television Society Northern Ireland (RTS NI) Programme Awards were announced last night at a glittering awards ceremony in The Mac Belfast, hosted by Actress Bronagh Waugh.
The RTS NI Programme Awards 2018 are delivered in partnership with BBC Northern Ireland, Northern Ireland Screen, Channel 4 and UTV, along with the headline sponsor Ka-Boom.
Derry Girls picked up the Award for Best Scripted Comedy for Hat Trick Productions and No Stone Unturned won the Current Affairs Award for Fine Point Films.
Fine Point Films also picked up the Award for Best Documentary with Cyprus Avenue Films for 66 Days with the Specialist Factual Award going to Erica Starling Productions & Ronachan Films for Leonora Carrington – The Lost Surrealist.
Come Home filmed in Belfast by Red Production Company Ltd took the Award for best Drama and the Entertainment Award went to Nice One Productions & Hindsight Productions for What Makes You Tic?
Rachel Allen: A Cook's Adventure took the Features/Factual Entertainment Award for Big Mountain Productions with the Award for Original Music Score going to Below The Radar for Rocky Ros Muc.
BBC Newsline picked up the News Award for its Paedophile Hunter Investigation and the Award for Children's Animation went to Zodiak Kids Studios for Joe All Home – Home Alone with BBC Northern Ireland also picking up the Interactive Award for 1943 Berlin Blitz.
Kieran Doherty, Chair of RTS NI says: "The high quality of this year's entries was truly impressive and hugely reflective of Northern Ireland's dynamic creative community. I know the judges had a tough time deciding the eventual winners so congratulations to everyone who was nominated as well as tonight's winners. The RTS NI is an educational charity and events like these Awards give us the opportunity to highlight and celebrate the wonderful achievements of our vibrant film and TV industry which is now being recognised on the global stage."
Casting Director Carla Stronge was announced as the winner of the Brian Waddell Award which recognises her outstanding contribution to the local television and film industry. Carla has worked on all 8 seasons of HBO's Game of Thrones; BBC 2's The Fall and recent Belfast set true story Doing Money; ITV's The Secret and Channel 4's Derry Girls as well as films including The Dig, Kissing Candice, and upcoming 2019 release We Don't Talk About Love. She has won two Emmy's for her work on Game of Thrones in 2015 and 2016.
Carla Stronge says: "This is a mind-blowing honour. Waddell Media was the first place I did work experience, so I am very proud to be the first recipient in the Award's new name. It's a great privilege to be congratulated by your peers and those whom you massively respect. We're in a very exciting chapter of growth and development here in our industry in Northern Ireland, when elsewhere everyone is calling Time's Up! Here in Northern Ireland the time is now to build on our success. I know with the most pro-active screen agency in the UK, if not Europe and the world, we can continue to grow this place as a centre of excellence in every way, with values of equality, respect and inclusion at its core. I'm very honoured to be a small part of that journey."
Jannine Waddell, MBE, Chair of the RTS NI Awards Committee said: "Congratulations to all our winners who represent the very best of the exceptional talent we are producing here in Northern Ireland.
"And a special congratulations to Carla Stronge for being awarded the newly re-named Brian Waddell Award in memory of my father, in recognition of her outstanding contribution to the film and TV industry. As a creative community, we are extremely proud of all Carla's casting achievements for some of the best television and films in the world which has helped to put Northern Ireland on the global map."
See the full list of winners and nominees here.