RTS NI Reveals Shortlist for 2019 Programme Awards
---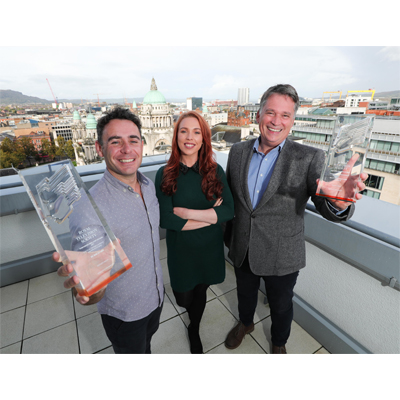 Date Posted: October 10, 2019
The Royal Television Society, Northern Ireland (RTS NI) is delighted to announce the finalists for its 5th Annual Programme Awards, sponsored by Ka-Boom which will take place in The Mac, Belfast on Thursday 7th November, 2019.
Kieran Doherty, Chair, RTS NI Awards said: "This is the 5th year of our RTS NI Programme Awards and I'm delighted to say we had a record number of entries this Autumn, up by an impressive 50% year on year. Every year the standard gets higher and the judges had a particularly hard task shortlisting the 2019 nominees, given the high quality of documentaries, drama, entertainment, children's and animation being made in Northern Ireland as well as comedy, news, current affairs, features, music and interactive content. We look forward to showcasing the best programmes and the best people making a positive contribution to Northern Ireland's creative industries at the Awards next month."
Richard Williams, Chief Executive, Northern Ireland Screen said: "Northern Ireland Screen is delighted to once again support the RTS NI Awards.  RTS is a long standing and prestigious organisation which we are proud to work alongside.  With awards for everything from current affairs to animation and interactive, the real joy of this event is that it is a rare, if not unique, opportunity for hugely diverse people and companies that make up the screen industry to come together and celebrate their collective creative output and to see the full scale of the industry."
Maeve McLoughlin, Vice Chair of RTS NI said: "As an educational charity these awards help the RTS to raise awareness of the growing success and innovation of the creative industries in Northern Ireland. You only have to look at the range of wonderful programmes which made this year's shortlist to see the extraordinary talent evident across Northern Ireland. We wish all those shortlisted the best of luck on the night."
The RTS NI Programme Awards 2019, with headline sponsor Ka-Boom are delivered in partnership with BBC Northern Ireland, Northern Ireland Screen, Channel 4, and UTV. The Awards Ceremony will be held in The MAC, Belfast on Thursday 7th November, hosted by TV presenter Vogue Williams.
The Royal Television Society Northern Ireland Programme Awards 2019 Finalists are:
Scripted Comedy – sponsored by City Air Express
Hat Trick Productions: Derry Girls Series 2
The Comedy Unit: Soft Border Patrol
Moondog Productions: The Blame Game
 Documentary – sponsored by Millar McCall Wylie
Alleycats Films: Tiananmen: The People Versus the Party
Relapse Pictures: Unquiet Graves
Below the Radar: Scéal na Beatha
 Entertainment  – sponsored by NEP Ireland
Stellify Media: There's No Place Like Tyrone
Green Inc Film & Television: Ireland's Got Talent
Stellify Media: Flinch
 Interactive – sponsored by Mac-Sys
Boom Clap Play: When Something Happens
BBC NI: Armistice Day
Hot Knife: IF
 Specialist Factual – sponsored by Ulster Screen Academy – Ulster University
Erica Starling Productions & Rogan Productions: Border Country: When Ireland Was Divided
Alleycats Films: Reporting History: Mandela and a New South Africa
State of Grace Films: Showbands: How Ireland Learned to Party
 Children's and / or Animation – sponsored by Clayton Hotel Belfast
Sixteen South: Wildwoods – 'Ka-Ding'
Jam Media: Becca's Bunch – The Great Indoors
Sixteen South: Claude – 'Twinkle Toes Terry'
 Features and / or Factual Entertainment – sponsored by Performance Film & Media Insurance
Waddell Media: The Chronicles of Mourne
Darlow Smithson Productions: The Fitting Room
Waddell Media: Turas Bóthair
 Current Affairs – sponsored by Queen's University Belfast
UTV: UTV Up Close: Killer Patient
BBC NI: BBC NI Spotlight: 'Paisley in Paradise: Revisited' June 25 2019
UTV: UTV Up Close: Lasting Legacy
 Original Music Score – sponsored by PRS for Music
Fine Point Films: Hear My Voice
Darlow Smithson Productions: Torvill and Dean
Television 360, Startling Television & Bighead Littlehead: Game of Thrones
News Coverage – sponsored by Carson McDowell
BBC: Lyra McKee
UTV plc: UTV Live: Bloody Sunday Prosecution
BBC NI: The Greenvale Hotel Tragedy
Drama – sponsored by Yellowmoon
Television 360, Startling Television & Bighead Littlehead: Game of Thrones
World Productions: Line of Duty – Series 5
Darlow Smithson Productions: Torvill and Dean
Finally, The Brian Waddell Award for Outstanding Contribution (to the local television and film industry in NI)– sponsored by Ka-Boom
Tickets for the Awards are available online until 1st November 2019, priced at £25 each.