Paper Owl secures international distribution for Racht
---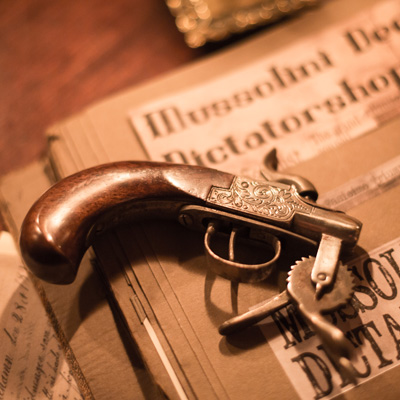 Date Posted: October 26, 2017
Irish Language Broadcast Fund series Racht, from Paper Owl Films Ltd. is to be re-versioned as Red Mist Killers for an international audience. Earth Touch Distribution has secured the international rights, with the deal being signed just before the recent MIPCOM market at Cannes. The series, which examines six tragic murders and the legacy they have left behind, is now airing on Thursdays at 9.30pm on TG4.
Now in its second series for TG4, this week's episode examines the events that occurred in Rome 1926 when Dublin born Violet Gibson attempted to assainate the Italian Prime Minister, Benito Mussolini. Was this religous fanaticism, a political crime or was Violet simply insane?
Susan Lee, Director of Acquisitions at Earth Touch, said: "We are thrilled to be working with Paper Owl Films on the international distribution of Racht (aka Red Mist Killers).  We believe that this unique series will resonate with our buyers internationally and viewers will be captivated by the high-quality reconstructions and emotional stories that unfold in each episode."
Upcoming episodes of Racht include the tale of two Gardaí in Limerick 1946 who have spent 9 months on continuous night duty but this particular night only one of them will survive, with the survivor facing the death penalty for the murder of his colleague.
The series finale is the shocking story of Edward Ball in Dublin 1936, a 19-year-old man has just moved back into his mother's home. 5 days later she goes missing. Her bloodied car is found in a rural country lane, but there is no sign of her body….
Previously aired episodes are also available on the TG4 Player here http://www.tg4.ie/ga/clair/racht/
Racht is produced by Paper Owl Films for TG4 with support from the Irish Language Broadcast Fund.
---
Dáileadh Idirnáisiúnta aimsithe ag Paper Owl do Racht
Tá an tsraith fhírinneach choiriúlachta de chuid an Chiste Craoltóireachta Gaeilge, Racht le Paper Owl Films le hathchóiriú mar Red Mist Killers do lucht féachana idirnáisiúnta. Tá Earth Touch Distribution i ndiaidh na cearta idirnáisiúnta a aimsiú, agus an beart sínithe acu díreach roimh na margaí MIPCOM le déanaí in Cannes. Tá an tsraith á craoladh faoi láthair ar TG4 Déardaoin ag 9:30in., sraith a dhéanann scrúdú ar scéalta sé dhúnmharú thubaisteacha mar aon leis an lorg a d'fhág siad.
Seo an dara sraith den chlár ar TG4, agus scrúdaíonn clár na seachtaine seo na heachtraí a tharla sa Róimh in 1926, nuair a rinne Violet Gibson, a rugadh i mBaile Átha Cliath, iarracht Benito Mussolini, Príomh-Aire na hIodáile, a mharú. An fanaiceacht chreidimh nó coir pholaitiúil a bhí i gceist, nó an é go raibh Violet glan as a meabhair?
Bhí an méid a leanas le rá ag Susan Lee, Stiúrthóir Éadálacha ó Earth Touch: "Tá lúcháir orainn a bheith ag obair le Paper Owl Films ar dháileadh idirnáisiúnta Racht (nó Red Mist Killers mar a thugtar air i mBéarla). Creideann muid go rachaidh an tsraith ar leith seo i bhfeidhm ar ár gceannaitheoirí ar bhonn idirnáisiúnta agus go mbeidh an lucht féachana an-tógtha leis na hathchruthaithe den scoth agus leis na scéalta mothúchánacha a thagann chun solais i ngach clár."
Sna cláir atá le teacht ar Racht, tá scéal ann faoi bheirt Ghardaí i Luimneach sa bhliain 1946, gardaí a chaith naoi mí as a chéile ar dualgas oíche ach an oíche áirithe seo ní thiocfadh ach duine amháin acu slán, agus eisean ag dul in aghaidh phionós an bháis as dúnmharú a chomhgleacaí.
Is é bailchríoch na sraithe, scéal scannalach Edward Ball i mBaile Átha Cliath sa bhliain 1936. Fear óg é atá naoi mbliana déag d'aois a théann abhaile in éineacht lena mháthair.  Téann sise ar iarraidh cúig lá ina dhiaidh sin. Tagtar ar a gluaisteán agus fuil air, i lána iargúlta tuaithe ach gan tásc ná tuairisc uirthi féin…
Tá na cláir a craoladh cheana féin le fáil ar Sheinnteoir TG4 anseo anois. http://www.tg4.ie/ga/clair/racht/.
Tá Racht á léiriú ag Paper Owl Films do TG4 le tacaíocht ón Chiste Craoltóireachta Gaeilge.