Northern Ireland's leading extras agency celebrates 10 year anniversary
---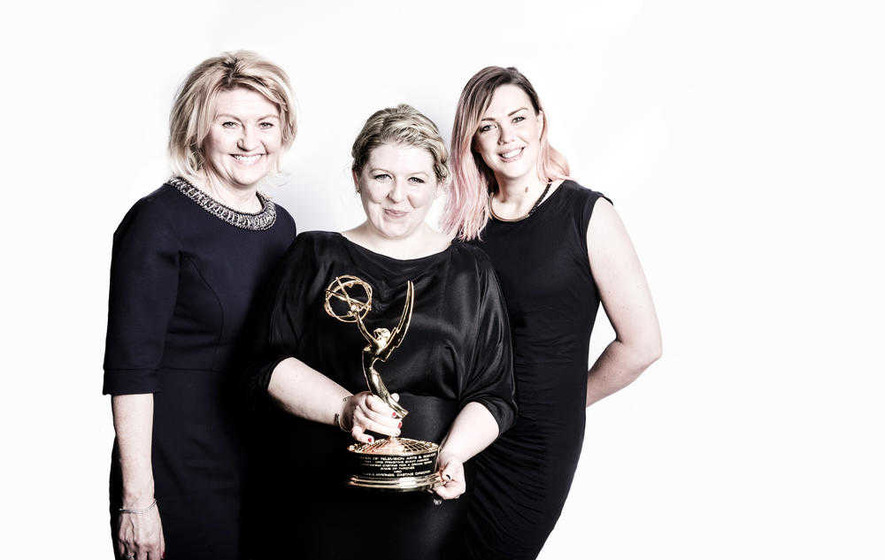 Date Posted: March 7, 2017
Extras NI, Northern Ireland's first and largest extras agency is celebrating ten successful years of being the lifeblood of Northern Ireland's film and TV industry by making a number of significant announcements today (Tuesday 7 March 2017).
Following a major rebranding exercise, Extras NI officially relaunches today as The Extras Dept., a name that incorporates all that the company has become to the many film and television productions that are being made in Northern Ireland.
The Extras Dept. has over 17,000 registered extras, aged from 2 to 90, and from all walks of life, on its books. It has provided thousands of background artists to support national and international productions such as BBC's The Fall and HBO's Game of Thrones.
The company is marking this important milestone by hosting a major blood drive with Northern Ireland Blood Transfusion Service today (7 March) with over 200 extras at Crumlin Road Gaol, Belfast.
Siobhan Allan, Co-Founder and Finance Director, The Extras Dept., explains why they wanted to mark this significant anniversary by encouraging blood donors:
"The Extras Dept. has been involved in providing extras and stand-ins for film and television productions for over 10 years and we wanted to give something back. So, to symbolise all the blood, sweat and tears that have not only gone into the last ten years of building the company, but also to rebalance all the blood that has been spilled in the countless film and television programmes that we have provided extras for, we decided to partner with Northern Ireland Blood Transfusion Service to host a blood drive at the iconic filming location, Crumlin Road Gaol in Belfast."
The Extras Dept. has just celebrated a record-breaking year thanks to its work in 2016 with nine major productions as well as a number of commercials and smaller productions.
The number of days worked by the company's extras has increased by 55% in just two years. Last year there were 3,900 individual extras working on productions shooting in Northern Ireland last year, culminating in a total of 20,167 days worked. This represents an increase of 7,149 days since 2014. The extras themselves earned in total approx. £1.9million in 2016, the equivalent of 80 people being employed full time on an annual basis. The highest extras numbers were courtesy of Game of Thrones followed by Lost City of Z (due to be released in Spring 2017) and BBC police drama Line of Duty.
Richard Williams, CEO, Northern Ireland Screen added: "We would like to congratulate Extras NI on reaching 10 years as a company. It is a huge milestone and is a testament to the team's hard work and talent. It is a true Northern Ireland success story, which Northern Ireland Screen has been happy to support with trainees over the years. We send them our sincere good wishes for the future as The Extras Dept."
Carla Stronge, Co-Founder and Director, The Extras Dept., and a two-time Emmy winner for her work on Game of Thrones ('Outstanding Casting for a Drama Series 2015 & 2016'), discusses:
"The last ten years have been a rollercoaster for The Extras Dept. The screen industries in Northern Ireland and the Republic of Ireland have grown significantly in recent years, and The Extras Dept. has mirrored this growth as it has sought to meet the industry's evolving needs.
"TV and film sets are far from glamorous! The days are long and it can be demanding. However, every day is different and you certainly won't ever watch a film or tv programme the same way after spending a day on set! Our role is to keep everyone happy – the productions we facilitate and our lovely extras themselves! We have continuously invested in, and developed, our systems of work so that we are at the forefront of our industry. Our aim is to ensure that our extras have a positive working experience, and that the production companies' experience is hassle-free and seamless."
Carla continues: "The Extras Dept. team will never stop striving for excellence. Over the last ten years we have been developing a bespoke casting system, enhancing it year on year with Atto Partners. We have recognised that by developing our software and our staff we can continue to exceed expectations and compete on an international level. The Extras Dept. has also provided a unique doorway to gain on set experience and train local crew members who have gone on to excel in the industry in their own right."
Thanking the Extras Dept. for their help with the blood drive at Crumlin Road Gaol. Emma Sloan, Marketing Officer for NI Blood Transfusion Service added: "We are delighted to have the support of The Extras Dept. during their anniversary celebrations. Each of their registered extras who donate will be taking on the role of a life-saver and will help 500 patients here who need a transfusion each week. Giving blood is such an easy thing to do and, it has amazing results, it could be used to save the life of a child with leukaemia, a mother during child birth someone undergoing a routine operation or someone with cancer."
In recent years The Extras Dept. has been involved with many productions including: Game of Thrones; The Fall; Line of Duty; High Rise; Dracula Untold; Hunger; Good Vibrations; City of Ember; Starred Up; and Your Highness.
For information on The Extras Dept,'s innovative paperless casting system please click here.