New series of kids TV show, Pablo, is back by popular demand
---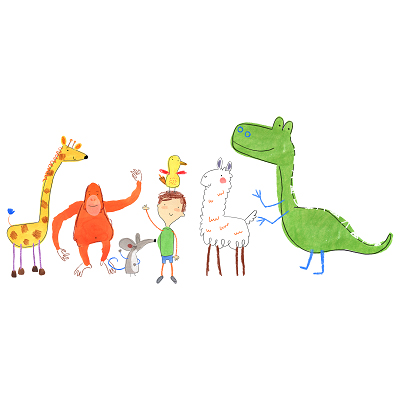 Date Posted: October 2, 2019
Pablo, the acclaimed kid's TV show and brainchild of Co. Down-based production company, Paper Owl Films, will return to screens for a second series this month.
The 2D animated show is centred around the adventures of Pablo – a fun, smart and curious five-year-old boy with autism. It first aired in 2017, positively disrupting children's television when it became the first ever series to feature an all-autistic cast. Now a firm family-favourite having amassed viewers globally, Pablo has been recommissioned by RTÉ and BBC and will return to the broadcaster's kid-focused channels RTÉjr and CBeebies from October 7.
While its colourful animations and exciting storylines have won Pablo popularity with broadcasters and families alike, Pablo is also recognised as an inspirational communicator for parents and children to develop their understanding of the autism spectrum.
Pablo is produced by Paper Owl Films for CBeebies and RTÉJr., in association with Kavaleer Productions and Ingenious with funding from Northern Ireland Screen and BAI.
The Pablo brand is set for even bigger strides in its global mission to make autism more widely understood. It is soon to become a fully-fledged kids' franchise with a four-book publishing deal from Penguin, a UK-wide theatre production in partnership with Selladoor and a music album planned for the coming months.
The creator of Pablo, Grainne McGuinness, said: "Pablo has become a firm favourite in the hearts and minds of all kids across the world. We couldn't be prouder of the real-world impact our show has made and the Pablo team, both talent and production, has been working incredibly hard over the last two years to create a follow-up series that is as universally entertaining and meaningful as the last.
"Now that we are at the periphery of the Pablo brand becoming much more than a TV show and an entire kids' franchise, it's more important than ever that we continue to appeal to all families without losing the important mission at our very core. We want our show to be fun and charming so all kids fall in love with our hero, Pablo, and feel inspired by his incredible adventures, whilst encouraging the audience to appreciate the perspective of those who think differently and see the world in different ways"
Pablo Series 2 consists of 52 episodes each allowing the viewer to see how Pablo deals with surprises, illness, smells and sights, new people, the intensity of his feelings and his own personal interpretation of everyday phrases. All episodes provide a thought-provoking, purposeful and powerful insight into how those on the spectrum see the world around us.
Pablo is voiced by Jake Williamson (13) from Holywood, Co. Down. Commenting on his return to his leading role, Jake said: "It's been so good to work on the show as I've met the other cast members who are older than me but wrote stories about the same experiences as I had when I was little. And now these stories will help the little ones today to be understood. I really hope that schools use the episodes to understand autistic children."
Pablo uses his trademark 'magic' crayons to overcome everyday challenges bringing the viewer into his 'art world' where he bravely takes on real world challenges, turning them into fantastic adventures and communicating unfamiliar feelings by drawing colourful characters into life. These characters are his imaginary friends who each carry traits typical to those on the spectrum.
Mouse, voiced by Rachel Dickson (18), is the most-reliable and organised of the spirited group with a sensitivity to sounds and smells who endearingly speaks in the third person.
Llama, voiced by Rosie King (19), is gentle and observant and repeats sounds made by others – a condition called echolalia.
Wren, voiced by Sumita Majumdar (26), is a very energetic bird who often has difficulty staying focused, flapping her wings for comfort and to as a way of channelling her energy.
Tang, voiced by Michael White (19) is an orangutan with a big, fun-loving, hard to control energy. He is always ready for anything but his spontaneous nature can lead him into careless acts and struggling with social cues.
Noa, voiced by Tony Finnegan (29), is a kind dinosaur who struggles with speech and can be a little clumsy but uses his sequencing and problem-solving abilities to solve practical problems.
Draff, voiced by Scott Mulligan (19), considered the smartest of the group, is a highly intelligent and precise giraffe who loves to say, "in point of fact", and explain things to others.
Sarah Legg Barratt, Producer, CBeebies Animation & Acquisition, said: "Pablo does an important job of authentically representing and fostering an awareness of neurodiversity for both the youngest audiences and their parents and caregivers. Series 2 features brand new stories that are full of warmth, humour, heart and originality, and we cannot wait to share them on CBeebies very soon.
Suzanne Kelly, Group Head of Children's & Young People's Content RTÉ, said: "The RTÉjr family is so delighted to welcome back Pablo, his magic crayons and his friends for more fun and adventures this autumn 2019. Pablo is a really important centre-piece for the RTÉjr schedule and so much more than an animated series. As well as being beautifully realised, it is thoughtful, vibrant, incredibly funny and a true celebration of just being yourself."
Richard Williams, CEO of Northern Ireland Screen said; "Northern Ireland Screen was delighted to provide funding for the production of a second series of Pablo. Paper Owl is a prominent member of our thriving animation sector and it's great to see the Pablo brand grow and venture beyond TV. We wish the team every success as Pablo brings his art world into theatres, music and books while also continuing the important mission of making autism more widely understood and accepted."
Pablo will air each weekday on RTÉJr at 6:00pm and 12:00pm at the weekends whilst CBeebies will air in the afternoon at 2:35pm every day. Viewers can watch on-demand through BBC Player and RTE Player. And there is a dedication Pablo You Tube channel for additional fun!