Lost Lives to screen in cinemas all across the UK for one night only
---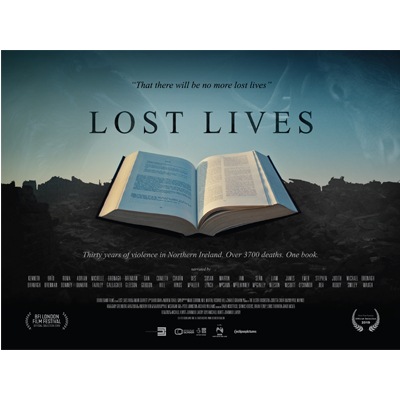 Date Posted: October 21, 2019
Lost Lives, a major cinematic and timely film inspired by the book of the same name, which records every single death and its circumstances since the beginning of the Troubles, is released in cinemas across the entire UK on Wednesday 23rd October for one night only. Some of these special event screenings will also include a recorded Q&A from the film's recent premiere at London Film Festival.
Click here to find out where you can see Lost Lives
Commissioned by BBC, funded by Northern Ireland Screen and produced by DoubleBand Films the heartfelt film is a cinematic homage to the victims, from all sides.
Richard Williams, Chief Executive of Northern Ireland Screen, said; "I am very proud that Northern Ireland Screen played a key part in ensuring that this urgent, heartfelt and important film was both produced and distributed as widely as possible."
Lost Lives is powerfully narrated by famous Irish and Northern Irish actors, including Kenneth Branagh, Bríd Brennan, Roma Downey, Adrian Dunbar, Michelle Fairley, Bronagh Gallagher, Brendan Gleeson, Dan Gordon, Conleth Hill, Ciarán Hinds, Susan Lynch, Des McAleer, Martin McCann, Ian McElhinney, Sean McGinley, James Nesbitt, Liam Neeson, Emer O'Connor, Stephen Rea, Judith Roddy, Michael Smiley and Bronagh Waugh. The film weaves archive footage with recordings of family and friends responding to the devastating news of the death of loved ones. A score performed by the Ulster Orchestra and striking cinematography complete this elegiac piece.
Dermot Lavery and Michael Hewitt, co-directors of Lost Lives comment; "Lost Lives is a feature length film inspired by the remarkable book of the same name. First published in 1999, it is a history book with a profound difference. It does not detail the acts of politicians and other major figures in the story of a conflict. Nor does it concern itself with talks or the breakdowns of talks. It was – and remains – the only book to record the circumstances of every single death in a conflict. As such it is focused – through every meticulous entry – on the human and emotional cost of a war. In the words of the five journalists who wrote the book over a period of seven years, it "should serve as a lasting reminder of why Northern Ireland should never again return to full-scale conflict, a lasting reminder of the sadness and the pity of it all, a lasting reminder that war is hell."
"Our film is not a documentary but a filmic response to the book and what it represents. It is a film that weaves together high-end cinematography, archive film, a commissioned score performed by the Ulster Orchestra and a number of extracts from the book, read by the very best of our acting talent. For us it is a cinematic event that addresses the past – but looks to the future.
"Lost Lives is being released to mark the 50th anniversary of the start of the violence in Northern Ireland – a remarkable moment for all of us, not least those of us who lived through the conflict."
Lost Lives is a requiem. A reminder that war is hell.  "that there will be no more lost lives"