Lomax in Éirinn wins Oireachtas Award
---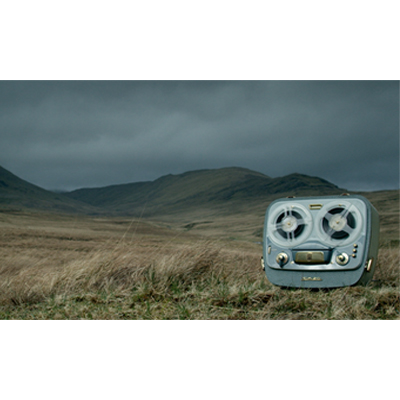 Date Posted: October 31, 2019
The winners of this year's Oireachtas Communication Awards were announced at a gala event in Dublin last night. We are delighted to report that the Irish Language Broadcast Fund documentary Lomax in Éirinn picked up the Award for Television Programme of the Year.
The Awards, which are presented annually, are recognised as a mark of excellence in Irish language broadcasting for creativity and originality.
Lomax in Éirinn features Clannad's Pól Brennan who uncovers the story behind Texan song-collector Alan Lomax's trip to Ireland in 1951.
In the late 1940s Texan song-collector Alan Lomax had a dream to record and to preserve the music of the world. He began his mission in Ireland. His aim was to preserve a musical tradition that very few Irish people valued at the time.
Twenty years later, Lomax's album helped inspire the 1970s revival of Irish music by bands such as Planxty, The Bothy Band and Clannad.
Lomax in Éirinn features exclusive musical performances from contemporary artists paying homage to the music that Lomax preserved, including Steve Earle, Clannad, Slow Moving Clouds, The Tulla Ceilí Band, Mississippi bluesman Sam Mosely and Nell Ní Chróinín. The film's soundtrack also includes some of the best recordings made by Alan Lomax throughout the world.
Lomax in Éirinn brings the audience through stunning locations in the Mississippi delta, New York and Washington showing how Lomax's vocation was forged as a teenager when he discovered musicians such as Muddy Waters, Leadbelly, Woody Guthrie and Jelly Roll Morton  – iconic artists whose music later laid the seeds of rock and roll.
Lomax in Éirinn was made by Aisling Productions for TG4 with the support of the Broadcasting Authority of Ireland and Northern Ireland Screen's Irish Language Broadcast Fund.
————————————————————————————————————————————————————————————————————————————–
Baineann Lomax in Éirinn ag Gradaim Chumarsáide an Oireachtais
Fógraíodh buaiteoirí Gradaim Chumarsáide an Oireachtais ag ócáid speisialta i mBaile Átha Cliath aréir. Tá lúchair orainn a fhógairt gur bhain clár fáisnéise a bhí maoinithe ag an Chiste Craoltóireachta Gaeilge, Lomax in Éirinn an duais le haghaidh Clár Teilifíse na Bliana.
Aithnítear go bhfuil na duaiseanna seo, a mbronntar go bliantúil, mar chomhartha barr feabhais i gcruthaíocht agus nuálachas i gcraoltóireacht na Gaeilge.
Is é Pól Brennan ón ghrúpa ceoil Clannad a nochtann an scéal taobh thiar den bhailitheoir cheoil ó Texas, Alan Lomax agus a thuras go hÉirinn i 1951.
Sna 1940idí déanacha tháinig Alan Lomax ar an tuiscint go bhfuil an ceol traidisiúnta ar cheann de na rudaí is luachmhaire ar fad atá ag an chine daonna. Shocraigh Lomax ar bhuntáiste a bhaint as teicneolaíochtaí úra, LP agus téip mhaighnéadach san áireamh, le ceoil an domhain a thaifeadadh agus a chaomhnú sula rachaidís in éag ar fad. Ba í Éire an chéad áit ar ar thug sé cuairt agus an misean mór seo idir lámha aige.
Fiche bliain i ndiaidh d' Alan Lomax a chuid taifeadeadh a dhéanamh in Éirinn, bhí na taifid chéanna sin mar inspioráid leis an athbheochan cheoil sna 1970idí ag bannaí mar Planxty, The Bothy Band agus Clannad.
I Lomax in Éirinn, tá scoth an cheoil as fud fad an domhain le cluinstin, é tógtha as an chartlann de thaifid a rinne Alan Lomax. Chomh maith leis sin, déanann ceoltóirí an lae inniu a gcóiriú féin ar cheol a chaomhnaigh Lomax. Ina measc tá Steve Earle, Clannad, Slow Moving Clouds, Banna Céilí na Tulaí agus Nell Ní Chróinín.
Tógann Lomax in Éirinn an lucht féachana ar aistear ceoil go háiteanna galánta feadh Dheilt an Mississippi, go cathair Nua-Eabhrac agus go Washington. I stáit dheisceart Mheiriceá, fiosraíonn sé mar a d'fhreagair Lomax do ghairm an cheoil agus é ina dhéagóir nuair a chuir sé eolas den chéad uair ar cheoltóirí amhail Muddy Waters, Leadbelly, Woody Guthrie agus Jelly Roll Morton, ealaíontóirí íocónacha iad uile a raibh a gcuid ceoil mar shíol an rock n roll.
Is é Aisling Productions a rinne Lomax in Éirinn do TG4 le tacaíocht ó Údarás Craolacháin na hÉireann agus ó Chiste Craoltóireachta Gaeilge Scáileáin Thuaisceart Éireann.