Lawrence Sher, Cinematographer of JOKER, to Launch Capture Conference Online
---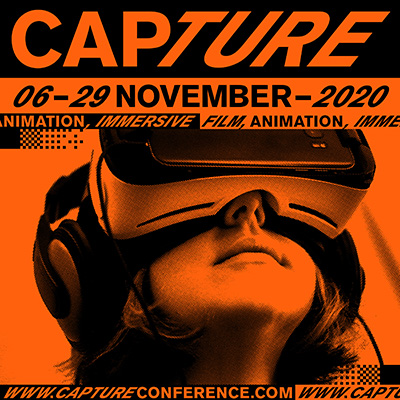 Date Posted: November 4, 2020
Capture Conference returns online to explore the space between creativity and technology across film, gaming, animation and immersive.
The event kicks off from Friday 6th – 28th November led by the Cinematographer of Oscar winning film Joker, Lawrence Sher. He is joined throughout the month by speakers from companies such as Epic Games / Unreal Engine, Warner Brothers, HBO, Walt Disney Studios and BAFTA winning animation company SPA Studios.
Taking place both online and offline, Capture Conference Q&A's will also be streamed live to The Strand Cinema, followed by film screenings of films such as Joker, Disney's Big Hero 6, The Greatest Showman, and Netflix's first feature animation, Klaus.
The day-long conference will include speakers from industries right across the creative spectrum exploring innovation in visual effects (VFX), virtual reality (VR), film, animation, gaming and more.
Northern Ireland's own Oscar nominated cinematographer, Seamus McGarvey (Avengers, The Greatest Showman, Atonement) will close the event by taking part in a Q&A with BBC presenter Marie Louise Muir.
Conference Founder and Director of Belfast Photo Festival, Michael Weir said:
"Northern Ireland has a rich history of creative export. From people and place to product, our celebrated creative output spans the globe. We have state-of-the-art film studios used for blockbuster film and TV production, we have award-winning creatives of all kinds that hail from our shores and act as global ambassadors, shining a light on our homegrown creative industries and calibre of work.
"The conference will act as a forum for creative professionals in all fields across Northern Ireland, bringing with it leading creative minds from across various industries to share their story and insights, but we have a rich pool of creative minds in Northern Ireland too. So, alongside global names and brands will be addresses and conference hosting by some of Northern Irelands greatest talent."
Capture Conference is supported by Arts Council of Northern Ireland, Belfast City Council.
For more information on this years Creative Industries Conference, visit www.captureconference.com and keep up to date on social media via Facebook, Twitter and Instagram.